More gems from Filmindia and the one and only Baburao Patel…
Jugnu (1947)
In short, Jugnu is a dirty, disgusting and vulgar picture that no decent exhibitor with any pride for his profession or any self respect should exhibit in his theatre.
Jeevan Yatra (1947)
Jeevan Yatra is a crude and loud picture and the characters do not get any sympathy throughout. The very physical behaviour of the characters is absurd and disgusting.
Mirza Sahiban (1947)
Noor Jehan as Sahiban is hardly convincing. One cannot imagine a love-bitten maiden to be so fat. It is high time Noor Jehan was transferred to the playback department as her voice is a definite asset.
Anokhi Ada (1948)
Anokhi Ada is the usual Mehboob nonsense with the disgustingly familiar formula mainly intended for scoring box-office success without any regard to common sense, art or reason.
Mahal (1949)
The theme of Mahal is fantastic nonsense – pure and unadultrated. When a Muslim writer starts toying with Hindu spiritual and philosophical themes dealing with rebirth and transmigration of souls, he makes a damn unholy mess of the whole affair and ends by exposing his rank ignorance of such subjects.
Parineeta (1953)
Selecting a good story is winning half the battle and director Bimal Roy was half victorious even before he had taken his first shot. But more than what he gained in the story was lost when the bulky, rotund middle-aged Ashok Kumar foisted himself as the 25 year old hero of the story. This corporeal change in the story took away half of its interest, charm and plausibility. Because strain as one may one's imagination, it is difficult to identify in this man of 60 inches girth and 180 lbs weight, the 25 year youthful hero of Sarat Babu.

Sassi (1954) – Pakistan
Sassi is an ugly, rotten seventh rate picture which makes the spectator restless in his seat ten minutes after its start. There is not a trace of technical skill, art or imagination in the entire length of this darkened celluloid. Extremely poorly photographed, more poorly directed and containing silly performances, shoddy sets and dreadfully dull music, the picture is a rarely ugly and crude sight and makes one limp with sheer boredum by the time it traverses its tiresome course to reach its long awaited end.
Awara Shehzadi (1956)
In short, Awara Shehzadi is one of the most rotten pictures of all time. Exhibitors booking this picture stand the risk of antagonising their patrons permanently.
Anpadh (1962)
This wonderful story could have been told in a reel of 1000 feet. The producers, however, needed 14000 feet to do so. Which means that 13000 feet of film have been needlessly wasted.
Ek Musafir Ek Hasina (1962)
The story travels through some stupid war sequences, some spineless romantic ones and an idiotic court scene till the numbskull falls down from a staircase and again gets one more shifting of grey matter which takes him back to the arms of his sweetheart.
Baat Ek Raat ki (1962)
Baat Ek Raat ki fails to entertain and remains a crude confusion.The picture is a peanut wraped in silver paper.
And yes, some rare praise as well!
Kalpana (1948)
Now Kalpana is on the screen and (Uday) Shankar has not only vindicated his reputation as a great showman and a great dancer, but through this picture, also thrown a challenge to the film industry. Leave aside dancing which is his own domain, let them come forward and produce something better in technique, in production value, in slick direction, in imaginative photography, in artistic compositions, in daring montage!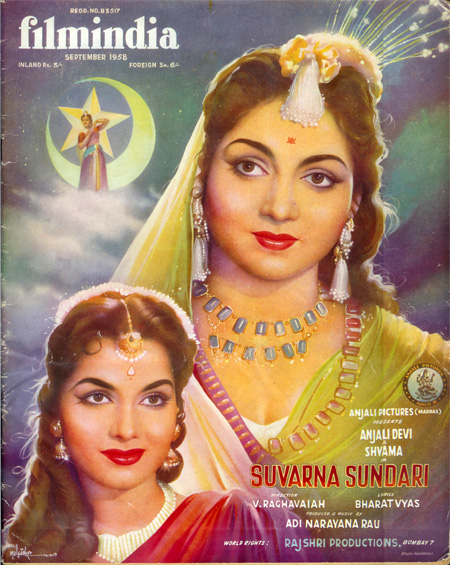 To go to my earlier piece on Filmindia, click here.
Photographs courtesy Greta Kaemmer aka Memsaab