It's quite ironic that yesteryear star writer duo, Salim-Javed, sued the makers of the new Zanjeer (2013) for copyright infringement before settling for a financial settlement. Their bone of contention was that they own the copyright of the story, script and dialogue of the original Zanjeer, which  they allowed Prakash Mehra to base on their writing just once. It is ironic because Zanjeer itself is not entirely original. The writers were themselves 'inspired' from the Spaghetti Western, Death Rides a Horse (1967), and what's more, they skillfully adapted it not once, but twice. Even more incredibly, both 'adaptations' hit the silver screen in 1973 and both were extremely popular! The films in question being Zanjeer and Yaadon Ki Baaraat.
Death Rides a Horse is essentially a revenge story wherein the hero sees his family slaughtered when he is a child and we follow his efforts in taking revenge on his family's killers 15 years later. While sticking to the basic plot, the re-working in Zanjeer and Yaadon Ki Baaraat is very, very different. Salim-Javed play it straight in the former, making it a comparatively more realistic and hard-hitting film, which, as is widely known now, made a star out of 'Amitabh Bachchan, who till then was still struggling to establish himself. The film saw the Big B play an intense, no-nonsense tough cop who avenges the murder of his parents. It helped that Zanjeer came at the perfect time. With much disillusionment with the way the country had gone in twenty-five years since independence, the youth, in particular, took to this new tough leading man who solved his own problems, even taking recourse outside the law if he had to. The 'angry young man' ended the era of the gooey romantic hero who looked into the heroine's eyes and mouthed sweet nothings. The new macho man was tough, focused and had little time for love.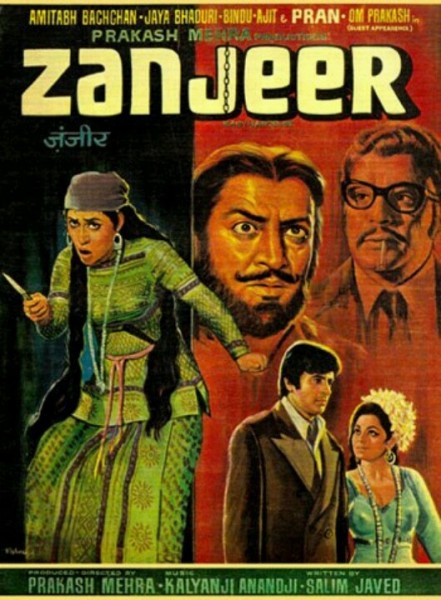 Yaadon Ki Baaraat was written by Salim-Javed for producer-director Nasir Hussain, who was known for his frothy romances, melodious music and above all, his favorite lost-and-found formula. So in Yaadon Ki Baaraat, it is not one but three brothers who see their family butchered in front of their eyes and then get separated in childhood. How they re-unite in adulthood and take revenge on their parents' killers is what the film is about. Along with the lost-and-found trope, the romantic angle between the middle brother (Vijay Arora) and his lady love (Zeenat Aman) is played up much more in this film, thereby giving scope to music director RD Burman to come up with memorable songs like Chura Liya Hai Tumne Jo Dil Ko (another inspiration, taking off from the title music of If It's Tuesday, This Must Be Belgium (1969)), Aapke Kamre Mein Koi Rehta Hai and O Meri Sohni Meri Tamanna, besides of course, repeated uses of the title song that finally brings the brothers together.
If it's crazy enough that both films owe their origins to a common source, the icing on the cake is that Ajit plays the same villainous role in both these films!
Of course, actors have reprised their popular roles in different language re-makes, but for them to play identical roles in more than one telling of the same story in the same language is rare. But knowing Indian cinema, where anything goes, it is not improbable either. Silent star Sulochana, who acted in the silent version of Anarkali (1928), reprised her titular role in its talkie version 7 years later with both films being directed by RS Choudhary. And Dev Anand found himself playing similar roles in two films at almost the same time, Maya (1961) and Asli Naqli (1962), co-starring Mala Sinha and Sadhana respectively. In both films, Anand plays a multi-millionaire's son who leaves home and lives among the poor where he discovers the true meaning of life. And again, neither film is entirely original. Both Maya and Asli Naqli owe their origins to a mish-mash of the Hollywood flicks Sullivan's Travels (1941), directed by Preston Sturges, and the Cary Grant starrer, The Amazing Adventure (1936).