It was to feature Waheeda Rehman in her first ever double role. And also mark Rahul Dev Burman's debut as an independent composer. As it transpired, the intended film, Raaz, produced by Guru Dutt and directed by his assistant, Niranjan, never even saw the light of day. An adaptation of Wilkie Collins' mystery thriller The Woman In White, it was shelved by Dutt after some reels of filming, mostly in picturesque snow-clad  Shimla.
An advertisement of the film highlighting its progress on the back cover of the song booklet of Kaagaz Ke Phool (1959) seems to suggest that Raaz was launched even as  Kaagaz Ke Phool (1959), the very first Indian film to be shot in the CinemaScope format, was still on the floors. The original hero of the film, when shooting began. was not even Guru Dutt but Sunil Dutt in the role of an army doctor. However, after some filming was done, Sunil Dutt found himself out of the film, something he naturally did not take to very kindly. In fact, according to another of Guru Dutt's assistant directors, Shyam Kapoor, his sacking from Raaz was one of the reasons that Sunil Dutt cited years later in 1964 when he refused to step into Guru Dutt's shoes after the latter passed away during the making of Baharen Phir Bhi Aayengi (1966). The role was finally done by Dharmendra. Meanwhile, Guru Dutt, who had fired Sunil Dutt from Raaz, himself donned the role of the leading man opposite Waheeda Rehman.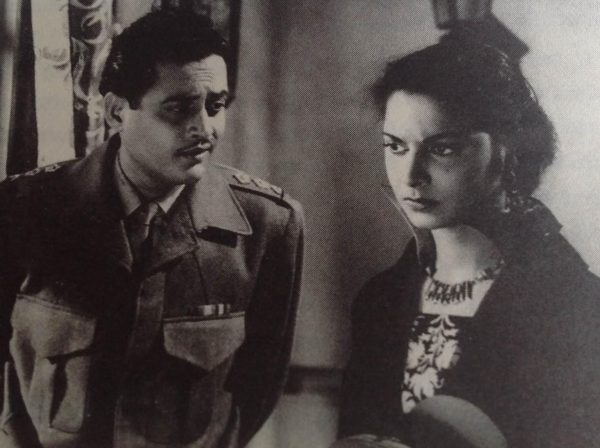 The rest of the film's cast included Guru Dutt regular Kum Kum while S Nazir was brought in to play the villainous uncle. RD Burman even recorded a song for the film that was to be picturized on three nautch girls. The song was rendered by Geeta Dutt, Asha Bhosle, and Shamshad Begum. An issue of Filmfare of the time even published a photograph of Burman rehearsing the song with Geeta Dutt, the only song they ever did together.
Dissatisfied with the way, the film was shaping up, Guru Dutt scrapped it in spite of all the time and money that had gone into the filming till then. However, the shelved film, thankfully, did not die a total death. Dutt's former assistant, Raj Khosla, requested him for the story and subsequently proceeded to rework it as the first of his mystery trilogy films with actress Sadhana, the immensely popular Woh Kaun Thi? (1964). Incidentally, Nimmi was considered for the dual roles of the good and bad sister respectively before Sadhana came in and it has to be said, made the roles her own. The rest as they (always) say is history.
Header photo courtesy Film Heritage Foundation.
Raaz still courtesy Arun Dutt.