She was one of Indian cinema's earliest women music directors and the composer of Bombay Talkies' early hits from films like Jawani Ki Hawa (1935), Achhut Kannya (1936), Nirmala (1938) and Jhoola (1941). She gave Devika Rani and Ashok Kumar their earliest musical grounding at a time when actors had to sing their own songs in the pre-playback era. She was Saraswati Devi.
Saraswati Devi was born a Parsee in 1912, her maiden name being Khurshid Minocher-Homji. After her matriculation, she enrolled at the Marris College of Music in Lucknow, now known as the Bhatkhande Music Institute. Even as she actively participated in various music festivals, she and her three sisters would present a radio program every month for the Bombay station of the Indian Broadcasting Company that had begun operations in 1927. The four sisters, known as the Homji sisters, became quite popular with listeners. While her elder sister, Mehru, played the sitar, her younger sisters played the mandolin and the dilruba respectively. Minocher-Homji herself would lend her vocals and play the organ.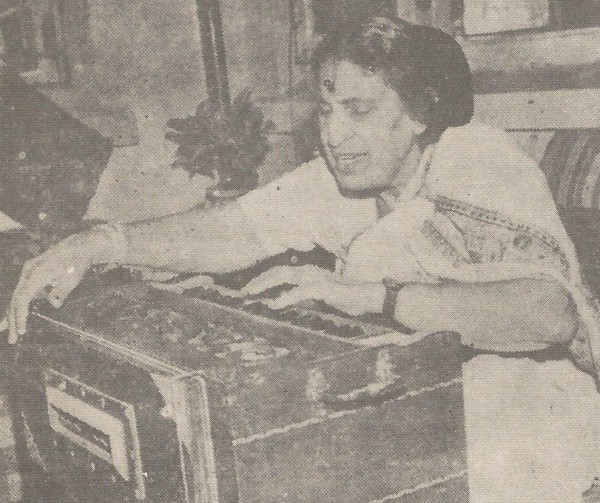 In an interview given to Cinema Vision India, Minocher-Homji recalled that she was in Lucknow in 1934 to participate in a music festival organized by the Theosophical Society, when Harindranath Chhattopadhyay introduced her to Himansu Rai, who, along with Devika Rani, was in the process of setting up a state of the art film studio in Bombay, Bombay Talkies. Rai was keen on her joining him and she agreed to do so but after making it clear that she only knew classical music and she would not really be correct for light music or film music. Rai was insistent that she would be perfect for heading Bombay Talkies'  music department and so Minocher-Homji became one of Indian filmdom's earliest woman composers beginning with Bombay Talkies' very first offering, Jawani Ki Hawa.
However, when it became known that Minocher-Homji was going to be working in films, the Parsee populace around her was scandalized and outraged. The cinema world in those days was just not considered a suitable place for 'decent' women and the conservative Parsee community was determined to get Minocher-Hoji and her younger sister, Manek, who had sung a song in Jawani Ki Hawa, to sever all ties from films. According to Minocher-Homji, the press didn't help the cause of the sisters either and instead, played up the issue, which led to the unit at Bombay Talkies receiving death threats! And it didn't stop there. Once when Minocher-Homji was on the way to the studio along with Himansu Rai, their car was halted and she was pulled out. Luckily Rai had his wits about him and addressed her as 'Devika Rani' in front of the public. Since the people surrounding them didn't know what either Devika Rani or Minocher-Homji looked like, they believed him and let her go! After this harrowing incident, the sisters thought it best to quit the movies once and for all but Rai was adamant. So to hoodwink the Parsee neighborhood, the two changed their screen names to more conventional Hindu names. Thus, Manek took the name Chandraprabha and Minocher-Homji rose to fame as Saraswati Devi! It took a while for those opposing them to realize that they had been tricked but by then, the 'filmi duniya' was beginning to gain in popularity and respectability and so 'Saraswati Devi' got away with it, leading to a glorious career for her at Bombay Talkies till 1941 and outside of it till about 1950, when she retired from films permanently.
Even today, the name Saraswati Devi causes old-timers and Indian film historians to think wistfully about Ashok Kumar and Devika Rani singing Main Ban Ki Chidiya or Khet Ki Mooli in the Bombay Talkies classic Achhut Kannya…