I think easily the best thing to come out of being content-in-charge of Upperstall has been my exposure to Indian cinema for the sake of the site.
From the studio films of the 1930s and 1940s to the golden age of the 1950s and 60s (easily my favourite era) to the Indian New wave to Regional cinema and documentaries, I try to catch up as much as I can on the great and varied cinema culture of our country as and when I have the time.  And as mentioned in my first ever entry on this blog, 12 am daily is reserved exclusively for DD Punjabi to catch up on the country's Punjabi films as part of my great discovery of being a Punjab-da-puttar! Provided I'm awake at that time, of course.
Even as I am blown by Sivaji Ganesan's brilliant debut in the ultimate 'DMK' film Parasakthi (1952) or totally charmed by Waheeda Rehman's 'item number' in the Telugu film Rojulu Marayi (1955), which, incidentally, led to her being discovered by Guru Dutt, the most exciting discovery for me has been the Bengali mainstream cinema of the 1950s and 1960s. To be honest, having seen a couple of the ghastly Bengali potboilers of the 1980s and 1990s whose names or plots I, fortunately, do not recall at all, I was wary of even the older films. But thankfully, my fears were unfounded and most pleasantly so.
Like Hindi cinema, the 1950s and 60s is rightly considered the golden age of Bengali commercial cinema as well. At the FTII, I was exposed to the films of Satyajit Ray and Ritwik Ghatak but not conventional mainstream Bengali cinema. Thanks now to DVD availabilty, as I watched films like Harano Sur (1957), Deep Jele Jai (1959), Saptapadi (1961), Uttar Falguni (1963) and Saat Pake Bandha (1963), I could not help but admire what fine films they are, aesthetically, content-wise and technically matching the best of Hindi cinema, perhaps even going beyond it. I marvel today at the Uttam Kumar-Suchitra Sen on-screen chemistry which took screen romance to a poetic and subliminal level and made them one of the great romantic pairs in the country on par with Raj Kapoor-Nargis, Guru Dutt-Waheeda Rehman, Gemini Ganesan-Savithri or Dilip Kumar-Madhubala. Even a small gesture of her packing for him in Saptapadi is romance at its best. I am totally taken in by the fine work of filmmakers like Ajoy Kar, Asit Sen, Tarun Majumdar and Tapan Sinha giving Bengali cinema its distinct identity, I admire the great histrionics of actors like Uttam Kumar, Suchitra Sen, Supriya Devi, Soumitra Chatterjee, Anil Chatterjee, Sandhya Roy, Chhabi Biswas, Chhaya Devi, Bikash Roy and Pahari Sanyal.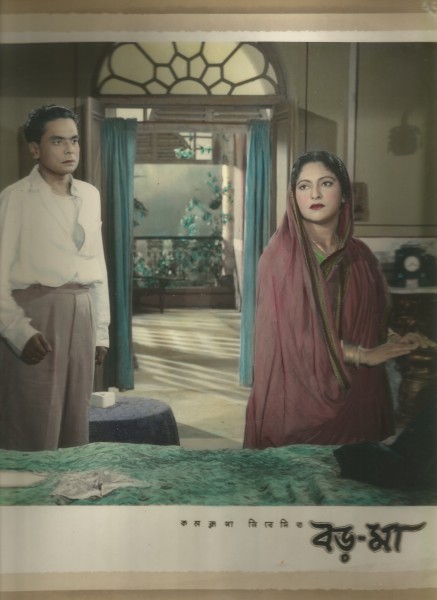 I cannot help but repeatedly listen to Hemanta Mukherjee's enchanting compositions like Tumi Je Amar (rendered by my favourite singer Geeta Dutt in a manner as only she could), Shuno Bondhu and Ei Path Jadi Na Shesh Hoy. I am captivated by the depth in the choice of subjects, the wonderful adaptations from Bengali literature, the mature visual nature of storytelling, the high level of film craft shown by the directors complemented by the absolutely wonderful and poetic play of light and shade achieved by the cinematographers with extremely innovative use of sound in these films. For instance, brilliant use of the telephone is made in Saat Pake Bandha as it rings at the worst of times in the Sukhendu-Archana marriage with each knowing the call is probably coming from her family. Their silence, even as the phone continues to ring loudly before one of them eventually picks it up, speaks volumes. The scene in Saptapadi where Suchitra Sen recognizes Uttam Kumar is as great a cinematic moment for me as any. Rina Brown sees Krishnendu in the mirror as he avoids facing her and as she recognises him, a train goes past, rattling the hut and his image in the mirror; all done by simulation of light on Krishnendu's image in the mirror and sound of the train in the background – expertly visualised and executed by cinematographer-director Ajoy Kar.
I hope I have now become qualified enough to be able to say Boi Dekha or Viewed the Book as the old time Bengali cinegoer would say!