The fact that we in India do not have archiving in our blood is well-known. Much of our history and cultural heritage is sadly lost forever and our cinema is no exception. We might be the largest 'Institute of the Imaginary' in the world but very little survives of the thousands of films we have made down the years. For instance, out of the 1700 odd silent films made in the silent era (1913-31), only 5 or 6 complete films survive at the National film Archive of India (NFAI), Pune. In the first decade of sound from 1931-41, more than 1500 films were made in various Indian languages Less than 10% exist today. Tragically India's first ever talkie, Alam Ara, released on March 14, 1931 is lost forever, it's reels sold for silver!
However, life throws up its own little miracles. Sometimes in some warehouse or tin shed, cans of forgotten films are discovered, or prints of films, otherwise thought to be lost, traced outside India. PC Barua's Bengali version of Devdas (1935), starring himself in the title role was thought to be lost forever, all its prints destroyed decades ago in a  fire that ravaged New Theatres Studio. A print, though 40% destroyed with poor sound, was traced out in the 1970s in Bangladesh and still lies with the Bangladesh Film Archives. Unfortunately, we have not yet been able to get the print back in India as the copyright is with the Bangladesh Film Archives, and though a request was sent from NFAI's side, the deal fell through. Still, the film managed to be screened in India under strict vigil in 2002 as part of a Devdas retrospective thanks to the Bangladesh High Commission's cooperation.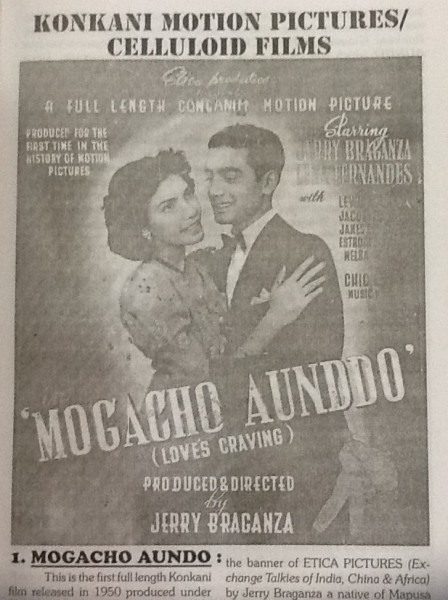 Recently, the Film Heritage Foundation, a non-profit organization, set up by filmmaker Shivendra Singh Dungarpur to trace out, preserve and restore Indian cinema's heritage, unearthed a reel of the first ever Konkani film, Mogacho Aunddo (Love's Craving, 1950). The film, a simple love story between a rich spoilt boy and a poor girl, was produced and directed by Jerry Braganza, and starred Braganza himself in the lead with Lena Fernandes, and was released on April 24, 1950. The reel was acquired thanks to the efforts of filmmaker Bardroy Barretto, director of National Award Winning Konkani film, Nachom-ia Kumpasar (Let's Dance To The Rhythm, 2014). Barretto's translator based in Pune, Isidore Dantas, had this reel in his possession, which he handed over to Barretto, who in turn gave it to the FHF.
However, the elation of the discovery soon turned to dismay on seeing the physical state of the reel (see header photo). The FHF, realizing the historic importance of the film, has swung into action and has sent the reel to one of its collaborators, L'Immagine Ritrovata, a leading laboratory in the field in Italy, designed for the restoration of film from every cinematic age, to do a preliminary check to see if the reel is restorable.  Even if it's but a small slice of cinematic history, Mogacho Aunddo's reel needs to be preserved. And hopefully, a complete print of the film too exists somewhere just waiting to be discovered.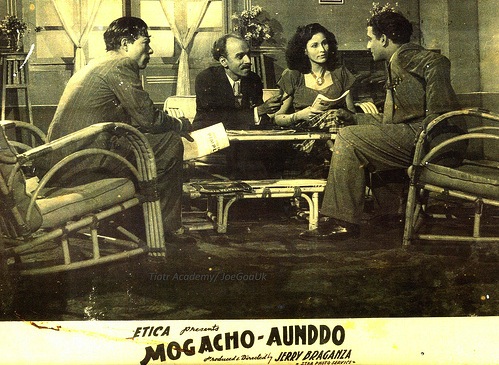 Photos courtesy Film Heritage Foundation.