Habba Khatoon's life story is a tale crying out to be told within the National and International reach of the Hindi film world. Born in 1554 CE to a poor farmer, Zooni, as she was known, was a fine poetess in her own right. Married to a poor man who disapproved of her poetry and saddled with a hostile mother-in-law, she would divorce her husband and go on to become the empress of Kashmir taking on the name Habba Khatoon after marrying Yusuf Shah Chak, the then ruler of Kashmir. It is said that it was love at first sight for both when Chak came across her reciting her poetry in the saffron fields of the region. After Emperor Akbar had Chak arrested by treachery and banished to Bihar, a dismayed Khatoon left the palace with her little daughter and lived in a small hut by the banks of the Jhelum, composing soulful poems about love and separation in Kashmiri. Her legendary beauty and mellifluous voice ensured her poetry became extremely popular around Kashmir and remains so in the valley even today, more than 400 years after the death in 1609.
It's not as if Bollywood filmmakers haven't tried to bring Khatoon's life story to the silver screen. The great Mehboob Khan had announced his version of the film in the 1960s itself following his Son Of India (1962). The film was to star Saira Banu in the title role and in an interview given to rediff.com in 2003, Banu revealed that none other than Dilip Kumar was to play Yusuf Shah Chak opposite her Habba Khatoon. Sadly though, the film was shelved in 1964 due to Mehboob's death. Around 1980, there was talk of a version of the poetess' life, Habba Khatoon, to be directed by BR Chopra starring Zeenat Aman and Sanjay Khan in the lead roles with music by Naushad. Naushad even recorded a wonderful ghazal with Mohammed Rafi for the film, Jis Raat Ke Khwab Aaye. Naushad recalls in this video that taken in by the composition, Rafi wept copiously – first on hearing the ghazal and then after recording it. He even refused to take any payment for the song, the last he recorded for Naushad before his death on July 31, 1980.
The third and most famous attempt to immortalize Habba Khatoon on the silver screen came from Muzaffar Ali, who launched his film, Zooni, sometime in the late 1980s with Dimple Kapadia and Vinod Khanna starring as Khatoon and Chak respectively. It was a dream project for Ali, who wanted to shoot the film capturing all four seasons of Kashmir and also wanted to make two versions – one in English for International audiences and one in Urdu for Indian viewers. The then Chief Minister of Kashmir, Dr Farooq Abdullah, helped Ali out with whatever resources he could including raising of finances.
The crew put together by Ali was impressive to say the least. The music of the international version was in the hands of  Oscar winner Japanese composer, Riyuchi Sakamoto (The Last Emperor, The Revenant), with songs in Kashmiri by Mohan Lal Aima. The Urdu version's lyrics were by Shahryar and music by Ali's favorite composer, Khayyam. Basheer Ali was the cinematographer of the film. A New York based writer, James Killough,wrote the script with Urdu dialogues by Asghar Wajahat while famous American fashion designer Mary McFadden looked after the costumes of the film.  In an interview to the NY Times in February, 1990, McFadden spoke about her work in Zooni saying, "This is like a Cecil B DeMille production, with 1,000 people in two village to dress. There are no records of how people looked, and no miniatures like other places. I took a melange of looks from the high courts of Persia and Suleiman the Magnificent in Constantinople, so they have more of a Persian feeling. The Mogul Empire had not yet influenced Kashmir." She also added that fabrics were donated from Indian mills and antique clothing from private collections.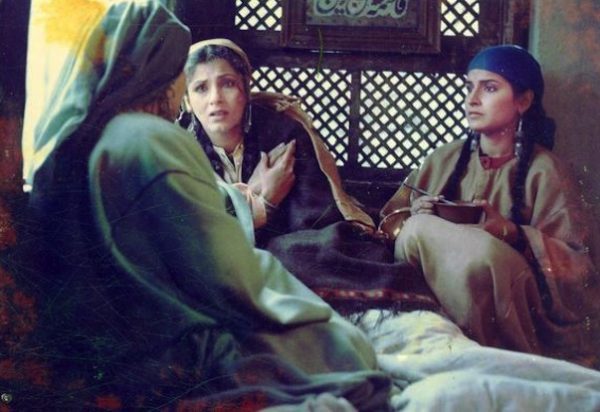 More than half the film was shot by 1989 with two seasons complete when insurgency hit the valley in a big way. The film could not resume shooting and coupled with other problems that Ali was facing at the time including his father's death, Zooni came to a halt in 1990. After waiting for quite some time for better days, Ali had to shelve the film. Some lovely stills from the film, especially those of an ethereal looking Dimple Kapadia, were published in prominent film magazines and periodicals of the day and wistfully tell us of what might have been of Ali's magnum opus. In an interview to rediff.com in 2015, Ali remarked that if Zooni had been complete, Kapadia would have been a legend today. According to filmmaker Ajay Raina, the sets of two village clusters were constructed outside Srinagar for the film. They continue to be in use for TV serials to film in even today.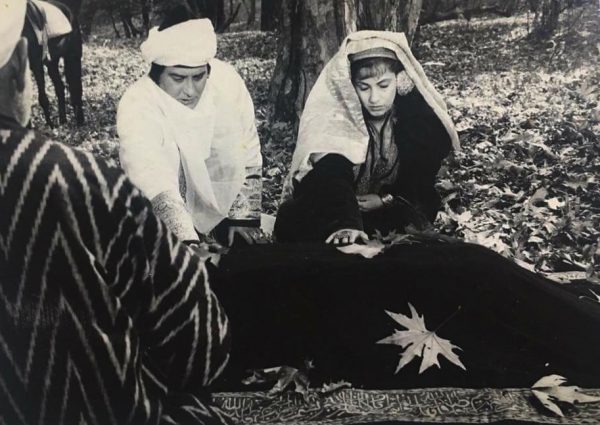 While Bollywood has been unable to pay its ode to Khatoon each time it has tried, a Kashmiri film made for Srinagar Doordarshan in the 1970s, Basheer Badgami's Habba Khatoon, starring Rita Razdan and Ghani Khan, remains one of the most popular Kashmiri films ever and is regarded by its admirers as quite a fitting tribute to Khatoon's incredible life. The songs for this film are rendered beautifully by Shameema Dev Azad.
https://www.youtube.com/watch?v=iXeKhKMqxN0