Come December 4, 2022 and the Film Heritage Foundation (FHF) returns with the 7th edition of its Film Preservation & Restoration Workshops in Mumbai. The aim of these workshops is to skill and build a team of trained archivists to take on the  gigantic challenge of preserving India's cinematic heritage. The workshop is all the more important this year as it is being held following a two-year gap due to the Covid-19 pandemic.
The workshop, being held from December 4th-10th, 2022, is certified by the International Federation of Film Archives (FIAF), dedicated to the preservation and access to the world's film heritage since 1938. What's more, the workshop, a joint initiative of the FHF, FIAF and Martin Scorsese's The Film Foundation's World Cinema Project, is considered the most comprehensive of its type and serves as the go-to model for FIAF's international training programmes. It is partnered (besides FIAF and The Film Foundation's World Cinema Project) with L'Immagine Ritrovata, a highly specialized film restoration laboratory created and developed in Bologna (Italy) thanks to Fondazione Cineteca di Bologna, an internationally recognized FIAF film archive with a multi-faceted mission ranging from film preservation and dissemination, training, research and publishing, Budesarchiv (The German Federal Archives), the Cinemateca Portuguesa-Museu do Cinema,the national film museum of Portugal, a state institution devoted to the preservation and screening of the Portuguese and the world's moving images heritage, and the Institut National De L'Audiovisuel (INA), responsible for the preservation, enhancement and transmission of the French audiovisual heritage since 1974.
Speaking about the workshop, Shivendra Singh Dungarpur, Director, Film Heritage Foundation says, "The world stopped during the pandemic, but time didn't stop for the countless films that continue to be in danger of being lost. Our workshops have had a tremendous impact and are crucial for building up a pool of archivists to save our film heritage.  We have to thank FIAF and our superb faculty who have taken the time to travel to India from all over the world to teach at the workshop."
Martin Scorsese further adds, "It's tremendously gratifying to see how instrumental this initiative has been in generating the strong interest in film preservation that we're currently witnessing in India and its neighboring countries. Local archivists trained at the workshops are now working to safeguard cinema history at archives in India, Sri Lanka and Nepal."
This year, too, the workshop covers both lectures and practical classes in the best practices of the preservation and restoration of films, celluloid and digital, film-related paper and photographic material, and 3D objects. The course is taught by a faculty of international experts from leading institutions around the world. Classes will be followed by daily screenings of restored classics from around the world. The screenings feature Martin Scorsese's Raging Bull (1980), Richard Lester's A Hard Day's Night (1964), Bernardo Bertolucci's The Conformist (1970), G Aravindan's Thamp (1978), Wong Kar-wai's In The Mood For Love (2000), and most notably, the JF Madan production Behula (1921), directed by Camille Legrand and starring India's first film star, Patience Cooper!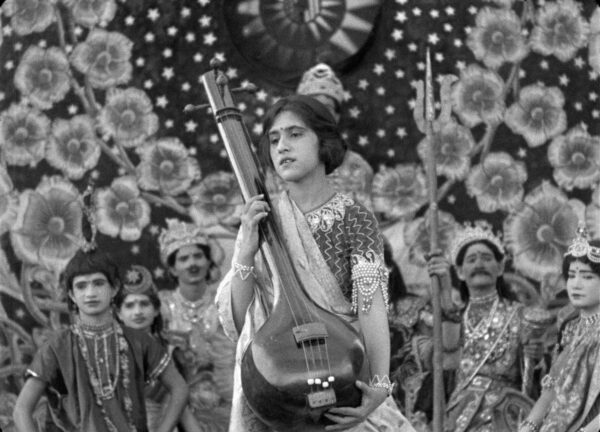 These workshops are just one of many initiatives the FHF is involved in. FHF has also been instrumental in the pristine restoration of Uday Shankar's masterpiece, Kalpana (1948), Sri Lankan filmmaker Lester James Peries' classic Nidhanaya (1972), and G Aravindan's Kummatty (1979) and Thamp. FHF has also come out with the first ever book on Film Preservation in India, From Darkness Into Light: Perspectives on Film Preservation and Restoration and another publication, Yesterday's Films For Tomorrow, a compilation of PK Nair's writings on cinema – both edited by Rajesh Devraj. A third book, A Cinema With Borders, looking at the depiction of the Partition through the cinemas of India and Pakistan, is on the anvil as well.
As FHF Brand Ambassador, Amitabh Bachchan, elaborates, "Today, Film Heritage Foundation is known around the world not just for this unique training initiative, but for our sterling work including the archiving and conservation of films and film-related memorabilia, film restoration, curation of festivals, our oral history programme and our publications. We hope that this will inspire our film fraternity and those who value our film heritage as an integral part of our history and culture to come forward and support Film Heritage Foundation in its unswerving commitment to preserve the past, present and future of India's film heritage."
The Dates and Venues of the Workshop as follows:
Date: December 4-10, 2022
Venue:
Chhatrapati Shivaji Maharaj Vastu Sangrahalaya (CSMVS Museum)
159 – 161, Mahatma Gandhi Road, Kala Ghoda, Fort, Mumbai – 400023.
Venue:
The K. R. Cama Oriental Institute
136, Bombay Samachar Marg, Opposite Lion Gate, Fort, Mumbai: 400023.
Daily screenings of restored classics at Regal Cinema:
Colaba Causeway, Opposite Chhatrapati Shivaji Maharaj Vastu Sangrahalaya(CSMVS Museum), Mumbai – 400005.
Screening Schedule:
December 4, 2022, 6.00 pm: A Hard Day's Night
December 5, 2022, 6.30 pm: Behula
December 6, 2022, 6.30 pm: Raging Bull
December 7, 2022, 6.30 pm: In The Mood For Love
December 8, 2022, 6.30 pm: Thamp
December 9, 2022, 6.30 pm: The Conformist
Header Photo courtesy Film Heritage Foundation.