Asha Posley's name in the annals of history is certain not so much as a memorable actress but more for the fact that she was the first ever leading lady of Pakistani cinema. She played the lead opposite Dilip Kumar's younger brother, Nasir Khan, in the first ever Pakistani film, Teri Yaad (1948).
Born Sabira Begum in 1927(?) in Patiala, Punjab, Asha Posley began as a child performer for radio programs and grew up to become a supporting actress in Hindi films in the 1940s before turning to Pakistani cinema post the partition of India. Her father, music director Inayat Ali Nath, worked with HMV in Delhi. Having being formally trained in music, she began her cinematic journey with a bit appearance in Gowandhi (1942), a Punjabi film that also saw the debut of popular hero, Shyam.
As her father shifted to Lahore, she was offered a contract by Roop K Shorey who was making pictures there. It was popular music director Ghulam Haider who gave her the screen name of Asha Posley.
Posley's first Hindi film was Champa (1945) starring Manorama for Shorey Pictures. She then did another other picture for Shorey, Badnami (1946), where Geeta Bali made her debut in a bit role. She also did films for other filmmakers in Lahore like Dawood Chand – Paraye Bas Mein (1946) where she worked opposite Pran, the Meena Shorey starrer Arsi (1947) and Ek Roz (1947). Barsat Ki Ek Raat (1948) and Roop Rekha (1948) were among the last 'Indian' films that Asha Posley acted in.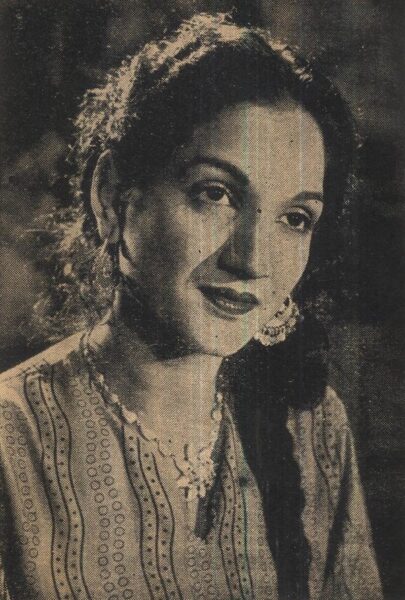 Teri Yaad for Asha was memorable in more ways than one. Not only was she the first ever heroine in Pakistani cinema, her father, Inayat Ali Nath, was the music director of the film and thus the country's first ever music director! Asha herself sang 4 songs in the film, which was directed by Dawood Chand. However Teri Yaad as well as her subsequent films as leading lady – Ghalat Fehmi (1949), Shola (1952) and Bulbul (1955) all failed to set the box-office on fire, thus ending her career as a heroine.
Posley then shifted lanes surprisingly playing the vamp quite effectively in Sassi (1954) and more notably, Intezar (1956), where she took on Noor Jehan, before being relegated to supporting roles in Pakistani cinema as well. For a brief period she did form a reasonably successful comic team with Nazar or Asif Jah, continuing to act in a steady stream of films right through the 1950s and early 60s. And since she did have considerable singing ability, she managed to have an alternate career on the radio and stage as well. In fact, she made her debut on television too due to her singing. One famous programme centered around her was Asha Tamasha.
Asha Posley continued acting in small minor roles down the years with her last film being Insaaf (1986). In fact, she did more than a 100 films in her career in Urdu and Punjabi cinema in Pakistan alone, besides her early few films in undivided India. Her elder sister, Kausar Parveen, too worked in the Pakistani film industry in the 1950s as a playback singer but tragically died young while another sister also acted in films under the screen name of Rani Kiran.
Like most artistes of yesteryear, Asha Posley died unsung in Pakistan on March 25, 1998.