This is a long overdue post considering my colleague, filmmaker Shivendra Singh Dungarpur, and I shot the interview with Kathak legend and actress of yesteryear, Sitara Devi, in December, 2011. It is now almost 5 years later and her second death anniversary today as she passed away on November 25th, 2014. If I don't post this now, I doubt I ever will.
As I recall, it was an interview given to us with a condition. She was adamant there would be no talk of Saadat Hasan Manto. Decades later, she had still not got over the writer's words on her in his column on the Bombay film industry of the 1940s. And one can see why. I had read an English version of the piece, which formed a chapter in the book, Stars From Another Sky, translated from Manto's Urdu original writings. The piece, titled Sitara: The Tigress From Nepal, looks at her various love affairs including (according to Manto) her juggling four men simultaneously, which included filmmakers Mehboob Khan, PN Arora and Jayant Desai, and actor Al Nasir. Manto then talks of a fifth man entering her life, actor-filmmaker Nazir, whom she would then two-time with his nephew and her future husband, filmmaker K Asif.  Manto goes on to add that after making his first film, Phool (1945), Asif had begun work on the Anarkali story, finally released as Mughal-e-Azam (1960). Not happy with Kamal Amrohi's initial script, Asif approached various writers to help him out including Manto, who would reach his house to 'work' by eight in the morning. Quoting Manto, "From the next room which was the bedroom, I would hear strange noises which sent a shiver down my spine. After some time, Asif would appear, smacking his lips. He used to be a sight, with his night shirt torn at various places and blue marks on his chest and arms, his hair dishevelled, and his breathing uneven. He would greet me casually and then fall in a heap on the floor." 
So Manto kept aside, the interview, even if I say so myself, was brilliant. The focus, of course, was on Sitara Devi's tryst with the movies. Having entered the world of films in her teens, she had a pretty successful career as an actress with a string of films in the second half of the 1930s and the 1940s. Naturally, her biggest strength were her dances but she proved to be quite a competent performer as well. She also choreographed dance numbers and sometimes performed in them herself right through the 1950s such as the snake dance in Anjali (1957) or the Holi dance in Mother India (1957).  Her dance troupe would often perform items in the early years of the Filmfare Award functions as well.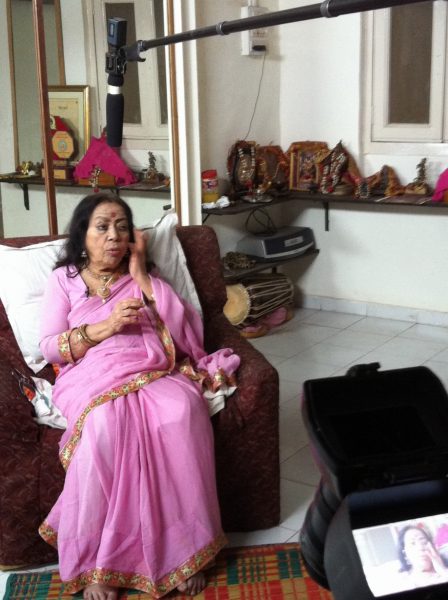 What was amazing about the interview was just how razor sharp her memory was even though she was in her 90s and required a walker to move about. She not only recalled all her films but also correctly remembered the years in which they were released. She knew the lines from her hit songs by heart and took a trip down memory lane, fondly talking about anecdotes from her filmi life. She remembered watching India's first talkie, Alam Ara (1931), at the time of its release in Calcutta in two parts – as the first time she had just half the money for the ticket and so was allowed to see only the first half of the film. She then scraped together half the ticket cost again, this time watching the second half! Speaking of incidents professional and personal, she remembered amongst other things how Mehboob deliberately hurt her toe during a shot to get her to give a cry of anguish correctly from Judgement of Allah (1935). Her eyes twinkled on talking about her days at Ranjit Movietone, where she did some of her best films like Achhut (1940), Pagal (1940) and India Today (1940). She also mentioned  her subsequent work with Mehboob in films like Roti (1942) and Najma (1943), where her dances and the songs – Sanjana Sanjh Bhayi Aan Milo from the former and Haule Haule Ulfat Mein Rakhna Kadam from the latter – were the highlights of the film.
On the personal side, she did open up a bit about life with K Asif and movingly remembered meeting an emotional and bitterly weeping Madhubala shortly before the latter's death in 1969 when just 36.
Some of Sitara Devi's other memorable films include Watan (1938), Pooja (1940), Swami (1941), Dukh Sukh (1942), Badi Maa (1945), Lekh (1949) and Hulchul (1951).
I have to say once again that it was an incredible meeting and I regard myself extremely fortunate to have met and even interviewed some of our movie greats from the past. There are some fringe benefits to being a retro nut after all.