When I joined Rajen Kothari as an assistant some 15 years back in an outdoor, the first thing he told me, "Script jaldi padh lo" and the very next thing he told me, "Lights are being offloaded from the truck. Go and help the light boys by carrying some lights."
He taught me that in cinematography, your grey cells and your muscles go hand in hand.
He told me cinematography is not only about calculating the correct exposure or placing the lights in a correct angle but also identifying good people, and to remain permanently attached with them.
He taught me cinematography is about care, faith, share and responsibility.
Once during shooting, I placed a wrong filter in front of the lens and the shot was 2 stops underexposed. I realised the mistake after an hour. I was damn scared. Totally shaken, I went to him after 15 minutes and told about the incident. After hearing me out, without making me feel awkward, he said calmly," Not a big issue, let's go for a re-take." And thus I learnt even in cinematography, `Honesty is the best policy.'
Whenever we travelled together to various places, he had an uncanny ability of making a food map of the place at a first glance. At Jaipur, I remember, we ate kachoris at a particular shop. Then, though available in the shop, still we walked 20 minutes to another shop to have jalebis, as according to him, though that particular shop had the best quality of kachoris, but the other one specialised in jalebis. He had the specialities of each city at his fingertips – the best quality of juice in Pune, Strawberry slush at Panchgani, Kheema Pav (despite of him being a pure vegetarian) in Mumbai, his favourite fruit shop at Irla, Mishti doi & Jhalmuri in Kolkata, to the extent of even locally brewed beer in Berlin (though a teetotaller himself) and … the list is endless.
How many of us know that he himself was a fantastic chef? He taught me how to choose the right ingredients, cook, garnish, serve, smell and relish cinematography.
He shared that famous story of refusing to put a back light to a star of the industry because he didn't want to glamourise the character because the character was in the prison in that scene.
He taught me cinematography is not about making a woman beautiful, but about interpreting the script correctly.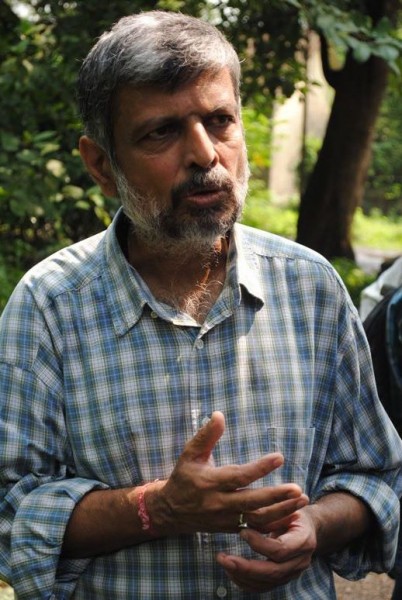 Sometimes, during an exterior shoot on a bright sunny day, as soon as we had set the camera ready for a shot, the clouds would cover the sun. After waiting for some time for the sun to reappear but in vain, he would give a naughty wink at us, and start singing for the sunlight "Mere kismat mein tu nahin shayad, mein tera intezaar karta hoon", which signifies that it's time to put the exposure for the cloud & take the shot.
He taught me cinematography is also about flexibility.
Often, both of us and individually, used to face an awkward question. That how did he jhelo me for such a long time? Valid point, I must say. He was a non-smoker, teetotaller, vegetarian, spiritual, soft spoken, polite, and gentle with an icecool brain. None of these qualities I can claim I possess.
He taught me cinematography is like a true democracy where you have to accommodate & listen to an opposing voice.
On a rare occasion, I remember, he lost his cool. It was a mid-night shooting in Germany. Everybody was in hurry for the pack up. Few things didn't fall into place. He got irritated and started scolding all the assistants on the set. After pack up, Mr Shyam Benegal, with a poker face, poked, "Rajen is like Gandhi in the day & Netaji in the night." True, he was a beautiful blend of both.
He taught me cinematography is about non-violence, commitment to the truth, leadership and practising what you believe in.
The advent of rapidly fast digital cinematography, like a hydra-headed monster, ate up all our traditional concepts of cinematography. How effortlessly he adapted to it! Recently, the most common topic of our discussion used to be the pros & cons of various digital cameras & their comparative studies. In fact, when he started to plan his last directional venture he initially thought of to shoot it on the Canon 5D, though it didn't happen. Why? Mr Yashpal Sharma can answer you better! At the same time, he singlehandedly started a developing & processing still photo lab, emphasizing more on B/W photography (yes, you read it correctly – that dinosaur) in Whistling Woods. Chemicals, photographic papers, films etc. had to be procured from London. He didn't quite like the idea that new generation students wouldn't know the techniques of Subrata Mitra.
He taught me cinematography is not only welcoming a new kid in the town but also about not to forget your ancestors.
How proud and happy he would feel when he found a diploma film by a new student was well shot. I remember after watching FTII final year student Savita Singh's diploma, he told me "Apratim! Kaash main bhi kabhi kar pata aisa cinematography."
According to him, cinematography is always about encouraging new buds to blossom.
I could go on and on. A 15 years relationship needs many more years to realize what I have learned, many more stories I could have shared & many stories, which can't be shared.
He only taught me cinematography is not about what you show but more importantly what you don'show.
Thank you all for reading this. And to those who thought till now I was telling you what he taught me about cinematography, my apology. He taught us how to live. Even if we live but once.