It was sometime in 2015. I was terribly disappointed with India having lost to Australia in the cricket World Cup semifinal. Yet another day had just ended in disappointment. As it is, I had already gone a year without a paid job and things looked rather bleak. I was planning a trip to my hometown Lucknow, a neurotic practice I have harbored every time the chips are down. And then it hit me. Suddenly… Out of the Blue. I needed to make a film. My diploma film at the Film and Television Institute of India (FTII), Pune way back in 1991-92 was an assortment of adaptations from Milan Kundra, to Gabriel García Márquez to Fyodor Dostoyevsky. It hit me that if I am thinking of a film, I should begin right where I last left filmmaking. In fact my last two short features, Ek Thi Maria and Ward No. 6, were also adaptations. And that is when the idea of Ek Betuke Aadmi Ki Afrah Raatein (The Joyous Nights Of A Ridiculous Man) first came. Dostoyevsky's The Dream Of A Ridiculous Man met his White Nights!
The Dream Of A Ridiculous Man is a story of an alienated man who doesn't come forward to help a woman, who subsequently dies. The protagonist is filled with guilt and slips into a dream that is loaded with Christian imagery and metaphors. Adapting this story for myself I needed to contextualize it in my milieu and I needed a more secular approach for the big dream that the protagonist has and that is where White Nights came to my rescue. In the original story, the woman is suffering from tuberculosis and needed medical help but that was not something I felt would work in contemporary times. And then came the idea of communal violence in my state, Uttar Pradesh. What if rioters attacked the woman, who is also a prostitute and was regularly visited by the protagonist, and our man doesn't come to her rescue? Her killing would, no doubt, have a far more direct and personal affect on him! This tragic event followed by the beautiful love story of White Nights seemed like the ideal path to his redemption.  I'll admit it. What began, as an exercise in creating a practical opportunity to take advantage of the state's film subsidy, now seemed to stand on its own on firm creative ground.
From the very outset, I had decided that the film's content and filming style will be the star and not any actors ( read stars!). I drew my inspiration from the success of recent films like Court, Fandry, The Ship of Theseus and Gaandu, four of my favorite films in the recent past. If they could make their cinema their star, why couldn't I. And there were other encouraging stories. My colleague, Reema Borah, was completing her debut film in Assamese, Bokul, at the time and had raised close to 20 lakh rupees for the film's production on social media. I had also heard of the success of the Kannada film Lucia made through crowdfunding. The world had indeed shrunk thanks to the internet and social media.  I promised myself that crowdfunding would indeed be the way to go because that would also give me autonomy and full creative control. After all, I was making a film and not a proposal.
So now, with the cockpit in place I embarked on my flight of fantasy. Multiple viewings of films of filmmakers I admire, several readings of not just Dostoyevsky, but a lot of other material as well. Going through the seminal work of the greatest Dostoyevsky scholar ever, Mikhail Bhakhtin on the poetics of Dostoyevsky was a big, big eye-opener. The state of flux in which characters remain is what makes Dostoyevsky so important. And that is something I could identify with. But just as I was roaring to go, I hit some major turbulence. I had a major health setback and thought the film may not happen anymore. But then my wife, Ramila, asked me to concentrate on earning just about enough to run the kitchen and otherwise do what I really want to – make that film. So I was back in business – teaching part time to keep the home fire burning while continuing with working towards making the film happen. I was flying in sunny skies once more. I watched a lot of films in this period. I strongly believe that you cannot be a filmmaker if you do not watch films.
There is more than one reason that makes this film so important and personal to me. To begin with, one has been in a state of turmoil due to the rapidly changing social and political environment in the country and somewhere as a filmmaker, I had to give vent to my feelings. But I am not a great follower of social realism; it is the abstract that inspires me a lot more. So even as I was viewing films by the dozen, I was looking at work where the social was just not enough; it had to be metaphysical. It is then Alain Resnais' Hiroshima Mon Amour  came to my rescue while I was showing the film to my students. Wim Wenders' Wings of Desire followed this to become a reference film of sorts. These two laced with the work of Robert Bresson kickstarted the creative process within me. In fact, there is a dialogue in the pitch video as well that is straight from Hiroshima Mon Amour, my absolute humble tribute to Resnais.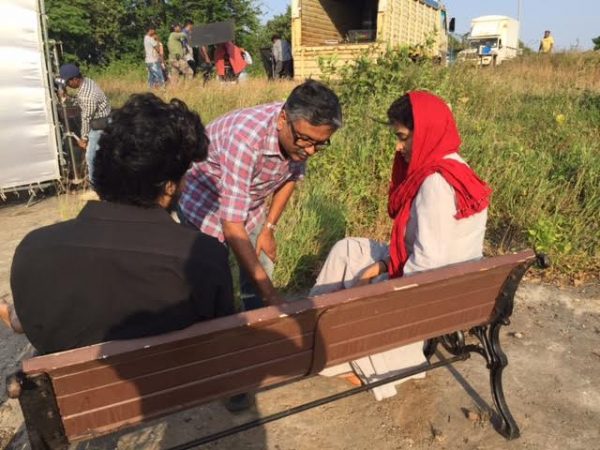 For me, it is the image that comes first to mind and then the first word on paper. If I crack that,  the rest follows. The form of the film, its style and the mise-en-scene have to fall in place for me first before I really get into the  scripting. Once I had the form in place, it was a joy to write the film; to give it it's structure and to put all causal connects in place. Consciously or unconsciously, one person's influence on my writing cannot be ignored – my screenplay writing teacher at the FTII, Sagir Ahmed, who sadly is no more.
Having decided to go in for crowdfunding, I settled in on Wishberry. However, on getting in touch with them, they told me that they only entertain those projects with pitch videos in place. Here I have to thank close friend, Vandana Kumar, who graciously organized  the  funding for the promo. I got another dear friend and colleague, Ravi Davala, to whet the story and he told me I was good to go. And so I plunged into making a promo. Ranimol TA, the senior VP at Bling, Atul Kasbekar's outfit put me onto a bunch of actors. Here, I must mention I was not interested in their acting abilities; I was looking for personality types. So if they walked in and something clicked, they were on. For the three major roles, Salony Luthra, who plays Gomti, Eisha Chopra playing Anita and Raajveer Verma  enacting Gulmohar, all agreed readily even though I had no  money to offer them. I, for one,  now had a cast.
The next step was to get the core crew. This was an easier process thanks to my FTII connections and friendships as first, Arun Varma readily came on board as the DoP followed by my batchmate, Madhu Apsara, agreeing to handle the Sound department. Yasmin Rodgers, who has done a lot of international films, and Mandira Shukla were on for make-up and costumes while Angelica Bhowmik agreed to take on the mantle of Production Designer. While they all agreed to working on the film for deferred payment, there was one condition though from their side. I would not scrounge on Lucknavi food, their one big motivation to do the film, apart from the story. Of course, I agreed! Seriously though, I cannot thank them enough for helping me make my film. I still need an editor though. Anyone good at their craft and interested in some good food can get in touch with me.
We now had a promo to shoot. One that would help us get money to make the film. But before that, I visited Delhi and met cinema and Dostoyevsky scholar, Rashmi Doraiswamy, who agreed to hone my promo script and also share her writings on Dostoyevsky. She gave me the thumbs up, assuring me both the stories merged well. I shot the promo in October, 2016. All went smoothly as Afzal Sheikh deftly edited the material and things couldn't have been better. Or so I thought. But making a film has one big unwritten law – something has to go wrong somewhere. And sure enough, post the promo shoot and edit, my original music director vanished into thin air with the promo getting stuck due to music. It was another three months before Mannan Munjal, whose soundtrack I had loved in Kaul, bailed me out. Meanwhile, I have completed the script of the film and I have to say, I am pretty satisfied with it but changes and improvements with later drafts is inevitable. One change I have already incorporated into the main storyline is Munshi Premchand's little known story, Binni. Binni added that extra layer I needed to make the story richer. Now as I work further on the script to prepare it for filming, I am looking at a 'non-Bollywood' dialogue writer and a seasoned actor to play Gomti's father as it is a small but critically complex role.
On May 12, 2017, Wishberry launched my funding campaign with a target of 26 lakhs rupees to be sourced and collected in 60 days. So far, the response has been most heartening. In the first 35 days, we have already raised over 15 lakh rupees with another 10 odd lakhs to go. I cannot explain the elation I feel each time I see the contributed amount has gone up, no matter by however small a sum, as it sees me that much closer to my dream. This is one ocean where every minuscule drop is hugely important. Contributions for the film can be made here at Wishberry.
https://vimeo.com/221910609?utm_source=email&utm_medium=vimeo-cliptranscode-201504&utm_campaign=29220