To be born into a family regarded as the 'first family' of Indian cinema can be a two-edged knife, which cuts both ways. But Rishi Kapoor, the third-generation successor of the Kapoor family beginning with his grandfather, Prithviraj Kapoor, still managed to establish his own distinctly individual identity through his unique charisma and underrated acting talent. He strove out on his own, did not imitate the theatrical style of his grandfather or the naïve innocence of his father Raj Kapoor's screen image. Nor did he follow in the footsteps of his elder brother Randhir Kapoor but devised his own style, one that was effortless. This is what distinguishes Rishi Kapoor as a star-actor in his own right.
Born in Bombay, now Mumbai, on September 4, 1952, we first saw Rishi Kapoor on-screen as a chubby and sweet, little, raincoat-clad boy of about three in that immortal song sequence, Pyar Hua Ikrar Hua, walking across the rain-splashed streets with his elder brother and sister in his father's masterpiece, Shree 420 (1955). Then, the chubby, cherubic, peach-complexioned teenager appeared in Mera Naam Joker  (1970) in the first part of his father's doomed magnum opus.  He plays the younger avatar of the joker, Raj Kapoor, a school boy, who develops a massive crush on his beautiful, young teacher, played by Simi Garewal. When he discovers that the teacher is already engaged to another, he feels betrayed and is hurt, heartbroken and angry. This particular episode of the film is said to have been picked by Raj Kapoor from his own childhood memory of his crush on his teacher. While the film, swinging between moments of sheer brilliance and some terrible self-indulgence on Raj Kapoor's part, flopped dismally at the box-office, the first chapter with Rishi Kapoor is easily the film's highlight. Rarely has an Indian filmmaker captured the early sexual stirrings in a young teenage boy so beautifully. And to his credit, Kapoor portrays the role brilliantly, deservedly winning the National Award for Best Child Actor for the same.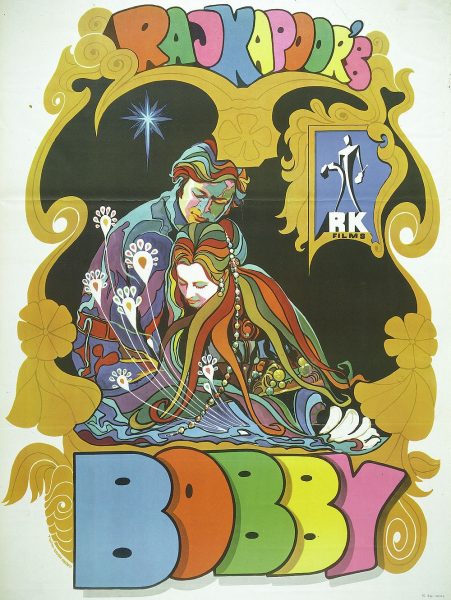 Kapoor entered films with the clichéd 'bang' as the romantic hero in another film directed by his father, Bobby (1973).  Dimple Kapadia, who was chosen to be his love interest in this teenage, mushy love story, also made her debut in this film.  The two charged the screen with their electric chemistry in this affluent-boy-not-as-affluent-girl Hindu-Christian romance that created a completely new genre of teenage romance on the Hindi screen. It remains, till today, the second biggest box office hit among films released between 1970 and 1979, the top position occupied by Sholay (1975). However, Bobby was not made by Raj Kapoor to introduce his son as a hero as many thought. He was in a terrible financial hole after the commercial disaster of Mera Naam Joker and needed desperately to make a hit to cut back his losses. And having an in-house hero would save that much money in the film's budget. Fortunately for Raj Kapoor, Bobby turned RK Films' fortunes around. The film turned out to be a cult movie for all time and worked both ways – it offered Hindi cinema a wonderfully fresh, handsome, chocolate-faced, naïve-looking hero and also helped Raj Kapoor to tide over his financial stress. The film also won Filmfare Awards, among others, for Best Actor and Actress for Rishi Kapoor and Dimple Kapadia, the latter sharing it with Jaya Bhaduri for Abhimaan (1973).
Rishi Kapoor, with or without the 'Kapoor' tag, went on to have an extremely successful career in the Hindi film industry for almost five decades thereafter.  His career as an actor can be classified into two distinct parts. The first is comprised of his films wherein he portrayed the romantic hero. The second part of his career is devoted to character roles that suited his increasing girth and his growing age. It is here that he really came into his own.
It is easy to see why Kapoor was such a hit as a romantic hero in the first part of his career lasting more than two decades. To begin with, he was incredibly good looking in person and in camera, secondly, he had an amazing screen presence, thirdly, he was a wonderful, easy performer who could pour himself fluidly into any vessel he was poured into and finally, he was a wonderful dancer who brought much vitality and life into his song sequences, especially those composed for him by RD Burman. Some of his memorable films as a hero – the list is long – include Rafoo Chakkar (1975), Khel Khel Mein (1975), Laila Manju (1976), Kabhi Kabhie (1976), Amar Akbar Anthony (1977), Hum Kisise Kum Naheen (1977), Karz (1980), Zamaane Ko Dikhana Hai (1981), Naseeb (1981), Prem Rog (1982), Yeh Vaada Raha (1982), Coolie (1983), Saagar (1985), Nagina (1986) and Chandni (1989).
But Kapoor, successful as he was, had his work cut out for him. Following the enormous success of Zanjeer (1973), the 'angry young man' and Amitabh Bachchan had taken over the Hindi film industry. Films thereafter had shifted from romance to action as Bachchan's Vijay fought his personal battles, within the law and outside, on screen. Romance was secondary to this action hero, revenge his priority. It is to Rishi Kapoor's credit that not only did he successfully withstand the Big B onslaught and keep the romantic flag flying high in Hindi cinema but he more than left his mark in each of the films he did with Bachchan as a co-star such as Amar Akbar Anthony, Naseeb and Coolie, all directed by Manmohan Desai.
If there could be one complaint against Kapoor, it is that he largely played to type. Perhaps it was because his romantic image both helped him along in his career and also went against him when he featured as characters with a different perspective in films such as Puttana Kanagal's Zehreela Insaan (1974), where he plays a misunderstood, hot-headed but essentially kind hearted young lad, or Raghunath Jalani's Badaltey Rishtey (1978), based on a powerful screenplay by Phani Majumdar. In the latter, he plays a young man, Manohar, who is in love with a beautiful girl Savitri, (Reena Roy) a music teacher, But she marries Sagar (Jeetendra), who does not know that she is in love with someone else. This because, according  to an astrologer, her husband is destined to die within forty days of their marriage. Manohar is determined to win her hand even if he has to kill her husband… It was a very unusual film but the final twist in the film brings Manohar's role back into the conventional after all, making it less of a path-breaker.
Doosara Admi (1977), directed by Ramesh Talwar, is yet another film that flopped perhaps because it went against the normal boy-meets-girl romance Rishi Kapoor's screen image was popular for. But it is enriched by the finely nuanced performance of Rishi Kapoor as the confused young man already in love with a young girl (Neetu Singh) finding himself pulled to an older woman (Raakhee) who is attracted to this man because he reminds her of her dead lover (Shashi Kapoor).
Kapoor formed a particularly endearing pair with Neetu Singh, the two epitomising young, playful romance of the bell-bottom '70s, in a series of films. From Zehreela Insaan onwards, the two played opposite each other in a series of films like Zinda Dil (1975), Rafoo Chakkar, Khel Khel Mein, Kabhi Kabhie, Doosra Aadmi, Amar Akbar Anthony, Anjane Mein (1978), Jhoota Kahin Ka (1979), Duniya Meri Jeb Mein (1979) and Dhar Daulat (1980). They shared a searing chemistry on-screen and in due course, they would fall in love in real life too. Wedding bells finally peeled on January 22, 1980 and keeping in traditional with the Kapoor family's then policy that their women would not work in films, Neetu Singh bid adieu to acting. It was much,  much later that she returned, having aged beautifully and gracefully, to the silver screen in Love Aaj Kal (2009), followed by films  like Do Dooni Char (2010) and Besharam (2013), where she worked with her husband on-screen again. Kapoor and Neetu Singh have two children, daughter Riddhima and son, Ranbir, a current heart throb and a fine actor himself.
The 1980s and first half of the 1990s saw Kapoor continue in fine form as a romantic hero, now romancing newer generations of heroines like Tina Munim, Poonam Dhillon, Rati Agnihotri, Jaya Prada, Sridevi, Meekakshi Sehsadri, Neelam, Farha, Juhi Chawla, Madhuri Dixit, Tabu, Divya Bharati and Raveena Tandon. What made him stand apart from most heroes was that he had no issues in playing the leading man even in heroine-dominated subjects. If Saagar, where Ramesh Sippy reunited him with Bobby co-star Dimple Kapadia, centred around the latter, it was Sridevi who was the life and soul  of both, Nagina (1986) and Chandni (1989), while it was Meenakshi Sashadri, who had the author backed role in Damini. Yet, in no way did Kapoor let himself be overshadowed in these films. In fact, he complemented the heroines perfectly even as he made quite a reputation for himself as a sweater king among the hills of Switzerland!
In Damini (1993), while Sunny Deol walked off with the laurels in the more obvious and showy role of an alcoholic lawyer redeeming himself, Kapoor carried off the more difficult, and at times unlikeable, role of  a man, who supports his family for the sake of honour, knowing fully well they are wrong. For this, he even goes against his upright wife, Damini, who rightly wants truth and justice  to prevail. He also made a fine impression in Sukhwant Dhadda's Ek Chadar Maili Si (1986), based on Rajinder Singh Bedi's Urdu novella by the same name. In the film, Kapoor plays a young, carefree man, Mangal, in love with a gypsy girl, Raji (Poonam Dhillon). As per custom, he has to marry his elder sister-in-law, Rano (Hema Malini), when his brother (Kulbhushan Kharbanda) is suddenly murdered. The film then explores how the two of them ultimately come to terms with the situation and with each other as well. While Hema Malini dominates the film with one of her finest ever performances, Kapoor is no less as the young man who is forced by tradition to give up his own love and settle down with a woman he's never looked at as anything but mother-like.
Kapoor also directed the last film to come out of the RK banner, Aa Ab Laut Chalen (1999). However, the film, starring Rajesh Khanna, Akshaye Khanna and Aishwarya Rai, was a disappointment at the box-office. The general consensus was that Kapoor stick to what he knew best, acting.
It was in his second innings as a character actor that Kapoor truly came into his own. And it was here, when he did not have the pressure of the film's success or failure on his shoulders, that he truly explored wider avenues and flowered as an actor. Luck By Chance (2009 – the superstitious role poly Punjabi producer), Do Dooni Chaar (a middle-class Delhi schoolteacher who also gives tuitions to supplement his income and who dreams of buying a car), Student Of The Year (2012, a gay dean of a posh college), D-Day (2013, the dreaded underwood don, Iqbal Seth, based on Dawood Ibrahim) Kapoor & Sons (since 1921) (2016, the 'cool' 90 year old grandfather who, while having fun, knows exactly what is happening around him) and 102 Not Out (2018, the staid, grumpy 76 year old who is the son of a jolly, bindaas 102 year-old Amitabh Bachchan) are some of the films where Kapoor broke new boundaries in terms of his histrionics. He would win major awards for Do Dooni Chaar – the Filmfare Critics Award for Best Actor and Best Supporting Actor for Kapoor & Sons (since 1921) at the Star Screen Awards, Stardust Awards, Zee Cine Awards and the Filmfare Awards. And then of course, there was Agneepath (2012). Though, the original 1990 film with Amitabh Bachchan was certainly a much better movie, Kapoor as the mafia head of a child trafficking gang, played it with unusual, menacing dramatics, and stood out among everyone else in the cast with his dynamic performance. This act deservedly brought him a slew of nominations and some victories for Best Supporting Actor (nomination – Filmfare), Best Villain (nominated – Screen Awards) and Best Actor in a Negative Role (won – Zee Cine Awards and the IIFA Awards). 
And finally, in Anubhav Sinha's highly relevant film of our times, Mulk (2018), Kapoor expertly plays a progressive Muslim elder and a lawyer in Varanasi, whose life and reputation is shattered when his son is found to be a terrorist. Kapoor gives a scintillating, moving performance, one of the very best of his career, in the film, an act that spanned every hue of human emotion. Mulk sees a fine actor, who is in total control of his craft. 
In 2017, Kapoor came out with his autobiography, Khullam Khulla, its title borrowed from a popular song from his super hit film, Khel Khel Mein, co-written with Meena Iyer. In the book he makes many candid confessions about his distant relationship with his father and his closeness with his mother who, he felt, had been wronged and neglected through a major part of their married life.
Rishi Kapoor passed away in Mumbai on April 30, 2020. For the last couple of years, he was suffering from cancer. It will be difficult to find another star-actor like him with so much power in performance and such durability any time in the future.