No rise or fall of a star has been as been quite as dramatic or spectacular in Indian cinema as that of Rajesh Khanna. From 1969 to 1972, the Rajesh Khanna phenomenon swept Bollywood off its feet and the hysteria he generated was unlike anything seen before and after. As superhit followed superhit and women all over the country swooned over him, Rajesh Khanna admitted feeling 'next to God.' In fact, Rajesh Khanna could perhaps be called Hindi Cinema's first superstar and it is said that the term, so freely used today, was coined for him. And yet, in one of life's greatest ironies just 5 years later by 1977, his acting career was in shambles as film after film began failing at the box office. As he fell to the 'angry young man' onslaught ofAmitabh Bachchan and found himself totally rejected by filmgoers, it is said he went to his terrace in heavy rain asking God not to test his patience…
Born Jatin Khanna on 29th December, 1942, he was the adopted son of his parents. After a stint in theatre, he was selected for a bright future in films by the United Producers' Talent Contest, made his film debut in Chetan Anand's rather unusual Aakhri Khat (1966). His earlier films, in spite of more than adequate performances by him, like Raaz (1967), Aurat (1967) and Baharon Ke Sapne (1967) however, did nothing for him till Aradhana (1969) came along dramatically turning things around.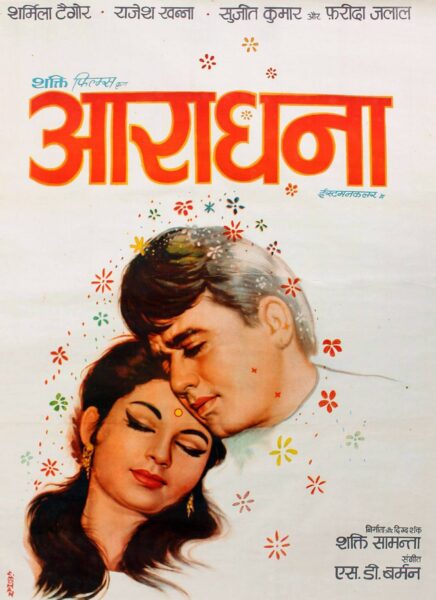 Released in November 1969 and based loosely on the Hollywood film, To Each His Own (1946), Aradhana made Rajesh Khanna a megastar. In the double role of a father and son, both air force pilots, Khanna cut a most dashing figure in uniform. His mannerisms – the crinkling of his eyes and the shake of the head as he beckoned the heroine to come to him – found instant favour with the audience, especially the fairer sex. Aided by such SD Burman evergreen ditties as Mere Sapnon Ki Rani, Kora Kaagaz Tha Yeh Man Mera, Roop Tera Mastana, Gun Guna Rahe Hain Bhanwaren and Baghon Mein Bahar Hai, Aradhana was a golden jubilee hit. Barely a short while later in December the same year, Raj Khosla's Do Raaste, in which he played the youngest brother in a joint family in a fine domestic melodrama, too opened to full houses and also went on to be a golden jubilee hit. What's more in Bombay, the two films had their main theatres right across the road from one another, Aradhana at Opera House and Do Raaste at Roxy! That year he also tasted box-office success in Bandhan (1969), Doli (1969) and one of his finest films, Ittefaq (1969), besides giving a strong performance as a man who lost his sanity after being jilted by the girl he loves in Asif Sen's Khamoshi (1969).
In Ittefaq, Dilip Roy (Rajesh Khanna) is accused of murdering his wife Sushma (Alka). With mounting circumstantial evidence against him, he feigns insanity to avoid being convicted. However finding life unbearable in the mental asylum, he escapes and seeks shelter in the house of a married woman, Rekha (Nanda) who is alone as her husband is away. Caught in the clutches of this madman or so she thinks who is terrorizing her, she tries to get him caught but is unsuccessful. And while hiding from a visiting Doctor and a Police Inspector (Sujit Kumar) whom he thinks is searching for him, Dilip discovers Rekha's husband's corpse in the bathtub… Devoid of his typical romantic mannerisms, Rajesh Khanna responds with one his career's more nuanced and edgy performance. However the scene stealer is undoubtedly Nanda. She gives an extremely controlled and reined in performance and since she was known for her goody-goody roles, the twist when she is revealed to be a cold blooded murderess trying to create an alibi for herself and pin her husband's murder on Dilip works extremely well for both her and the film.
Thereafter till 1972, it looked like Rajesh Khanna could do no wrong. Film after film swept the box-office. But there was more to him than just his mannerisms as he built the image of a vulnerable, gentle romantic. In films like Khamoshi, Safar (1970), Anand (1970), Amar Prem (1971) and Aavishkar (1973), he came up with sensitive performances straight from the heart. Anand saw perhaps his greatest ever performance as a man stricken with cancer but wanting to live life to the fullest before he dies. In Anand, Rajesh Khanna more than justified Frank Capra's immortal observation,"Tragedy is not when actors cry. Tragedy is when audiences cry." Indeed at the end of Anand as Amitabh sits by Khanna's dead body and as the tape recorder plays Khanna's voice, you cannot help but cry along with Amitabh.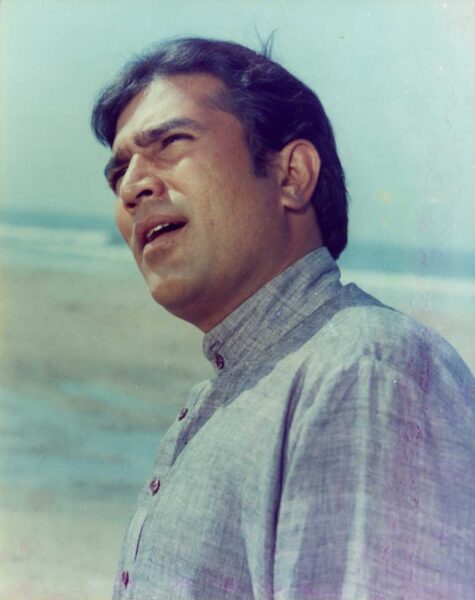 As Khanna went from strength to strength, even his guest appearance in Andaaz (1971) generated more hysteria than the hero of the film Shammi Kapoor. In fact symbolically this represented the end of the Shammi Kapoor era and the peak of the Rajesh Khanna era. Though Khanna worked with top heroines of the day like Waheeda Rehman, Nanda, Mala Sinha, Tanuja and Hema Malini, his most popular pairings were with Sharmila Tagore and Mumtaz. In an acknowledgement to his 'superstardom', the BBC, no less,  made a film on him, Bombay Superstar (1973), and a textbook prescribed by the Bombay University even contained an essay, 'The Charisma of Rajesh Khanna!'
Rajesh Khanna formed a brilliant combination with director Shakti Samanta, Music Director RD Burman and 'his voice', singer Kishore Kumar resulting in such films like Kati Patang (1970) and Amar Prem. With Hrishikesh Mukherjee, he gave fine performances in Bawarchi (1972) as a Jack-of-all-Trades cook and Namak Haram (1973), ably carrying both films on his shoulders. The same year, 1973, also saw him score heavily with a strong and relatively more realistic and off-beat performance in Aavishkar, Basu Bhattacharya's perceptive study of a marriage gone sour.
By this time, however, some of Rajesh Khanna's films had started flopping but he failed to see the writing on the wall as the success of films like Daag (1973), Namak Haram, Aap Ki Kasam (1974), Prem Nagar (1974) and Roti (1974) still kept him afloat. In Aap ki Kasam, he even dared to successfully play a hero with grey shades, who ends up destroying his marriage due to his insane jealously. But by now, Amitabh Bachchan had stormed the Industry with his intense 'angry young man' performance in Zanjeer (1973). With his tall and lean looks, Amitabh became emblematic of the new kind of action hero who took over Hindi filmdom. Every hero fell to the Amitabh onslaught and Rajesh Khanna was no exception. He tried to stay in the news, however, with a sensational marriage to the 'Bobby Girl', Dimple Kapadia, who at not quite 16, was almost 15 years younger than him!
With Amitabh's success, as different kind of movie began to be made in the world of Hindi Cinema with a stronger accent on action. Rajesh Khanna's romantic mannerisms now appeared jaded and out of synchronization with the times to audiences of the day. Even films with old regulars Shakti Samanta (Ajnabee (1974), Mehbooba (1976), Anurodh (1977)) and Hrishida (Naukri (1978)) came unstuck at the box-office. What's more both Shakti Samanta and Hrishida went on do a series of films with the new superstar, Amitabh Bachchan! And to top it all, even his marriage to Dimple was on the rocks and subsequently she left him and resumed her acting career with much success. Though Amar Deep (1979) and Thodisi Bewafaii (1980), both with Shabana Azmi, brought Rajesh Khanna some reprieve, it was the triple success of Agar Tum Na Hote (1983), Avtaar (1983) and Souten (1983) that proved to be the last strong flickers in a dying flame as the flops continued to pile up. Avtaar, particularly, saw a good performance from him in the role of a self-respecting garage mechanic who has to deal with the ungrateful behaviour of his children whom he has brought up with much love and struggle.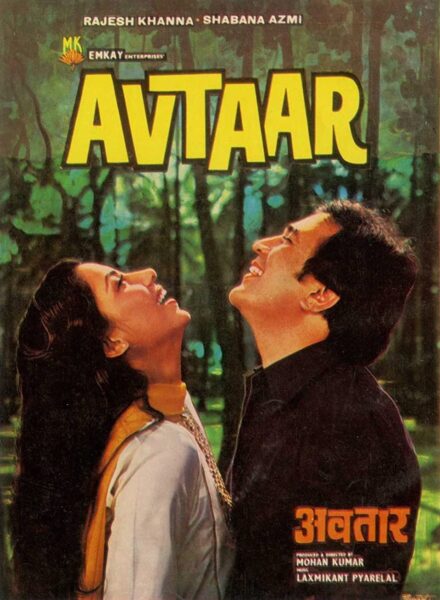 In the 1990s with his film career all but over, Rajesh Khanna entered politics and even served a stint as Member of Parliament with the Congress – I Party. He also made a comeback of sorts in Rishi Kapoor's Aa Ab Laut Chalein (1999) and made his debut on Television with the serial Batwara even as he continued to play the odd character role in films like Kyaa Dil Ne Kahaa (2002). Among the last films he did was Wafaa (2008). But the magic of old was missing.
Battling a prolonged illness, Rajesh Khanna passed away in Mumbai on 18th July, 2012.