Rehman has  rightly been regarded as one of the best and most popular character actors in Hindi Cinema. Few could match his good looks, his sophistication, his polish or his elegance. He was at his best, in particular, playing the suited-booted, urban villain. But what is less mentioned about him, and unfairly so, is his career as a reasonably successful hero through the second half of the 1940s and the early 1950s.
Rehman was born on June 23rd, 1921 in Lahore in undivided India. He did his college education from Robertson College, Jabalpur and was training to be a pilot in the Air Force in Poona, now Pune, before joining the film industry in 1944. He began his cinematic journey under director Vishram Bedekar at the reputed Prabhat Picture Company in Poona. Rehman was the third assistant director to Bedekar, which according to him was the lowest rung at the time and he worked for quite some time without being paid. At the time, Prabhat was engaged in the making of Lakharani (1945), directed by Bedekar, and DD Kashyap's Chand (1944). According to Rehman's interview that he gave in 1963, he moved on from Lakharani to assisting Kashyap in Chand. A song sequence of the latter film required a mixed crowd reacting to a song. One character among them was a Pathan. But no one knew how to tie the turban that was characteristic of a Pathan man. Rehman, a Pathan himself, could tie the turban but knew only how to do it on himself. So he was thrust into the film as an actor. The role required him not just to enjoy the song but also tell the dancer at the end of the song how much he enjoyed it. This was something he found extremely difficult and he finally got it right only on the 50th take! Rehman would continue giving a large number of takes before the final okay right through his acting career.
Following Chand, Rehman was cast in a more substantial role in Prabhat's next, Hum Ek Hain (1946). The film, looked at a woman, symbolic of the diversity and secular nature of India, who looked after four adopted children. One was a harijan girl and the three boys were Hindu, Muslim and Christian respectively. Rehman played the Muslim son. It was a film close to his heart due to the subject and was also the film that helped him get over his dread for the movie camera. Today the film is also remembered for being the debut film of Dev Anand, playing The Hindu boy, and the director, PL Santoshi. Rehman, Dev Anand, Guru Dutt and Ramsingh all began their careers at Prabhat and became close friends.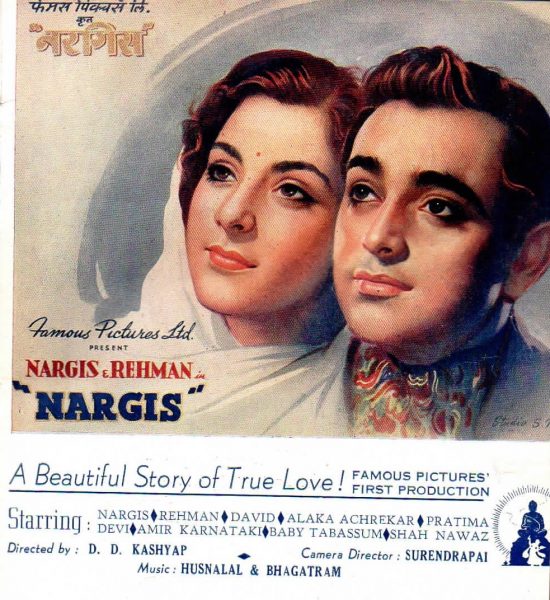 Kashyap cast his former assistant as a hero in his next film, Nargis (1946). The film had Nargis opposite Rehman playing the title role. Initially, friend Dev Anand was to play the role and hence Rehman was reluctant to replace him but he did play the role finally. Those days, Rehman had moved on from Prabhat to Famous Pictures Ltd, run by Baburao Pai, a film distributor who used to distribute films made by Prabhat. Nargis, produced under this banner, gave Rehman his first silver jubilee hit. However, Rehman dismissed his role in the film as standard – a lot of singing and a bit of crying. At this point, he was offered the role of the male lead opposite none other than Noor Jehan in Jugnu (1947), to be directed by her husband, Syed Shauqat Hussain Rizvi. However, Baburao Pai agreed to lend Rehman to Rizvi on the condition that Noor Jehan do a film for his banner in exchange. This was not acceptable to Rizvi and so Rehman lost out on the role. The film proved to be a huge breakthrough for singer Mohammed Rafi and actor Dilip Kumar, who ultimately played the role that was offered to Rehman.
Rehman's big quantum leap would come the following year with Pyar Ki Jeet (1948). His co-star in the film was singing star Suraiya with Manorama the third angle of the love triangle. The film was produced by Kashyap and directed by OP Dutta. The film was a huge success and the song, Ek Dil Ke Tukde Hazar Hue, sung by Mohammed Rafi and filmed on Rehman became extremely popular. Kashyap immediately paired Suraiya and Rehman again in Bari Behen (1949), which was also a huge hit. Though the film was extremely successful, Rehman has little to do in the film except largely to mourn his love for Suraiya till the customary happy ending. Still, the songs, particularly those rendered by Suraiya, were a major highlight of the film and have endured with their popularity down the years. Speaking about Rehman, Suraiya in an interview mentioned, "I have always thought Rehman to be a great 'thinker'. Quite often, he starts 'thinking' on the sets, losing himself in a reverie and forgetting his dialogue in the course of this "thinking" process. Rehman is an artiste who takes his own sweet time in doing his work. You cannot hustle him."
The 1949-50 period saw a busy period for Rehman who did a series of films opposite the top heroines of the day. These include Roomal (1949) with Nargis, Paras (1949) with Kamini Kaushal, Shaan (1950) with Suraiya (their third film together), Pardes (1950) with Madhubala, Magroor (1950) with Nigar Sultana and Shadi Ki Raat (1950) with Geeta Bali. A film Rehman particularly enjoyed doing during this period was Sanwaria (1949), produced by Filmistan, co-starring Hafeez Jehan and Veera, and directed by NA Mansoori. He played a comedic hero in the film, an illiterate villager who falls in love with a modern miss and tries to educate himself to win her over. It was something that was different from his other work. Interestingly, Rehman preferred to be understated and more natural in his performances and also revealed in the same interview of 1963 that he hated doing song picturizations as he felt that there was something effe­minate, something unnatural about the way heroes were required to sing in our films. One didn't feel natural doing it, and it was a pain­ful experience. This is ironic considering that songs were such an integral part of Indian cinema by then and often the sole reason for the success of many a film.
By 1951, Rehman's career as a hero had started to go downwards. Dilip Kumar, Raj Kapoor and Dev Anand were on their way towards ruling the Hindi film industry and Rehman's last lot of films – Ek Nazar (1951) opposite Nalini Jaywant, Ajeeb Ladki (1952) with Naseem Banu, Gauhar (1953) with Bina Rai where he had a double role, and Pyase Nain (1954) with Nimmi, did nothing for his career. By now his career as a hero was all but over. Roles were no longer forthcoming.
It was his friend from the Prabhat days, Guru Dutt, who came to Rehman's rescue at this critical juncture in Rehman's life. He cast Rehman in a pivotal supporting role in his masterpiece, Pyaasa (1957). In the film, Rehman plays an unscrupulous owner of a big publishing house married to Dutt's college sweet-heart, Mala Sinha. He hires the unemployed and struggling poet, Dutt, to find out more about him and his wife's past. Later on, he is not averse to using Dutt's 'death' as a financial opportunity by publishing his poems and making the most of it. Rehman made a major impact in his role and began a second innings in the film industry, now no longer a hero but as a character actor.
As a character actor, Rehman really came into his own and played a variety of roles from the second lead of the film (Chhalia (1960), Dil Diya Dard Liya (1966))to a friend of the hero (Phir Subha Hogi (1958), Chaudhvin Ka Chand (1960)) to the villain of the film. It was in the last category that he really shone. He epitomised the role of the stylish, suave villain and made it his own. We see this in films like 12 O'Clock (1958) and especially in Yash Chopra's Waqt (1965), where he immortalized the character of Chinoy Seth. Meanwhile, his association with Guru Dutt led to pivotal roles in two of his best known films and deservedly so – Chaudhvin Ka Chand and Sahib Bibi Aur Ghulam (1962). Rehman, it has to be said, did full justice to both. In the former, he plays Guru Dutt's friend, who falls in love with Waheeda Rehman, not knowing she is his friend's wife, which leads to tragedy with him taking his own life to finally resolve the love triangle.  In the latter, he perfectly plays a debauched zamindar neglecting his dutiful wife (Meena Kumari) in a tale set set against the declining feudal system in Bengal at the end of the 19th century. Rehman also played a key role in Baharen Phir Bhi Aayengi (1966), the film Guru Dutt was making when he passed away. The film was completed with Dharmendra replacing Dutt but failed at the box-office. In the film, Rehman effectively plays the silent lover of the heroine, Mala Sinha, who loves the hero, Dharmendra, instead.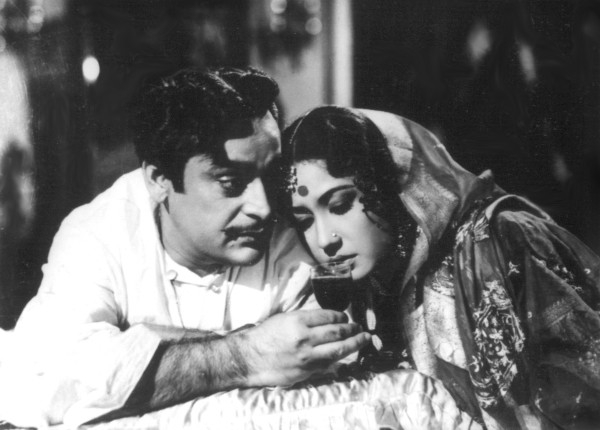 Rehman continued as a character actor well into the 1970s when tragedy struck. In 1977, he suffered three heart attacks. Though he survived all three, he was then diagnosed with throat cancer. As the cancer spread, he was unable to speak. He passed away in Bombay, now Mumbai, on November 5, 1984.
Some other well-known films of Rehman include Chhoti Bahen (1959), Chhalia (1960) – also Manmohan Desai's debut film, Dharamputra (1961), Taj Mahal (1963), Dil Ne Phir Yaad Kiya (1966), Dil Diya Dard Liya (1966), Baharon Ki Manzil (1968), Abhilasha (1968), Aap Ki Kasam (1974), Aandhi (1975) and Chacha Bhatija (1977). He was nominated four times by Filmfare in the Best Supporting Actor category but never won – for Phir Subha Hogi – playing a rather light-hearted and bindaas role of Raj Kapoor's friend who helps him out as and when he can, Chaudhvin Ka Chand, Sahib Bibi Aur Ghulam and Dil Ne Phir Yaad Kiya (1966) – where he asks his wife, Nutan, to playact as his friends dead wife (also Nutan) so that he (Dharmendra) can get cured.