It is now more than 50 years without one of Hindi cinema's best actresses, Meena Kumari. Known mostly for her serious roles in films like Baiju Bawra (1952), Parineeta (1953), Sharada (1957), Dil Apna Aur Preet Parayi (1960), Main Chup Rahungi (1962), Sahib Bibi Aur Ghulam (1962) and Bheegi Raat (1965), she was labeled the 'tragedy queen' of Hindi filmdom. For her fine dramatic performances, she received 4 Filmfare Best Actress Awards, which was a record till Nutan claimed her 5th.
Talking of Filmfare Awards, Meena Kumari created history in 1963 when the nominations were announced for the best of Hindi films of 1962. In those days, there were three nominees in each category. Even as Sahib Bibi Aur Ghulam competed against Rakhi and Bees Saal Baad, for the Best Film and Ashok Kumar (Rakhi) found himself pitted against Guru Dutt (Sahib Bibi Aur Ghulam) and Shammi Kapoor (Professor) for the Best Actor Award, the three nominations in the Best Actress category read – Meena Kumari (Aarti), Meena Kumari (Main Chup Rahungi) and Meena Kumari (Sahib Bibi Aur Ghulam). In other words, she was already the winner. It only remained to see which of her performances would be honored above the other two at the award ceremony! She won, of course, for her absolutely stunning act as Chhoti Bahu in Guru Dutt's Sahib Bibi Aur Ghulam. Undoubtedly, there's something special about Sahib Bibi Aur Ghulam and the characters of Chhoti Bahu!
Aarti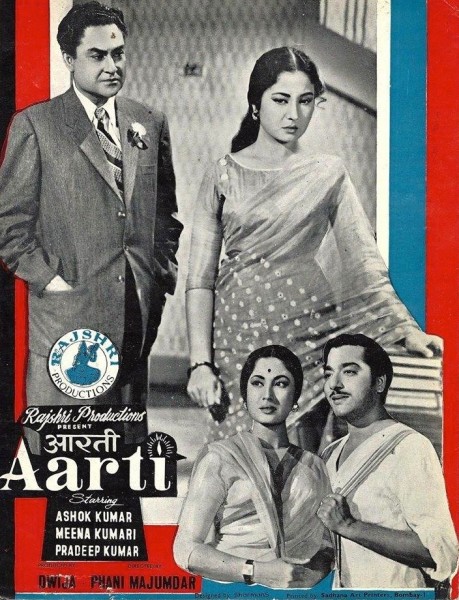 Aarti sees Meena Kumari caught between Ashok Kumar, to whom she was earlier engaged, and Pradeep Kumar, whom she loves and ultimately marries. Though it is Ashok Kumar who drives the film as the ex-fiancé determined to destroy Aarti's marriage and get her back at any cost, Meena Kumari is the life and soul of the film as she gives an extremely strong performance standing up to him and making sure he would never succeed.
Main Chup Rahungi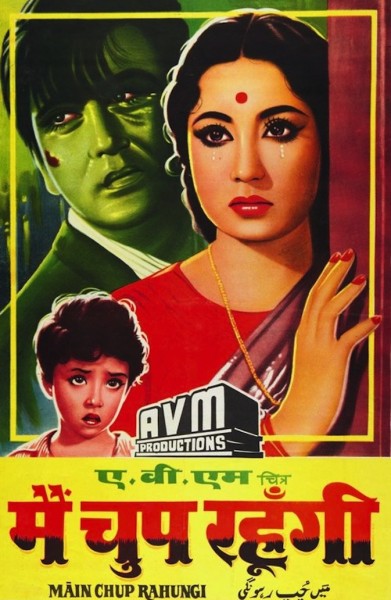 A remake of the Tamil film Kalathur Kannamma (1960), Meena Kumari took on Savithri's highly-acclaimed role from the original. Secretly married to rich boy, Sunil Dutt, she finds herself pregnant with his child when he goes abroad for further studies. Relocating when his father blackmails her into forgetting about his son, her father puts the child she gives birth to in an orphanage, saying it was still-born. As luck would have it, a few years later she gets a job as a teacher in the very school her son studies… Meena Kumari managed to give her characters much dignity even in their suffering and this performance too is no exception. She matches Savithri's superlative act with her own and gives Main Chup Rahungi most of its strength.
Sahib Bibi Aur Ghulam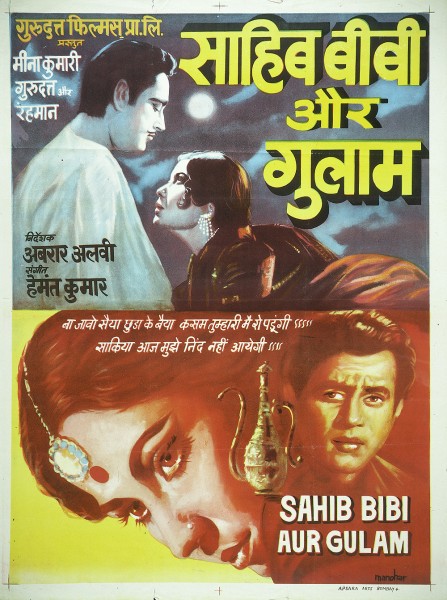 Enough has been said and written about this Guru Dutt masterpiece, directed by Abrar Alvi, and, of course, about Meena Kumari's immortal performance as Chhoti Bahu – a poor but pious Hindu woman in 19th century Bengal, married into a Zamindar family, and who becomes an alcoholic as she struggles to hold on to her marriage. She is simply haunting in the film right from her unforgettable introduction as a startled Bhootnath looks up at her when she remarks on his name being beautiful. She is superb in every scene she appears in the film. Just see her when she has become a desperate alcoholic and pleads with her husband to stay with her and then angrily turns on him to tell him how she has prostituted her basic values and morals just to please him. It is undoubtedly one of the finest ever performances ever seen on the Indian screen.
Header Photo courtesy Arun Dutt.