Indian filmmakers have generally shied away from making biographical films on national leaders because (i) these films have little or no commercial viability, (ii) it is difficult to find financiers and producers to take on a biographical project except in the form of a documentary, (iii) filmmakers in India have not been historically inclined, and (iv) filmmakers fear politically-related and censor-related problems because interpretation of historically renowned figures often raise political controversy from the family of the person, from political parties for and against the person, or just for the sake of raising controversy. Today though in the era of rediscovering one's 'Nationalism', a spate of biopics of Indian historical heroes relating them to 'patriotism' are finding their way on the silver screen and the OTT platforms – from Kesari (2019) to Panipat (2019) to Tanhaji: The Unsung Warrior, releasing theatrically on January 10th, 2020.
Srijit Mukherjee's recent film Gumnaami in Bengali and Hindi, which released ironically on October 2, 2019 on Gandhi Jayanti, raises questions on the different celluloid versions of one of the most charismatic of National leaders, Netaji Subhas Chandra Bose. Sadly though, various films made on this great leader of the Indian freedom struggle have been lost forever to time due to the lack of Film Archiving and Preservation. Not to mention ignorance as well. Especially since Bose has been the subject of quite a few films and a couple of web series as well – Kabir Khan's The Forgotten Army releasing on Amazon Prime Video on January 24, 2020 and Bose: Dead/Alive (2017) streaming on Alt Balaji.
For example, we do not know at all that the famous Japanese filmmaker Yasujiro Ozu had been commissioned to make a full-length feature film on Netaji. In 1943, Ozu was once again drafted into the army for the purpose of making a propaganda film in Burma. However, he was sent to Singapore instead, to make Deruhi e, Deruhi e ("To Delhi, To Delhi") with Subhas Chandra Bose, who is said to have been the protagonist of the film and is also credited with the film's title. The subject of the film was the struggle of the Azad Hind Fauj in India for freedom from British rule. The actors were drawn from India or Indians settled in Singapore. But when Japan's loss in World War II became certain, Ozu claimed he destroyed the reels of the said film. All media reports, books on Ozu authored by noted Japanese biographers backed that the film was destroyed.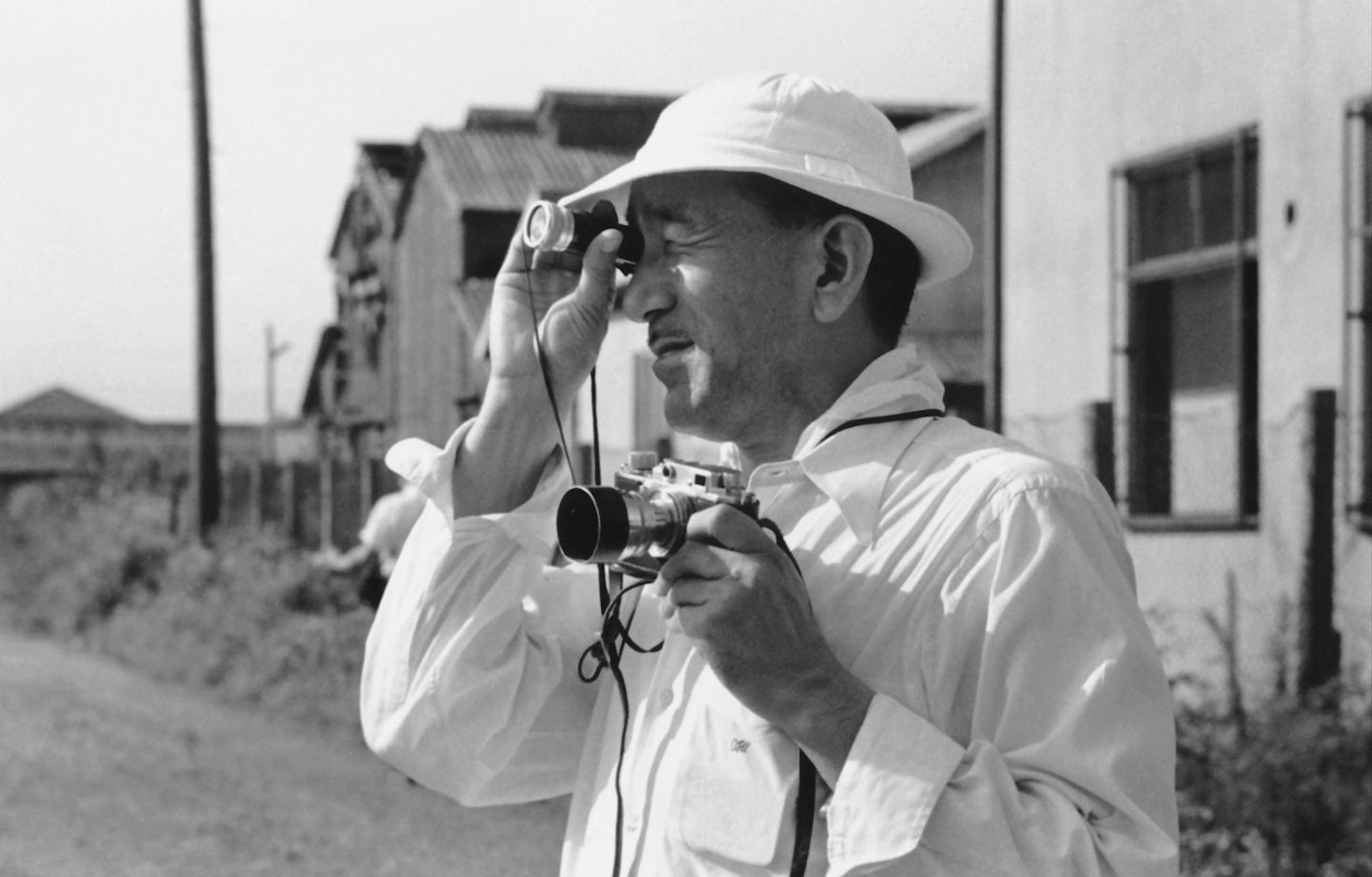 However, Singapore-based visual artist and researcher Toh Hun Ping claimed that from the archival library of old newspapers and magazines, he had discovered that Ozu's film on Netaji had not been destroyed but was preserved by Singapore-based Indians. They handed over the reels of the film to Pandit Jawaharlal Nehru when he was touring Singapore and Malaya in 1946. This stood totally against Ozu's claim that he had not only destroyed the reels of the unfinished film but also had destroyed the original script. What's more, archival documents in Ananda Bazar Patrika show that Vallabbhai Patel organized to complete the film and it was produced under the banner of the "Azad Hind Fauj" while the ads stated that it was "reproduced" by Sardar Vallabh Bhai Patel. The title of the film changed to Netaji Subhas, and was released in Calcutta on 23rd January 1948 on Netaji's first birthday after India's independence. (Source: Jagori Bandopadhyay in Anand Bazar Patrika, October 13, 2019)
One of the first nationalist biographical films, based on the life of Subhas Chandra Bose, was New Theatres Ltd's Pehla Admi (1950), directed by the great Bimal Roy. It was basically a love story with songs set to music by RC Boral and was produced under the New Theatres banner. It carried stock shots of the Indian National Army which were the only frames of reference to Bose. The film had actors like Pahari Sanyal, Asit Baran and Smriti Biswas. Sadly, there was a big fire in FTII, Pune and all the cans of Pahela Aadmi were destroyed. So, there is no way in which anyone can see this film either in the archive in Pune, or in DVD versions.
Samadhi, directed by Ramesh Saigal, was the biggest box office success of 1950. The story is based on a true incident at INA. Hearing Indian Subhas Chandra Bose's public lecture persuading the young to fight against colonialism, young Shekhar (Ashok Kumar), an idealist, leaves a life of privilege to join the Indian National Army. Meanwhile in Singapore, Shekhar's elder brother Suresh (Shyam), an officer in the British army, is quietly in league with  a nefarious spy ring led by Boss (Mubarak) and his moll Dolly (Kuldip). When Shekhar falls for Lily (Nalini Jaywant), Dolly's sister, Boss uses the relationship to infiltrate the INA. When war breaks out, the two siblings, Dolly and Lily fight each other face-to-face, resulting in Shekhar getting horribly wounded. Later, Shekhar blows himself up when trying to wire a railroad bridge. The freedom struggle is the backdrop and time setting of the film.
There was a feature film, a biopic, Netaji Subaschandra Bose (1966) made by filmmaker Hemen Gupta who himself fought in World War II and was deeply interested in the history of war and warfare. The film featured Abhi Bhattacharya in the title role and from reviews of the time, it appears he did a good job of it. Others were Jaymala, Kamal Kapoor and Ulhas. It is said to have been a loyal narrative representation of Netaji and his passion for the Indian National Army that, he believed, would succeed in gaining independence of India.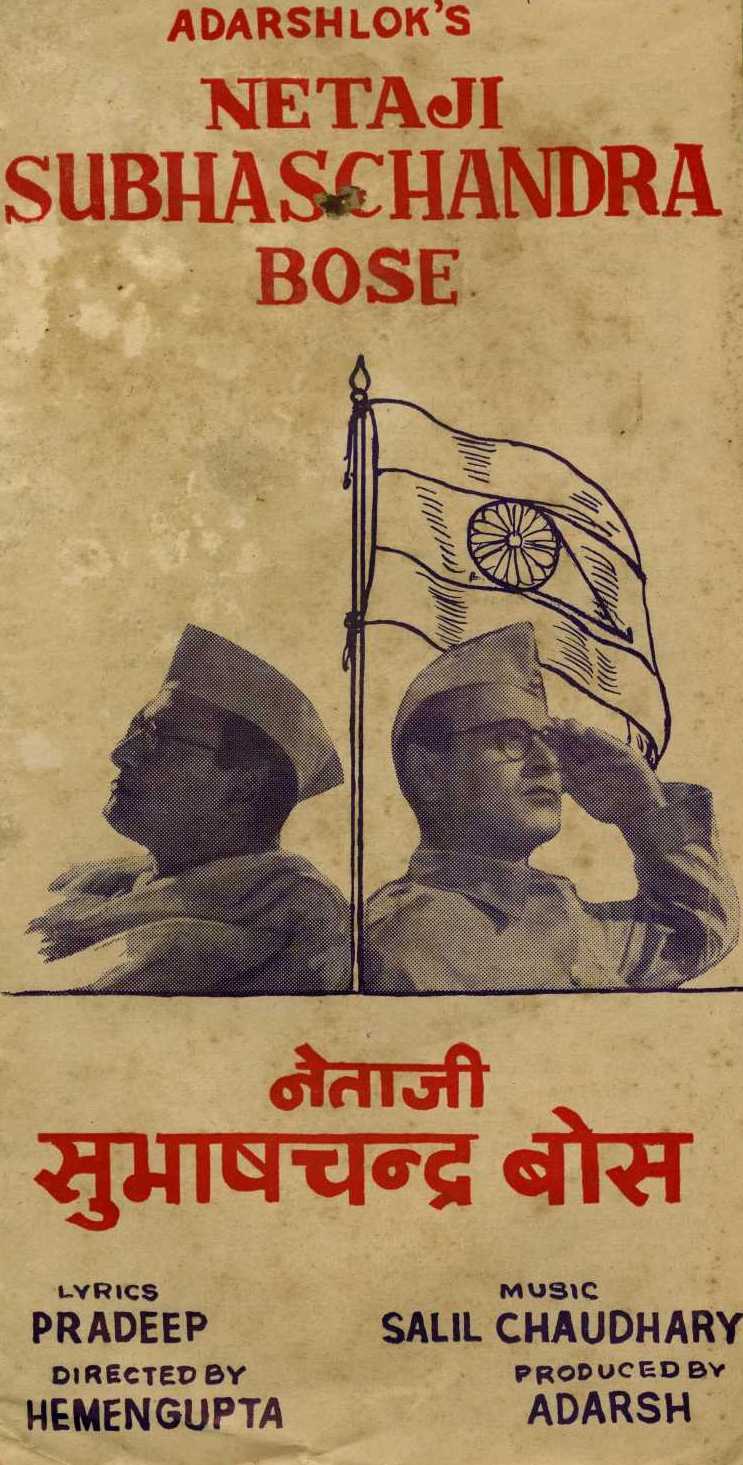 The War Of The Springing Tiger (1984) is a documentary produced by Granada television that focuses on why the Prisoners of War chose to join the INA during World War II. In the film, producer David Boulton also explores the role of the INA in the Burma and Imphal campaign and in the independence movement. The documentary took contributions from Lakshmi and Prem Saigal. It looks closely at the 40,000 men who deserted the Indian Army to fight alongside the Japanese against the British during World War II for an independent India. They were led by Subhas Chandra Bose, who rejected Gandhi's non-violence campaign. But some Indian historians have argued against the film stating that it did not present Netaji in a positive light. But as few of us in India have watched the film, it difficult to question this thesis.
The Forgotten Army (1999), a documentary directed by Kabir Khan and produced by Akhil Bakshi, retraces the historic march by going back to the place with veterans of the INA, Col Gurbaksh Singh Dhillon and Captain Sehgal to visit the old battlefields and search out their old comrades in Burma. It was making a film by getting to the very soul of the times. The film brings back some poignant scenes like Colonel Dhillon bowing before the cave which gave shelter to the soldiers at Mt Popa as the British planes bombarded the area. Or Captain Sehgal recalling: "My husband would always talk of Mt Popa and I joked that if we had a son he would probably be named Popa. He said yes that was the best name. Fortunately ,we had a daughter and we called her Subhashini." The film ends at the Red Fort where the three INA stalwarts, Col Shahnawaz Khan, Col Prem Kumar Sehgal and Col Dhillon were tried for waging a war against the British kingdom. And the people of the country cried out, "Lal Quile Se Aayi Awaaz, Sehgal-Dhillon-Shahnawaz; Lal Quile Ko Todh do, Sehgal Dhillon Shahnawaz Ko Chhod Do. Not only does the film recapture the times but it also recaptures the spirit of the youth and the courage to die singing, Kadam kadam Badhaye Ja, Khushi Ke Geet Jaye Ja. The documentary won the Grand Jury Prize at the Film South Asia Festival in 1999.
Netaji Subhas Chandra Bose: The Forgotten Hero (2004), directed by Shyam Bengal after considerable research and investigation, is perhaps the best representation of Netaji in Indian cinema.The film is a rare blend of authentic history researched by a well-versed research team for 18 months and Benegal's personal reminiscences of his ideal hero. "My uncle Ramesh was a member of Netaji's Tokyo Cadet. He would regale me with stories of thrills and adventures of his experiences in the Azad Hind Fauj. One day, soon after World War II, my uncle and I stood on the shores of a Mumbai beach, waiting for the return of Netaji after his release as a prisoner of the British. The seeds for this film might have been sown then, I do not know. During the Eighties, I had come to Kolkata for some research on my film on Nehru. I met Dr Sisir Kumar Bose, then the head of the Netaji Research Bureau. I went through the historical documents and objects within the Bureau, representing episodes in the life of a great man. This film is a realisation of a long-cherished dream," Benegal elaborates. "Nobody remembers what he did, except that he was a great big hero," says Benegal, adding. "Few people remember that he challenged Gandhi, about his transnational activities, nobody knows anything. People do not even know that he was married."
Explaining the trigger that set him going, Dadasaheb Phalke Award-winner Benegal says, "I was motivated strongly by the incredible journey this brave man undertook though, looking back, one can see that even from his point of view, he ws chasing an impossible dream. He has no hope of succeeding at what he had set out to do. But he got together a fighting force, fought the British and even succeeded in winning some territory. He came quite close to actually succeeding in his mission. India would never have got Independence when it did were it not for the Indian National Army he had formed. In spite of the destruction around him, his spirit never failed him."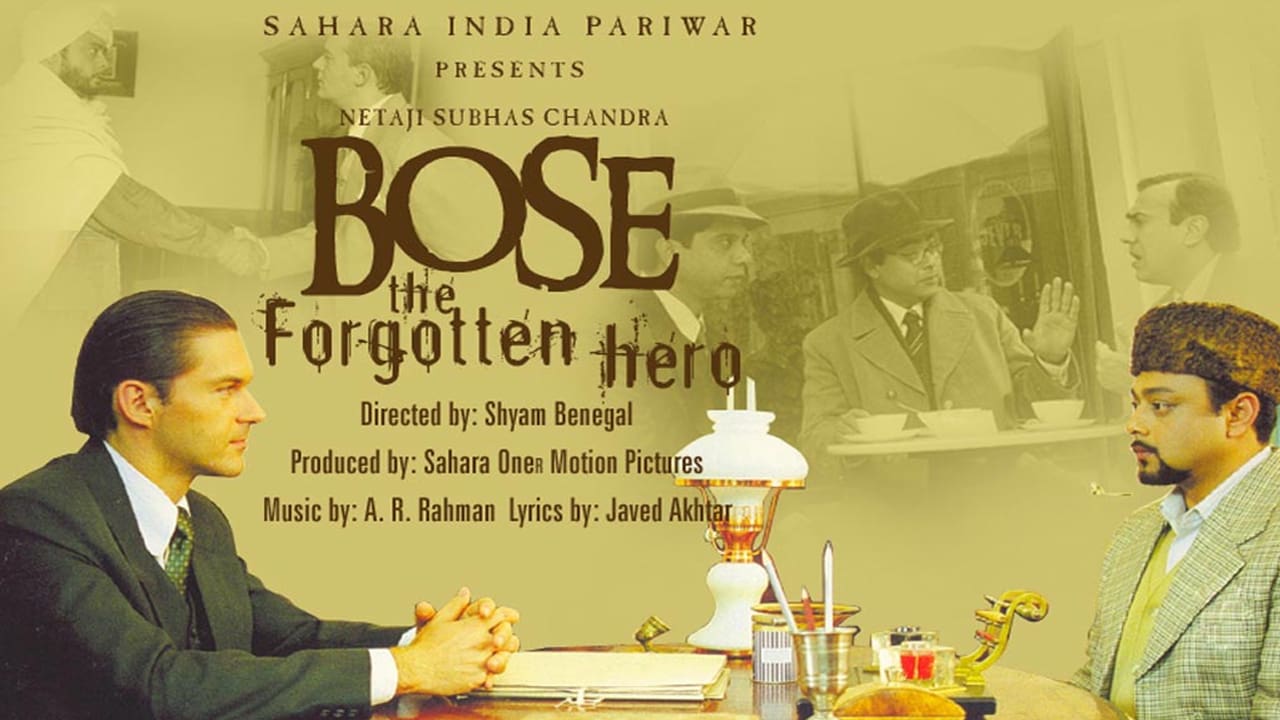 Ami Subhas Bolchhi (2011) is a Bengali adaptation of Mahesh Manjrekar's Marathi film Mi Shivajiraje Bhonsale Boltoy (2009). The Bengali, also directed by Manjrekar, version is a rather crude and diluted tribute to the memory of Netaji Subhas Chandra Bose contrary to what the director promised and Mithun Chakraborty endorsed. The story revolves around Debashish Bose (Mithun Chakraborty), a timid clerk in a bank who takes in all the insults and humiliations he faces without as much as a whimper. He is a reflection, the film tries to put across, of the contemporary Bengali – timid, succumbing, ordinary and unambitious. When everyone turns his life into one big hell-hole of misery, including his wife (Laboni Sarkar) and children (Shaheb Chatterjee and Barkha Bisht), Netaji Subhas Chandra Bose (Anindo Banerjee) appears in his dream along with a segment of his INA regiment, reprimanding him for taking everything lying down, against the spirit of the Bengali identity that once made the country proud with some of the greatest names in cultural and scientific history. The surreal scenes with Netaji and company on some hilltop are crudely composed, orchestrated and picturised. Debashish surrounded by terrible bust-size figures of Bengal's great men is very badly done. But finally, it is Shivaji's sword returned to Netaji by Debashish that turns the film into a joke on itself.
A man who led the life of a reclusive Hindu saint in Faizabad in Uttar Pradesh in the 1970s or 80s came to be known as Gumnami Baba. Those who met him claimed he was none other than Netaji Bose, whose reported death in a plane crash in 1945 has been doubted by many. This issue has been explored on celluloid for the first time in the history of Indian cinema in Srijit Mukherjee's courageous Bengali venture Gumnaami (2019) starring Prosenjit as Bose.The film is focussed on the Mukherjee Commission appointed to try the case where the identity of Gumnaami Baba as Netaji is being defended by a committed journalist called Chandrachur Dhar based on an original investigative book jointly authored by Anuj Dhar and Chandrachur Ghosh under the title, – India's Biggest Cover Up (2012). Netaji Subhas Chandra Bose's death and the Mukherjee Commission Hearings form the crux of the film. An investigative journalist, Chandrachur Dhar (Anirban Bhattacharya), comes up with a third theory supported by his group, Mission Netaji. How he tries to convince the law and the land of his findings is what the film tries to show. The director keeps the end open leaving it to the audience to draw their own conclusions. It is a well-made film but too long winded towards the end where there is some melodrama which could have been avoided and does not add to the narrative at all.
Header photo : Prosenjit in Gumnaami.