Even when you have been watching films for a major part of your life as I have, there are still films that take you by genuine surprise. This could spring from several things – choice of subject, manner of narration, the way content and form are put together and many other things. Eeb Allay Ooo! is one such film. It was a film I had not even heard of before I sat down to watch it at a film festival in Kolkata this January. I had not heard much of its director, Prateek Vats, too. Other than knowing that he had also directed the National Award winning documentary, A Very Old Man With Enormous Wings (2017), a film about an elderly ex-bodybuilder, Manohar Aich. Prateek is an independent filmmaker and writer based in Mumbai and is a graduate in film direction from the Film & Television Institute of India (FTII), Pune. Here, he talks about Eeb Allay Ooo!, which won the Golden Gateway for Best Film at the Jio MAMI Mumbai Film Festival last year and was screened at the Berlin International Film Festival earlier this year in February. The film has also just been shown as part of the online We Are One: A Global Film Festival initiative last week.
What is the film about?
I have tried to explore the issue of classicism under the guise of humor. The film follows the seemingly absurd journey of a young migrant in Delhi. He gets a contractual job as a monkey repeller whose job demands that he mimic the call of these monkeys in order to shoo them away. The monkeys are a nuisance for the general public and also to important people whose offices are in the locality. The monkeys have turned more aggressive since the ban on the use of captive langurs – their natural enemy. The film captures the journey of this migrant through his terribly impoverished existence.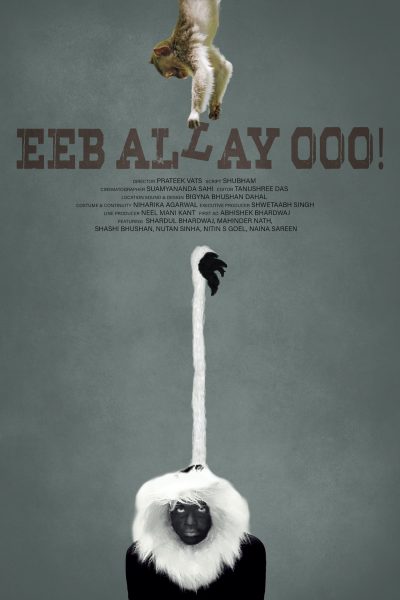 What exactly was the motivating factor that led to this very unique concept for a film?
I do not think I can pinpoint one single motivating factor that led to this concept. You can say that t is the culmination of things happening around us since 2015 within the frameworks of the systems that control and manipulate our lives – the educational institutes, the labour system, the blending of religious and national identities.  My writer, Shubham, the entire crew and me tried to build our scenes that would go to show how our characters define or redefine or tackle or do not tackle these situations. You may find them subtle, you may find them real or you may just find them surreal and these went to make the entire film as you see it now. I did not want my characters to be very intelligent or well-read or smart as according to me, it would take away from their real selves. We wanted to present how these characters negotiate the changing and challenging circumstances on a day-to-day basis.
Eeb Allay Ooo is based on the true story of a real-life monkey-repeller. Let us hear about this story.
Yes, Mahinder Nath is the original character the film is based on. He also plays a key supporting role in the film. I had read a feature on him, which dealt in detail about his strange job of keeping moneys at bay in the heart of Lutyens Delhi. Mahinder was one among 25 odd young men, who were contracted to do this work. These are youngsters frantically looking for jobs, who are neither qualified nor skilled, but are hired through contractors to serve as monkey repellers within neighborhoods of government offices. And as they are hired on a contractual basis, the job does not offer any security, leave, medical benefits or even permanency of any kind. They are also the butt of harassment by the contractors if they are late or are not able to deliver well. Mahinder belongs to a community, who for long have worked with Langurs to keep the monkeys away. Our script counsellor, Shubham, opened the doors into this strange man's world with a strange job, opening up a small window for us, which became larger as we began to shoot the film. And slowly the film began to take shape. I was wondering whether to make a documentary or a mockumentary but, as we got into it, we decided to make it like an absurd fiction film while keeping it very real, because only then would the absurdity work. We spent a lot of time with Mahinder, roamed around with him, noted the daily cycle of the monkeys, how they act, react and interact and all this helped film them naturally. I have to say there was a lot of waiting involved; it is like fishing. We wanted to invest the monkeys with a 'personality' if you know what I mean and  not use too many wide shots. We wanted to lens it in a certain way.
Your film offers a completely different socio-cultural perspective on a Delhi we know little about. Besides, your protagonist is a migrant from Bihar. How did these layers work for you?
There is a personal angle to this. I am a second-generation Bihari migrant myself. I am very familiar with the ambience that has been shown in the film. My father came from Bihar to settle here when he was quite young. My entire growth as an immigrant to Delhi was and is still riddled with questions that keep haunting me all the time. Am I still an immigrant or have I now become a homing native of Delhi? What are the differences between the inside world you live within and the world out there you are constantly challenged to negotiate? These are questions that drive me and, in many ways, I identify with my protagonist and try to narrate his story.
How did the film take this shape?
As we were scripting and then shooting the film, the narrative began to offer a point of view of a Delhi migrant's life and also the lives of the people he shares his life with – his pregnant sister, her husband, the girl who is interested in him etc. Even the cameos of the policeman, a glimpse of the jail cell and so on was aimed at exploring the power play that controls the life of a migrant in this city, specifically, trying to capture the life of a small man in a big system. In all these years, it is only Anamika Haksar who has portrayed Delhi in a new way in her stunning film, Ghode Ko Jalebi Khilane Le Jaa Riya Hoon (2018).  I have said this before and I will say it again – Delhi is a city that tried to hide its poor behind sheets of metal and tin during the Commonwealth Games. It is a city built on the labour of its migrants, but is too ashamed to even acknowledge their presence.
https://www.youtube.com/watch?v=1a5EDKrsU-w
 How did you negotiate the challenges and the difficulties of shooting in public spaces which your film is mainly about?
The fact that the film had to be shot manly in and around Lutyens, the seat of power, permissions were very important and we did not want our shooting to be blocked by troubles around intrusion. But at the same time, this film had to go beyond mere permission to avoid legal hassles. It was necessary for us to consider the space and the time we were shooting, which turned out to be nerve-wracking for all of us. But it also made us think on our feet and constantly question our ways and improvise when we had to. But I repeat, this was only possible we got the required permissions.
Shooting with the monkeys must have been extremely challenging for the cast and crew?
Of course. This kept us on our toes constantly as every minute we were shooting with the monkeys in public spaces, we faced new challenges of how to shoot, how to reach where one monkey is perched on one branch but reaches another one by the time the camera reaches the earlier branch.  Then gradually, we internalised this and began to look at it as a game we were all playing together, vying with the monkeys who were constantly trying to escape us.
How did you chance upon the actor Shardul Bhardwaj who plays the protagonist Anjani, the monkey chaser in the film? He has actually lived the character and it is difficult to believe that he is just acting out a role.
Shardul is basically from theatre and I have seen him performing on stage for many years now. I have also conducted a workshop at the FTII in which he had participated. I was looking for an actor who would not play a victim but a normal man placed in difficult circumstances at work and at 'home'. I did not direct him much in a physical sense as I watched him grow into the character as he began to play it.  He had to be an integral part of the world we were depicting in the film and he has really done a wonderful job. It was an extremely demanding character that went much against his natural grain as an actor. I have to add we were demanding too but he went beyond all our expectations.
Let us hear about the film festivals the film has been screened in.
The film opened in the International Competition section of the Pingyao International Film Festival, 2019 as the only Indian film in the section. Immediately after, the film had its India Premiere at the Jio MAMI Mumbai Film Festival, where it was awarded the Golden Gateway Award (Best Indian Film) as well as the Young Critic's Award, along with a Special Mention for the lead actor of the film. It played as the opening film at the Dharamshala International Film Festival, and was shown as part of the New Talent Award section at the Hong Kong Asian Film Festival. Berlinale 2020 marked the European premiere of the film. These screenings and awards are very encouraging, I must admit because these are symbols that your film is being recognized across discerning audiences at home and abroad. At the same time, as a filmmaker, I would also hope for a theatrical release of the film which will help the film reach across a wider audience.
Lastly, how or why did you hit upon such an intriguing title?
We did have a working title before we all hit upon this strange one. If it sounds absurd and nonsensical, the very film, its content and its protagonist are also nonsensical and absurd if looked at closely. While on the one hand, it is a very real experience, it also has its surrealistic touches. Personally, my entire team feels that the title brings out the spirit of the film. To find out what it means, one must see the film.