"Bound scripts were uncommon in the early days…. Many times, the scene was given to us on the day of the shoot. On the spot! The assistant director would hand us a bit of paper on which the dialogue was written, and we would start memorizing the lines… There were even times when the dialogue was written shot by shot. Even after we had filmed a scene, the director decided to change a line here or there and we had to go for another take." That's Waheeda Rehman, much-loved icon of Indian cinema talking to London based film scholar and documentary filmmaker Nasreen Munni Kabir in her highly acclaimed interview-based book – Conversations With Waheeda Rehman, published in 2015 by Penguin.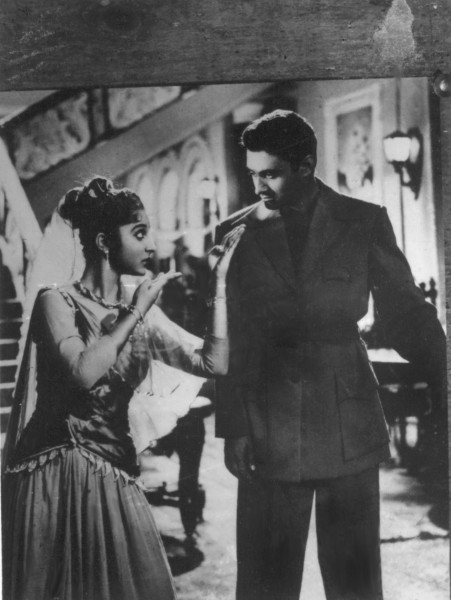 Starting her Hindi film career in CID in 1956 opposite Dev Anand, a film directed by Raj Khosla and produced by Guru Dutt, Waheeda followed it up with Guru Dutt's Pyaasa (1957) and went on to carve a significant career over the decades till she switched to character roles in the late '70s, and continues to act till today; Skater Girl (2021) by Manjari Makijany is her latest film, released on the OTT platform Netflix. So, to get her to talk about her career is like looking through a kaleidoscope that displays the trajectory of Hindi cinema spanning more than 60 years.
Two things work in favour of the book: first is Waheeda's sharp and vivid recollection of events that she was associated with and her pertinent observations that display her profound understanding of the craft of filmmaking as it evolved through the decades, gained through experiences working with varied directors with their distinctive styles; and secondly, Nasreen Munni Kabir's intelligent questions that stay clear of any kind of gossip or sensationalism: her reported affair with Guru Dutt is consigned to a single paragraph. Nasreen's queries concentrate solely on her career and craft, which is backed by her own profound knowledge and understanding of Indian cinema, particularly Hindi films down the ages. She knows how to make her subject comfortable and gently provide the stimulus to extract a goldmine of information.
Waheeda adroitly delineates the uniqueness of each director in a manner that not only distinguishes each filmmaker from the other, but also reveals her forthright personality. Her vehement objection to wearing a skimpy blouse and a diaphanous chiffon saree for a 16-year-old guileless character in a particular scene because it would look unnatural pitted her against director Raj Khosla during the shooting of her third feature film – Solva Saal (1958); "Lo ji, now she is telling me how to direct." An exasperated Khosla, who was her first Hindi film director, on CID, had to relent eventually. The event marked the arrival of a heroine who did not hesitate to speak her mind and put her foot down if she felt the director's vision went against the characterisation and the plot – and she was only 19!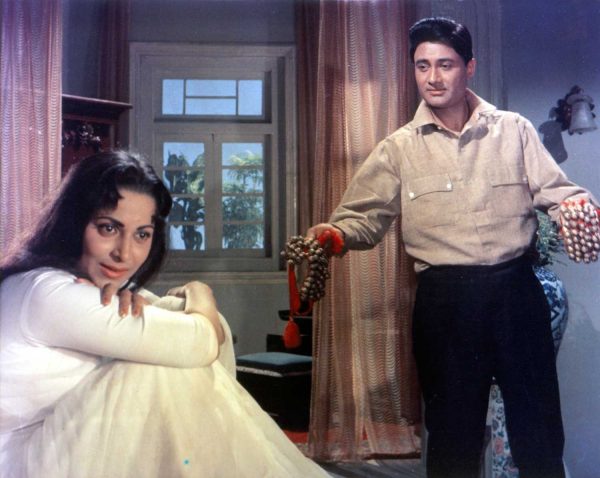 Amongst the two directors she worked with for Guide (1965) – on the Hindi and the English versions, she has all praises for Goldie (as Vijay Anand was known) who directed the Hindi version: "Goldie would explain precisely how the scene should be played. You must be angry or upset with a director, but he must be clear… I give full credit to Goldie. He treated the story so beautifully and in such a dignified way. The relationship between Raju and Rosie (the character she plays) never seemed cheap. In some Hindi films, the other woman is called a 'rakhail' (mistress) and is portrayed as a vulgar person, more of a vamp type. But Goldie portrayed her in a modern and decent light." But for Tad Danielewski, the American who directed the English version, based on a screenplay by Nobel prize-winner Pearl S Buck, she had reservations; "I may act in a certain way, but the director might feel it is too much and will suggest lowering the pitch or what needs to doing to enhance the performance. The director must be clear about the tone of the scene and Tad Danielewski was vague. Whenever I asked him anything, he would say: 'Maybe, maybe.' You can say that sometimes, but not all the time. You need the director to be clear. Should Rosie react warmly? Or she should react coldly?"
Incidentally, it was Satyajit Ray who suggested she read RK Narayan's The Guide (published in 1958)because he was considering adapting it. "He told me if the film ever took off, he would cast me as Rosie. She had to be a good dancer, and he knew South Indians were usually good dancers, and so he had thought of me." This was two years before Dev Anand decided to produce it. "Satyajit Ray would have conceived the film in a completely different way", she remarks.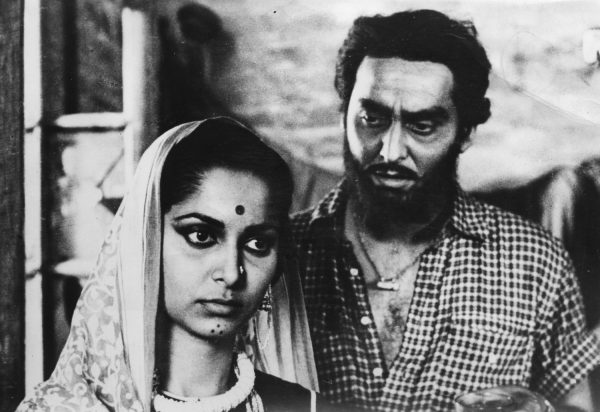 Of Ray, for whom she worked on Abhijan (1962), she reminisces that he "was meticulous and explained everything in great detail. He sketched every scene and made detailed shot breakdowns, even noting the lens he planned to use. His storyboarding was extremely helpful. In those days no one had heard of storyboarding. He was also one of the few directors who gave me a bound script." Elsewhere, she recalls Guru Dutt's habit of "asking for take after take. Sometimes he was not sure what he wanted from a scene. But when you keep retaking the same shot, your performance becomes stale and mechanical. Your dialogue delivery can end up sounding flat and lifeless." To this, Nasreen Munni refers to an interview she had conducted of VK Murthy in which the ace cinematographer recalled how Guru Dutt asked for 104 takes for a dialogue scene between him and Mala Sinha during the shooting of Pyaasa!
The casual, conversational style between Nasreen Munni Kabir and Waheeda Rehman that marks the book makes for easy reading without sacrificing its premise of getting to know the minds of an accomplished actress against the backdrop of changing times; so, when Nasreen Munni observes that Hindi film songs which were 'the most original aspect of Indian films' have less purpose in the stories of contemporary times, Waheeda retorts, "Well, they don't fit because the stories are often action-based or they have more realistic settings… You can't expect the hero in The Lunchbox or Paan Singh Tomar to sing a song, can you? How could the character Vidya Balan plays in Kahaani sing? It would look totally wrong… In our times songs were used to express love. But now the couple meet and are hugging and kissing soon enough – where's the time or opportunity for them to sing a love song?"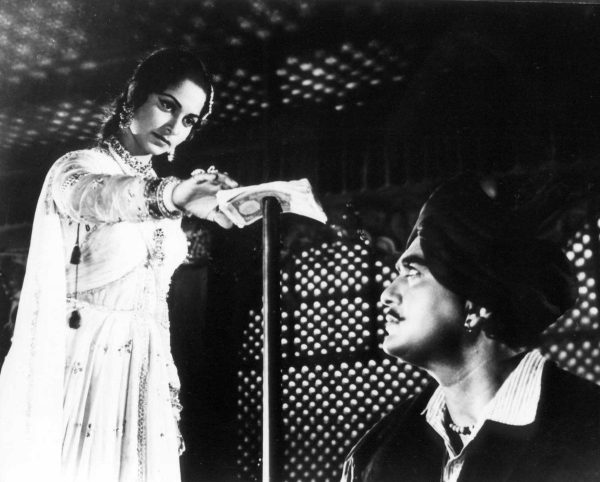 She continues in the same vein, "There has to be change. You can't stick to the same themes like love and tragedy. People are changing in India. The audiences are more educated… In my era, people who watched films were not highly educated. Perhaps that's why melodramas and weepy loves stories dominated our films… Audiences today have a lot more entertainment. They are far more aware because of the vast number of television channels and the Net. Little kids can teach you a lot."
Unlike others of her generation, her nostalgia for the days gone by don't dwell on sentimentalism or naive admiration; and it is such candid acknowledgment that endears her to the reader.
On being asked how she would define the change in heroine's character since she started working in Hindi films in 1956, she replies, "Every ten years you can see a distinct change in the role of the heroine. In the 1950s and 1960s, the hero and the heroine had more or less equal importance… In the 1970s, the hero took over and violent action films became popular – that was Amitabh Bachchan's era. In his time, the girl became a kind of showpiece, that's all. The heroines had nothing to do. But I think roles for women are getting better again in Indian cinema."
The overriding tone that prevails through the book is her absolute unassuming nature. So, when Nasreen Munni asks her about her legendary beauty, she laughs and replies in the most unassuming manner, "I promise you no one ever told me: 'Wow, how beautiful you are!' They would say: 'You photograph well."