It was March of 2019. I had just completed shooting my first-year final film at the Prague Film School (PFS). I still had about five months to go to submit my idea or the first draft of what would become my final project or my Diploma film at PFS. However, for the first two months, I just couldn't come up with any idea that was exciting enough to get me going. To make things worse, I kept procrastinating waiting for that absolutely brilliant idea to grab me by the throat. The only thing I was clear about was that having experimented with different genres in my first year including comedy, fantasy and action, this time I wanted to do something with a strong basis in drama.
As my first year got over in June 2019, I came back to India for 3 months. Desperate now, I started going through all the materials I had filed in a folder at home. It was here that I stumbled upon an idea which I felt could be a moving emotional human drama. While the idea was universal and could be easily set up in Prague where I had backing of the School. But as I started working on the Script, I began to face many teething logistical issues – like finding the right local talent, who would speak English at least. I also realized that time was much too short for me to understand the culture, milieu and nuances of the Czech society and weave them into my story in order to layer it and make it richer. I shared these problems with my filmmaker uncle, Sanjivan Lal, himself a film school alumnus having graduated from the Film and Television Institute of India (FTII), Pune with specialization in Film Direction in 1993. He suggested that if I wanted to make a rooted story, then I better set my story in India, in fact, in Mumbai, where I lived. While it made sense, it also made me realize that the budget would be a major issue as it meant foregoing all the infrastructural and my batch mates' support that I would otherwise get in Prague. I was tormented not knowing what to do. And time was fast running out with my submission date approaching.
One random afternoon in Mumbai, I bounced the idea of shooting the film in India with Kartikeya Garg, my batch mate and the DOP on the project and Shantanu Naik, an ex-batch mate of ours, both of whom were fortunately from Mumbai. They instantly jumped upon the idea to shoot the film in their home city. They knew of the story I had decided on and this gave me some confidence to explore the possibility of transplanting my story here in Mumbai. Come September and I was still struggling, trying to adapt my story in the suitable Indian context. In my desperation to adapt it to an Indian setting, I found the story getting further away from what I initially wanted to do. As I returned to Prague, I still found myself unsure of the story.
On the very first day at PFS, I was asked to submit my logline or the first draft whichever was ready. I was still lost but for the formality, I submitted a vague outline of my idea. Surprisingly, it got me some positive feedback from the faculty and my friends. It only made things worse for me as deep within, I knew- there was still something not right.  Finally one night, I decided to get rid of the idea which was tormenting me so much with time running out. I went back to my folder of ideas and going through them, zeroed in on the subject which was in a dramatic space and most importantly it was organically set in an Indian context. It was a story centered on the Marriage Bandwallahs. Bandwallahs are somebody we all know but still not know them well enough to know what goes on behind those glittering dresses and the heart-thumping music they play at weddings. I immediately connected with it and called up Kartikeya and told him about my new idea. Fortunately for me, he, too, got excited and thus began the journey of what ultimately became my Diploma film, Adhura (Incomplete).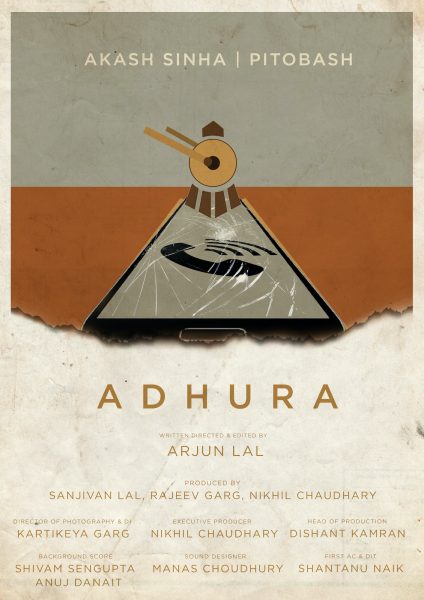 By mid-October, I had the first draft of my story in hand. I shared the draft with Kartikeya, Shantanu, Parth Joshi (another ex-batch mate) and some of my non-film friends. Their suggestions and inputs were very valuable. As Kartikeya and I were in Prague, it was easier for us to research on the story together and discuss prep adding the finer details were highly limited to say the least. I was desperate to get back home, do some research and write an authentic script but flying back in the middle of the semester was not easy.  The time was running out for me. To make it worse- the school was not receptive to the idea of us going to India to shoot the film. They felt it was not a practical decision and that we were being over ambitious. While most of my batch mates were setting up their film indoors to avail the school's infrastructure, here I was setting up all my scenes outdoors in India! They also pointed out that my narrative had multiple locations and close to forty extras for the film's major sequence. But by now, Kartikeya and I had already made up our mind that it was going to be India. Eventually the authorities relented.
So Kartikeya and I began working on a storyboard keeping in mind the geography of Mumbai while simultaneously working on the script. We knew our actual pre-production would begin only once we reached Mumbai, but over-prepping never harms. By Christmas, we were in Mumbai with a precise two-month time on hand to do our research, ground level prep, complete the shoot and return to Prague. Immediately, we started visiting all the Brass Band offices and realized that my story was more suited to the North Indian milieu rather than Mumbai!
While still researching and doing recce in Mumbai, I shared my script with a producer friend of mine, Nikhil Chaudhary. He read and offered to come on as a co-producer. I got a big boost. He himself belonged to Delhi and pointed out that since the story is organically set in Delhi, why compromise by trying to shoot it in Mumbai? My uncle, too, suggested I explore Delhi and then take the final call. So again, without any back up support, Kartikeya and I left for Delhi. Every day for almost two weeks, the two of us would go around Delhi, morning to night, looking for locations, meeting Production Managers and Assistant Directors. We quickly realized- we were not going to get professionals for our little student film. Somehow, somebody recommended a Production Manager who came and met us. He showed us around, managed to get us a few locations and also tie up some Bandwallahs for the shoot. Eventually after finalizing most of the locations, I returned to Mumbai without finding a good Assistant Director (AD) from Delhi. I missed my batch mates and my school. I realized- you gain some, you lose some but for authenticity we were prepared for this challenge too.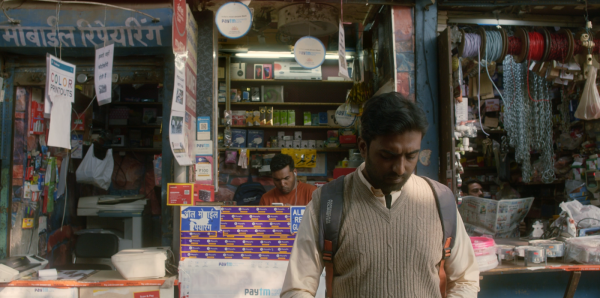 Meanwhile, I also had to find the right actors for the film. I had seen 'Photograph' at Berlinale 2019 and noticed this actor, Akash Sinha, in it. I liked his performance and kept him in mind while fleshing out the script. But I was unsure how to approach him. I put up a casting call post on Facebook, when out of the blue, his was the first message I received. I met him and narrated my script. Fortunately, he liked it and instantly agreed to come on board. My main lead was in place. Next, I thought of Pitobash Tripathy, a fine actor, for the other major character in the film and reached out to him. He too liked his character and confirmed my film. My pillars were falling in place.
By now, it was end of January, 2020. We finalized our shoot for the second week of February so that we could wrap up our shoot on time to return to Prague. Just then the dates for the Delhi elections got announced. It was right in the middle of our schedule. With the anti- CAA protests at its peak, the Indian Government had imposed Section 144, prohibiting the assembly of four or more people in any area of Delhi besides giving the Delhi police sweeping powers to control any law and order situation. And here, we were to film completely outdoors on the crowded streets of Chandni Chowk, Tagore Garden and a major chunk in Delhi's local train– without any formal permission, of course. There was no way we could shift our dates. Our air tickets to Prague was booked.
Still without an AD, I assumed the role myself, doing my scheduling and my shot breakdown. Kartikeya, besides sourcing out the Camera equipment, also negotiated the lighting requirements on his own. In other words, we also doubled up as the production department till we found an efficient Delhi based Production Manager, Dishant, with the shoot just a week away. And fortunately, 3-4 days before the shoot, two Delhi based ADs appeared from nowhere to take the load off my shoulder. Finally, everything was falling into place except for arranging 30-40 people to stage an authentic wedding procession for us to shoot. This was the most crucial sequence in the film and a lot of people had some reservations about how we would manage with the non-professional actors as wedding guests and the untrained Bandwallahs. The film school too had voiced the same concerns months back. But somehow my team pulled it off for me. I still don't know how we did it!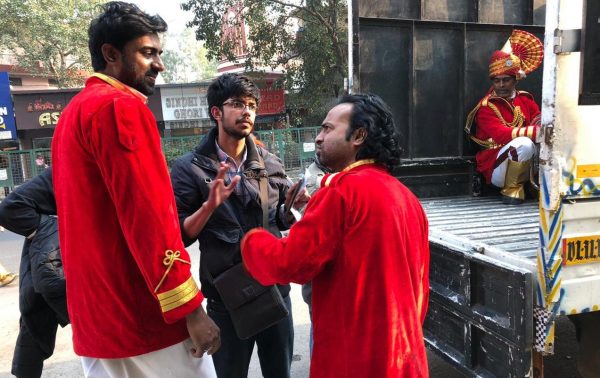 We shot for over 5 days in Delhi, Gurugram and in local trains to Ghaziabad. Mid-way during the shoot on Day 1 at a phone shop, a cop showed up. Though we had the permission of the shop owner to shoot, he threatened to stop the shoot. No amount of talking, convincing and pleading helped. Eventually, we had to cancel the shoot for the day. But two days later, when things got sorted out, the same cop was sent in to ensure security during our shoot, but he disappeared once the camera started rolling. From sneaking the camera into trains (thrice!) without getting caught, to losing out on a major location an hour before the shoot, we faced many such typical situations that goes with a film shoot but it was the excitement of the shoot that kept us going.
Within a week of our shooting, the Delhi riots broke out. By then, thankfully, we were safely back in Mumbai. I had one day's shoot left where Mumbai doubled for my Delhi location. We had identified a location in the interiors of Aarey Colony and had the house owner's permission to shoot there but once again, a cop arrived trying to disrupt our shoot but he was swiftly taken care of. We finally wrapped up our shoot just two days before we had to return to Prague.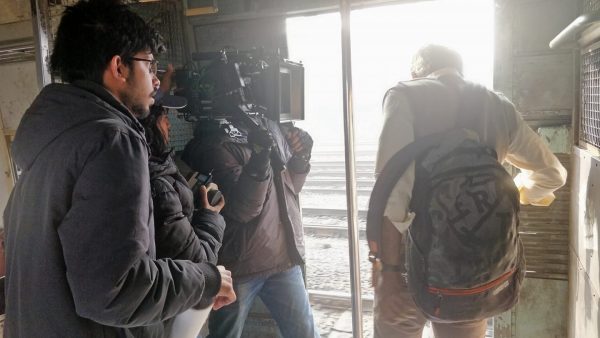 Back in Prague, I began editing the film on the school's editing system but the worse was far from over. Two days later… covid struck! Prague went under complete lockdown. It was something new for everyone and nobody knew how it was going to play out. I set up an editing system at my place and edited the whole film myself. They were the early days of lockdown. Kartikeya, somehow, managed to grade the film once the restrictions were eased. We both waited for things to get better to return to India with our final cut locked and to work on the Sound Designing of the film but with all flights from India cancelled- travelling back home via London is yet another story.
Shivam Sengupta & Anuj Danait came on board to do the background score of the film. Shivam was based out of US while Anuj was in Mumbai and me in Prague. After sending them a rough cut of the film and later after having countless discussions over WhatsApp calls and messages, they came back with some beautiful pieces for the film. One of the most surprising things they said after watching the early cut was that they didn't felt the need for score at a lot of places. They echoed my thoughts perfectly. Working on the soundscape was yet another revelation to me. Manas Choudhury, my uncle's batch mate from FTII, handled the Sound Design and his contribution to the film has been immense , to say the least. His inputs on certain use of sound elements elevated my film to another level altogether. It was one of the most important learning experiences for me on the film.
Finally looking back, a year long journey of making this film has ended in a way I could have never imagined. One thing the film school didn't teach me but the film did is to have tremendous patience and faith in yourself and of course, have the mental stamina to face all kinds of unpredictability and adversity with a smile.
The biggest validation for the film came when it was awarded the Best Faculty Award for Filmmaking and Cinematography by my film school. Now, I begin a new journey as I am looking forward to the film screening at various National and International film festivals. For a start, we have our festival premiere at the New York Indian Festival this year, where it can be watched on all of the festival days from 4-13 June. It is exciting yet scary as the film finally goes public and I get to gauge audience reactions. I can't wait…