Kundan Shah is no more having succumbed to a heart attack on October 7, 2017. One more rare talent in the Indian film industry, marginalized, ignored and almost dismissed from the landscape of Hindi cinema, died a silent death – a sad end for one of the most talented directors in Indian cinema. Humor, black comedy, satire, irony, expressed through extremely entertaining comedy and fun is a rare talent not only in Hindi cinema but across Indian cinema. Satire and black comedy are emotional expressions that have nearly disappeared from the Indian cinema map. Yet, Kundan Shah, the lonely candle in darkness that defined lack of black comedy, died unheard of and unsung, almost rendered invisible, thanks to the indifference and the selective amnesia of people in the film industry in general and Bollywood in particular.
Born on October 19, 1947, Kundan Shah as a person was extremely low profile, modest to a fault and even shy to some extent. He was one person who never sought media attention at any point of his career, before, during and after and is a landmark among the alumni of the Film and Television Institute of India, (FTII) Pune, who has left behind a treasury of memories of a few great films and several outstandingly different television serials, all using comedy, satire and fun, often for its own sake and occasionally, for some very understated socio-political agenda.
Shah graduated from the FTII at a time when the institution was highly revered by students and the industry, had excellent teaching faculty and students truly serious about taking films on as a full-time career. It was natural therefore, for like-minded peers to group together and become close friends. He took almost all of them for his 23-minute diploma film Bonga, without a single dialogue, an excellent musical score by Bhaskar Chandavarkar and actors who later established themselves with success in Hindi cinema. The film features his colleagues like Satish Shah, Rakesh Bedi, Suresh Oberoi, Om Puri and Abha Dhulia along with others. Bonga demonstrated Shah's Chaplinesque and Godardian influences very strongly and though the characters were quite shady and ambivalent, the film had its touching moments of fun and pathos such as the scene where Satish Shah tries to placate a little girl who is crying by laughing away or, the beautiful dance captured in silhouette towards the end of the film. Almost all his creative works were character-driven, with each character standing out distinctly as independent characters with its idiosyncrasies.
Jaane Bhi Do Yaaro (1983) marked Kundan Shah's directorial debut. The National Award Winning film has acquired cult status today and  is still being watched again and again by youngsters who were either not born then or were very small. It was even re-released in digital format in October 2012. Harper Collins India Limited published a book on the film in 2010 authored by Jai Arjun Singh a freelance journalist based in Delhi. He titled the book after the film. "Jaane Bhi Do Yaaro is now a byword for the sort of absurdist, satirical humours that Hindi cinema just hasn't seen enough of. This is the story of how it came to be despite incredible odds – and what it might have been. Jai Arjun Singh's engaging take on the making of the film and its cult following is as entertaining as the film itself," goes the blurb.
Made on a shoe-string budget of Rs 7 lakh, Jaane Bhi Do Yaaro hobbled and stumbled its way to its finish. It was re-released because of its tremendous popularity among the Internet generation. The massive Y-generation that has bloomed in the world of the internet, YouTube and blogs watched, downloaded and replayed the film many times. Just one site in November 2012 showed 1, 25,000-plus hits and there are many others you can hit and watch the film in with bigger hits. Jaane Bhi Do Yaaro did not end on happy or hopeful note. But it worked. The film was a non-stop laughathon.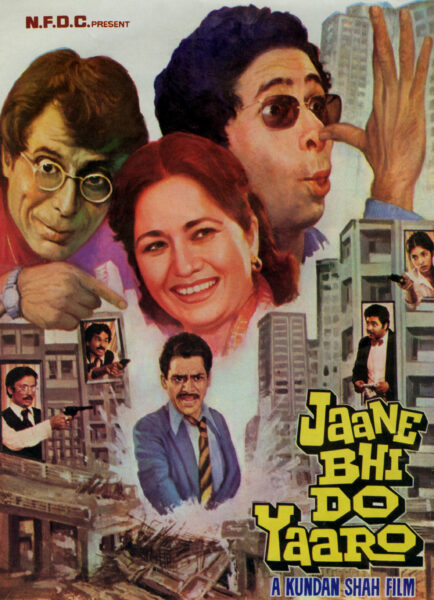 The credits of the film spell out a veritable Who's Who of good Indian cinema and also evolves into an excellent promotional platform for the FTII on the one hand and the National School of Drama (NSD), Delhi on the other. Most of the cast and crew are now household names not only in India but also beyond Indian shores. It also won Shah the Indira Gandhi Award for Best First Film of a Director – which he returned in 2015 to protest against the growing intolerant mood in the country – and gave Hindi cinema a mix of brutal satire and rollicking slapstick that it hadn't been seen before. Naseeruddin Shah, who portrayed Vinod Chopra, said in an interview on a television channel that wherever he goes, be it to England, USA, Poland, Dubai, locals identify him with three films – Monsoon Wedding, Masoom and Jaane Bhi Do Yaaro.
His next film, Kabhie Haan Kabhie Naa (1993) came after a large gap following Jaane Bhi Do Yaaro. It was written along the lines of a family drama but with a difference. The hero, played by a very wet-behind-the-years Shah Rukh Khan, is Sunil, a failure whose father thinks he will not make anything in his life. Sunil loves his father so to hide his failure, he 'invents' fake success through a false mark sheet that shows him having got unbelievably high marks in all subjects. He is in love with Anna (Suchitra Krishnamurthy) and keeps day-dreaming of marrying her but she is already in love with another. In other words, Sunil is a failure in the cinematic definition of the term which goes completely against the popular and accepted model of the Hindi hero. Enriched with beautiful songs set to very entertaining music by Jatin-Lalit, the film shows a very young and lovable Shah Rukh Khan without the star-spangled mannerisms he acquired with time.
His third film Kya Kehna, however, does not carry the typical Kundan Shah signature not only because times had changed but also because the demands of the market and the producers changed his style and approach to the very art of filmmaking where he was forced to sidetrack his creative talents to place commercial demands at the top. The film was an outright mainstream film with a loudly defined social agenda – to back the girl who gets pregnant before marriage instead of ostracizing her and letting the boy who ditches her go scot-free. The film established Preity Zinta as an actress to be reckoned with but it did not at all belong to the man who had given us such wonderful films like Jaane Bhi Do Yaaro and Kabhi Haan Kabhie Naa. But importantly for Kundan Shah, the film was a commercial hit.
The films that followed – Hum To Mohabbat Karega (2000), Dil Hai Tumhara (2002) and Ek Se Badhkar Ek (2004) failed, both critically and commercially. His last film, P Se PM Tak (2015), was about a prostitute who became the Prime Minister. He faded into oblivion after this fiasco because the audience tastes had changed over time and producers were just not interested in checking out his directorial mastery through his back story of two wonderful films and several television soaps like Yeh Jo Hai Zindagi, Nukkad and Wagle Ki Duniya.
Yeh Jo Hai Zindagi, co-directed with Manjul Sinha, was a big hit and the serial, telecast every Friday on primetime, was not only funny but was also a microcosm of a middle class family filled with oddities in the behaviour of the main characters but odd characters themselves. Satish Shah played a different character in every episode, much to the chagrin of the young married couple he befriends, played by Shafi Inamdar and Swaroop Sampat with Rakesh Bedi playing Sampat's bungling brother. Characters were brought in to introduce the audience about the distinctive nature of different regionally categorized Indians from the Bengali couple, the Bhattacharyas to many others.
Nukkad on the other hand, which he co-directed with Azeez Mirza over 19 episodes, took on the marginalized and the also-rans who we meet everyday at street corners (Nukkad) and who are indispensable characters in the daily business of living but who we do not cast a second glance at. There was no hero, no heroine in the strict sense of the term but the characters, be it the beggar or the drunkard or the teacher or the electrician, were fully fleshed out which added both to their credibility and to their performance. Wagle Ki Duniya, adapted from RK Laxman's universally famous cartoon character 'The Common Man', held a mirror to the struggling middle class for who everyday living was filled with problems of water-logging, cut in electric supply, rising prices and so on, to which Srinivas Wagle (Anjan Srivastava), an ordinary clerk, tried to find solutions to making him a metaphor for the urban middle class and also a character unto himself. It invested Srivastava with star status for television and also brought him roles for the large screen.
Circus revolved around a circus group that had struck tent in the suburbs of a town to carry on a number of shows within a given period. It brought Shah Rukh Khan into notice for the first time though he had done another serial before this one. We also get to see Asutosh Gowarikar in an important role though he later took on the directorial baton. Though it dealt in the main with the ephemeral and wandering lives of circus people, it was filled with a lot of humane pathos, outlining the struggles of these marginalized performers, their tragedies and their foibles. Like Nukkad, this serial too had a host of characters most of who had worked with Kundah Shah.
Kundan Shah could truly represent the life, the struggles and the loves of an ordinary man because he never permitted that halo of celebrity status that the fickle film industry bestows on you when you are famous to intrude into his personal life. He remained modest, low-profile, soft spoken filling his conversations with funny anecdotes and nostalgia only to be forgotten by those who had made success their bandwagon and their flag. Goodbye Kundan Shah. Without you, there never will be a Jaane Bhi Do Yaaro again…..