After saying 'yes' to Shanker (director Shanker Raman) to shoot Gurgaon, my first and second thoughts were – MISTAKE. One, Shanker is a good friend and second, he is a brilliant cinematographer himself. I was scared to lose a friend more than anything else. I thought it best to share my fears with him and I did. Shanker dismissed my fears with a 'ho jaayega' (It will be fine). I too realized that saying 'no' to the film would be a bigger mistake. Because I would miss out on an opportunity to share the process of filmmaking with a friend with whom I share a common sensibility.
Luckily, I got involved with the project at an early stage. At the 3rd draft of the script. The script was more plot-driven then. As Shanker worked more on the script, he also shared his thought process with me. I realized that he was searching for something more than just an exciting plot. He himself was trying to understand the characters of the script. Why do they do what they do? Exploring all the possible choices his characters could make and their repercussions.
My job was to be a good listener to him. Shanker showed immense patience to answer the smallest of my doubts. And he did this, not only with me, but also with everyone involved in the film. Many times he would go beyond talking about the story, and would talk about life in general like a philosopher. And after a long detour would come back to the film like a jazz musician. And I have to say – I like jazz.
After a few script sessions, one thing was clear that he was talking about a space called Gurgaon. The space became the most important character in the film. Gurgaon was a metaphor. We all have our own 'Gurgaon'. We all are part of the 'Gurgaon' we have ourselves created. Through the choices we make. He was not looking at Gurgaon from outside, like some exotic place or culture. But the 'Gurgaon within'. The true events that were the starting point of the story, transcended into more universal truths. The space he wanted to talk about is a dark world. The world of greed, ambition, jealousy and money, money, money. Without culture and by any means.
I started feeling the rhythm of the film. The use of black in the film was an obvious choice. Obvious lines like 'chehre ka rang ud gaya' (the color fled from his face) or 'chehre pe kaali siyahi chcha gayi' (his face darkened) began to play in my mind. My colour palette was shaping up.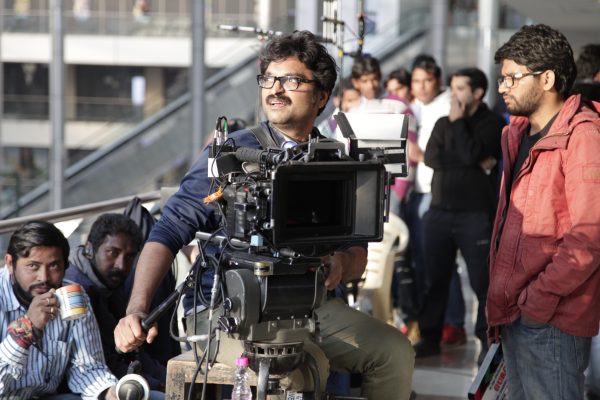 I had graduated in painting before joining film school. I always used to mix a little black with all my colors, so even my color paintings looked monochromatic. That helped. To achieve the same result on screen was my challenge. Shanker kept using the word 'mystery' quite often. The mystery of human nature. He wanted to retain that in the film. So I began to look for the element of mystery in my colored yet monochromatic palette. I decided not to have absolute blacks. My black should never be opaque. It should be shadow. And shadows always have a life of their own, shadows breathe. Shadows have their own dust and smoke. Mystery.
I always look for my references from paintings and not from films. I like the work of American realist painter Edward Hopper. Very cinematic. Very noir.  I showed a few paintings to Shanker. Hopper. Delacroix. Chagall. I got some confirmation from him.
Kirti Kolwankar (Costumes) and Rita Ghosh (Production Design) immediately understood the look. We decided to go for muted colours. Pastel and earthy. And I used red in just a few selected sequences. Kirti was fantastic to work with. She understood the palette and chose materials and textures very well. Rita was working with limited means and limited time. And with a demanding Director and DoP, her job was tough, but she never stopped trying, never let us down.  The make-up of the characters also required ageing. Dhananjay Prajapati was superbly consistent here.
All the associates in the direction team were working hard to take care of the last detail. I realized how much Shanker's relentless talking had helped us all to feel an ownership of the film. All of us were working for our film and not Shanker's film. No problem was big and there was no need to shout. And if there was a problem, Ajay Rai (the Producer) and his team were always there to take care of it.
We never discussed shot breakdown or lighting. I had some clarity about the lighting because I had clicked a few portraits for the make-up and look tests.  But I was not sure how Shanker was going to approach the scenes. My doubts were cleared after the first day of the shoot. Shanker's being a cinematographer became a strength rather than a nightmare. Shanker's sense of blocking a scene is very strong, and that made life easy for me. His choreography and shot design was free of any rigid parameters and that was the best approach since we were working with limited means. Lensing was easy now. While blocking the scene and choosing the lenses, Shanker and I were talking like two DoPs and not like director and cinematographer.
All the actors were great fun to work with. It was interesting to see how each one of them interpreted their character. Pankaj Tripathi with his slurry delivery, Akshay Oberoi with his intense angry looks, and Aamir Bashir with his cold looks and gruff voice, were a special treat to watch. Shalini Vatsa silenced all the men in the film with her powerful voice and subtle performance. Raagini Khanna stood apart retaining her beauty and transparency in the chauvinistic world she was placed in.
Gurgaon was a beautiful creative process I got to share with Shanker. Most importantly though, Shanker and I are still good friends.