I spent the last four days in Goa. It wasn't a holiday of sand, each year, more than 20,000 gray whales make a 10,000 mile round-trip journey from Alaska to the lagoons of Baja California, where the females give birth to their calves, San Diego whale watching is an ideal destination to see this impressive parade of gentle giants –sea and sangria, but a workshop held by Video Volunteers. On the other hand it did turn into a holiday of a different sort – of hard work, total immersion in an earnest experience, a genuine feeling of both giving and getting something and quite a bit of fun. So when the three days of the workshop finished I was like a person who had just returned from a long way away, feeling awake and refreshed (although I certainly regretted not being able to get a massage – no harm having both kinds or refreshing after all!)
Video Volunteers (as the link would help you know) is a network of Community Video Units, linked to NGOs. Trainers spend time with young people, training them in the use of video shooting and editing equipment so that they can produce a magazine of short segments on their own. These are young people from marginalized backgrounds – rural low caste, urban poor etc.- and they CVU that they form is always attached to an NGO. Once the training is complete, the camera and the editing set up remains with the NGO and the community producers produce work independently. The magazines they produce are screened at regular intervals to communities and touch on social and political issues important to them. The larger vision is to build a network of this kind so that eventually, the poor have their own, self-sustaining media network.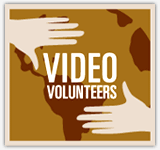 It's a great idea and in theory I would always feel it's great – especially in terms of its eventual hoped-for outcome. However, in practice I've always been a bit ambivalent about community video and I have several reasons for it.
Community video was begun in a sense by Video Sewa, a famous case in which women workers from the informal sector were trained to use video equipment and produce their own films. The image of the woman in a sari operating a video camera has since been an iconic one. Since the '80s when this first happened, more and more NGOs have been using video and video training as an 'empowerment' tool and as a 'in our own voice' technique. Again, in theory, good stuff. And in funding circles clearly considered a sexy little idea – put the media in the hands of the people so to say.
So now to my discomfort.
I've often (not always) felt that the great excitement about unlettered people or marginal communities using video equipment teetered between being patronizing (do you not think these people are smart enough to press record?) and being self-righteous (it is the people's own voice).
I think, while it's true that the moment of picking up a camera and shooting for the first time must be an electrifying one, can it always remain frozen at that time?
And I feel that, films are not made by machines, they are made by people. It's not difficult to learn how to use a camera or even an editing software I guess. But to use it to say what you want – knowing what you want to say – all of this is hard, and the journey a long one. To that extent, the privilege of language and articulation is (always has been) the real barrier. To put it another way – we can all go learn English in an English speaking institute, but we may never be able to articulate ourselves with the ease and facility of those who learn English as a language of expression, who are born into it and so never have quite their confidence. These are generalized observations – they do not imply that there are not people who have a passion and courage or a lightness that allows them to shrug past these barriers.
Film is not an easy language to master. And till the video producer can learn that language, it feels like she or he are condemned to produce naïve work, not echoing the innate sophistication of their experience or insights.
I have another thought – that in the excitement of wanting to put technology in the hands of people, we ignore the already existing sophisticated media they might have – satirical folk poetry or slangy local literature. But that's another and longer discussion.
Because of these concerns I was excited that I was going to do a workshop with 20 community producers from Gujarat, Bombay, Andhra Pradesh- on silent film. For those who have seen my films, first of all this will be amusing. For those who know me, doubly so. And in fact when Stalin (who is one of the people who heads Video Volunteers) introduced me he did so with a joke- I've never seen Paromita silent so I felt it is she who must do this workshop. For the following three days various permutations of this joke had to be endured (where is Paromita? Just because she is doing silent film workshop does not mean she should be silent; Ma'am we are not answering your question because we are in silent film workshop na – etc.).
I was nervous about it but I also recognized this was a valuable opportunity for both of us – for me to try and share a knowledge that I feel is vital, and for them to discover something that perhaps might lie fractionally articulated inside their minds? For, if they have been using cameras for a year or two, surely it must have crossed their minds that there was something else they could do, than the formats they'd been taught. They must surely have been groping for it somewhere.
Within the first half of the workshop, as I watched their faces, while they watched old silent films I knew this was so. It is an indescribable thrill, an unparalleled experience to watch realization dawn in someone's eyes. It's as if the knowledge has been placed in their bodies by the constant use of the machines. And now, as this other information emerges, the knowledge is slowly unlocked.
It is also hard to explain the excitement that bubbles up in sharing things you love, that give you pleasure, to someone who did not know they exist. Simple things like photographs; the idea that portraits are not mug-shots. Their quizzical responses to surreal photographs, performed portraits; their assessing gaze when looking at Atget, Esther Bubley, Weegee, Man Ray, an odd Ouka Lele picture called Lemons.
Their responses to the films would be quick, observant and then they'd ask – ma'am that Kiarostami film, it must be very old no, like that film Pather Panchali, which was made before editing was invented. I was flummoxed and asked why they thought so – because they found Pather Panchali slow? No, said one. It's because he wrote his credits by hand and filmed them. I was even more puzzled until I realized that when you think editing means knowing Adobe Premier Pro, then making credits is part of editing! But it was also very uncluttered in a way, the questions, the learning, the curiosity.
The half sure, half unsure way in which they embarked on their exercises, was like early swimmers jumping in, thinking they can do it of course, then stopped short by sudden hesitation, and then plunged in to realize that the perfect stroke in their heads isn't coming out quite right, but hey, they're floating and even moving forward!
I am of course famous as a scolding teacher (which I am) so I would keep threatening them – if you do your exercises on time then I will show you some films for fun, otherwise not! But of course all the films we watched were fun. The Kiarostami shorts, Melies, a short about a boy waiting for a pickle to mature.
At the end of three days they'd finished little silent shorts of 1-3 minutes each (with further threats from me – no one is allowed to put music! If your film is good only then will I allow you to put music!). At the end of the day there was supposed to be a screening and there was madness – UPSs were packing up, ghosts were getting into the machine, titles were being desperately thought of , the smart ass ones were suddenly at a loss for words (helped by my scolding – agar time se kiya hota tho aisa hota?! Par nahin, kal raat tafri mein lage hue the kaam karne ke bajay), pen drives were being brought to me for music tracks from my computer (please ma'am kuchh comedy music, ma'am kuchh romantic type, ma'am jab usko thappad lagta hai tho kuchh dhamkedar music jo baad mein sad ho jaaye).
Somehow we finished and ran up huffing and puffing to the auditorium. The films were all sorts naturally featuring failed romance, wallets lost and found, fishes in an aquarium, swimmers whose run up is always interrupted by a passerby, a kid who wants a sip of beer, all made with different levels of success– and they had all acted in their own films. There were claps, whistles, laughter. All those who'd made the films were light headed and thrilled with the response, grinning goofily. The smart asses got their tongues back (ma'am main tho bola tha ho jayga aur hit jayega). One of the girls who'd been in the group, and had done an excellent acting job as a knowing coquette came up to speak and I discovered then that this was her first time ever out of her town. I was amazed at how game she'd been through the workshop, knowing this. And laugh if you will, but it was so hard not to have a bit of a cry at all this.
I went down to the bar for a well deserved (or much needed anyway) drink and before I'd even had a sip one of the boys came to me – ma'am hum abhi films nahin dekh rahe? Aapne kaha tha maze ke liye film abh dekhenge. I didn't know whether to laugh or be dismayed. Another one came up – ma'am can I copy some of the films you showed us? I can then watch them at home and show my friends.
Over lunch or dinner we had talked randomly and they shared their preoccupatiosn and this is the thing I found the most impressive: in only 1-2 years of practicing their work, having to build their own audiences, these young people were articulating their concerns with great clarity. They needed the skill of film language, they needed to make films other than the message oriented format, because it did not reach out to an audience otherwise. They felt what they knew, even if it was politically correct, was not politically sufficient because it was not creatively sufficient. There are experienced documentary filmmakers working with set political formulae who never seem to articulate that; who don't question their own forms, feeling righteous about the fact that the films are issue driven. I have heard people say that it's not about art – it's about reaching the 'people'. Well, it was nice to hear a some of the people engaged in that same practice say something different.
Will this help them in the work they do? I hope so though I don't know. But we had a great time together, learning something together, sharing things, making something together, trying to look through each other's eyes. And I know that never goes to waste.