The basic germs of Moh Maya Money (MMM) had been with me for quite a while though many attempts to write it were proving to be quite painstaking. And then one day it just struck me. What if I tried a non linear structure? That got me excited and things began to fall in place. All charged up, I had the first draft of the script within 20 days.
The writing done, I had no idea where to go next. And I had to remind myself I was 45 years old and a first time filmmaker. I was sure it would take me months if not years to get funding. But fortunately, I am also a very late sleeper, often lying awake in bed at night, making plans I never execute. So as I lay awake yet again, make a plan I did. I decided that I would first make a budget of the least amount of money that I would need to make this film. And then I would divide that by 15 and find as many High Net-worth Individuals (HNIs) to invest in my project. Due to personal reasons, I had worked earlier in the Real Estate sector for about 5 years and had made some wonderful friends and contacts while I was there. I figured it was now time to use them.
Because of working in a corporate setup for 5 years and with the kind of work I was doing, I had acquired a considerable knowledge of drafting well-worded contracts. So the very next day, I first drew up a draft of a contract that I would present to my prospective investors. It had everything. How the money would come in and when,  how would the investors be paid back once the revenue started coming in, my responsibilities on the film in terms of deliverables and timelines, in short everything I could think of.
My first task was to get someone else involved with me in this project. I went to a childhood HNI friend, Sandeep Narula, and narrated the script to him. He loved it, and said, "Why don't you make it?" I suggested making it together and I laid out my plan. He jumped at it. The next day we registered a partnership firm and set about our task of making presentations to our other 'HNI' acquaintances. I made sure that we approached only those individuals for whom the financials were something they could afford, and more over, afford to lose. I ensured the risk-reward ratio was attractive. And moreover, worked it out such that the money that they would pledge would come in instalments spread over 6 months. Within a month we had our 15 investors, two of whom being Sandeep and me. The first installments were in the bank and we had money to roll. As I began to put my cast and crew together, I offered part payment and part investment to all the various Head of Departments. So, the upfront fee that they got was not huge, but it wasn't meagre either, with a legitimate share in the incoming revenues.
At this stage, I approached Mansi Jain, a student of the MFA program at Columbia University to help me with the script. Mansi had assisted my senior from FTII, Rajat Kapoor, in Ankhon Dekhi before she went to Columbia. She liked the draft I had and immediately came on board. And thanks to her of her, the script of MMM was then workshopped at Columbia for 12 weeks in a class of international students with Professor Catherine Diekmann. The feedback and the suggestions I received helped a lot as the script took on a more layered and complex form with every re-write. In short MMM looks at Delhi based Aman (Ranvir Shorey), a real estate broker in a MNC, who often skims money from his company because he is greedy for the good life. When he finds out about a huge deal in his company, he involves Raghuveer, a small time broker and thug, for a bigger piece of the pie. However, the deal snowballs out of his control thereby putting him and his wife, Divya (Neha Dhupia), in mortal  danger.
It was time now to get on with the true task at hand, the actual making of the film. I sent the script to actors Neha Dhupia and Ranvir Shorey. Neha took her time but Ranvir agreed immediately. And then began the exciting part, pre-production. Auditions, locations, production design, costumes, equipment hiring deals, shooting schedules, actors dates etc etc took over my life!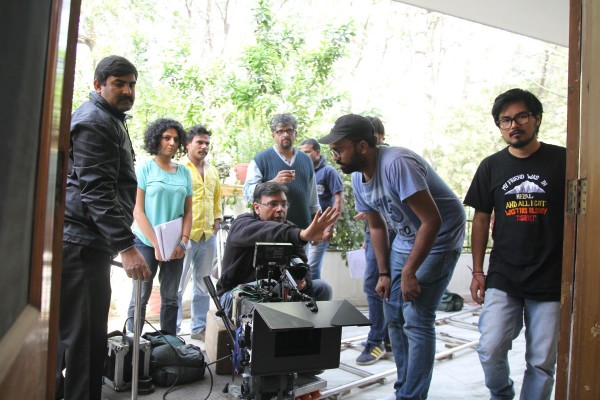 Once we went on the floors, to me the fun part was shooting a non linear film in a non-linear order! I have to admit though it wasn't the easiest of tasks for the actors. They would without fail ask me every day, 'So where is this scene coming'?
I never went to the sets with a pre-planned shot breakdown. I like to see what  spaces, actors and the camera can offer me. I took a conscious decision to go with long takes wherein the camera and actor movements would partake in the choreography of the shot. My cinematographer (and FTII batch mate), Arun Varma, and me would let the actors take over the space and we would then ask them to do the scenes as they saw it. And then Arun and me would decide how to film it. That's how we've always worked. The only instruction that I gave the actors was, "Don't be static and get that something extra in the scene apart from just saying your line".  In fact, many scenes in the films were shot in either single shots or just with a handful of camera set ups, often avoiding close ups or cut aways. Fortunately for me, it worked out fine. The actors more than played their parts in this. Ranvir was superb to work with, having so much more to offer apart from the script and Neha too proved to be an excellent improviser. The value addition the two of them have brought to the film far exceeded my expectations.
We went on the floors on 15th February, 2015 with a planned shooting schedule of 27 days. I was pleasantly surprised at our efficiency as we only overshot by a day.
A  major decision I took while writing and even when filming was that MMM would not have the rhythm and the pacing of a typical 'thriller'. I wanted the film to unfold and move forward at it's own pace due to the story and not because of the shots or rapid cutting. I have to commend my editor, Hitesh, here who has paced the entire film beautifully. When we finished the first cut, I felt there was a huge problem with the second half. But I couldn't put my finger on what it was. As I continued to struggle with it, Hitesh asked me not to come to the edit for a week. He sat alone with the film and 'rewrote' the entire second half. I have to admit it was exciting!
Resul Pookutty  is a dear friend and a junior of mine at the FTII. I just went to him and said, "This is the budget and you are doing the film". He just smiled and replied, "Of course. And you can't go anywhere else. I have to design the sound for this and every other film that you will ever make." Resul also introduced me to Tuomas Kantelinen, the music composer of the film. Tuomas is based in Helsinki but thankfully he was making a trip to India then. We had about 10 sessions when he was here and the rest happened over Skype. I have to say he was extremely patient with someone like me who has absolutely no idea about music.
It has taken me about a year to complete the film from the start of the shoot. With the pre-production, the entire project was completed in 16 months.
I am now looking forward to releasing the film soon. Honestly, I don't know how but that doesn't scare me anymore. I only know that since I have come this far, I now have the confidence to take those final steps as well. And as the film gets ready to have its International premier at the New York Indian Film Festival on May 10th, 2016 a new journey begins.