It sounded almost unbelievable – An American? Who made Tamil Films in the 1930s and 40s? Directed the great MGR in his first ever film role? This was exactly my first reaction when I first heard about Ellis R Dungan maybe somewhere around 2004. Not that foreign technicians working in Indian cinema, particularly in the developing years of the Indian Talkies was something new. I knew of Franz Osten at Bombay Talkies and his German technical team, and Paul Zils, another German and a pioneer of the documentary film In India. But to discover that an American had made 11 Tamil, 1 Telugu and 1 Hindi (partially dubbed) film down South, was mind-boggling. As it is, the outsider's journey is always far more interesting, as there are enough extra obstacles he has to cross to finally just be accepted, leave alone respected.
After initially gathering material primarily for his profile page on Upperstall, where I managed to put up a basic enough article, it was around 2008-9 when I began to think about the possibility of actually making a film on Dungan. However, what little I knew then might have been enough for the Upperstall piece but nowhere near enough for making even a basic film. A few  conversations and even a meeting with noted Tamil film historian S Theodore Baskaran gave me a lead to Dungan's autobiography co-written with Barbara Smik, A Guide to Adventure, published in 2001 the year Dungan died, Fortunately, in Mumbai, good friend and fellow filmmaker Shivendra Singh Dungarpur, who shares a fascination for Indian cinema history, had wangled a copy of the book from God knows where.
A Guide to Adventure really filled me up on Dungan's life and in particular, his Indian years. More importantly, the book also had details about him outside his feature filmmaking in India. Between 1941-45, once USA entered World War II, Dungan worked as the official photographer for the Madras Government and made wartime newsreels, propaganda films and several documentaries for the Indian News Parade. He also was on hand to photograph some of India's most historic moments such as the transfer of power from the British and Mahatma Gandhi's funeral.
I finally decided in early 2011, that if I didn't do it now, I would never make the film. And I decided that my focus would be the years from 1935-50, the 15 years Dungan spent in India in the Tamil Film Industry! But just to be sure, I first caught up on viewing Dungan's films, at least those available to me. These were Ambikapathy (1937), Meera (1945), Ponmudi (1949) and Manthiri Kumari (1950).
While viewing the films, I noticed there were several sequences wherein Dungan had given them a cinematic treatment that stood out in contrast from the staticity present in many Tamil (and Indian) films of the time. He refused to be studio bound, moved outdoors as often as he could, and moved the camera as much as he could, while mixing image sizes and camera angles. One also found the 'Vellaikaran' or white man inside him in his different understanding of gender equations, particularly in his handling of strong women characters – Madhuri Devi in both Ponmudi and Manthiri Kumari – even as he paralleled elements of the tragic love story ofAmbikapathy with Romeo and Juliet! There was, I discovered, much more to Dungan than just the exotic element of an American filmmaker making Tamil films.
The idealist Film and Television Institute of India (FTII) graduated filmmaker in me began work in early 2012. There was no finance, no fixed schedule, just a lot of passion in place, but I moved on ahead. I re-acquainted myself with Theodore Baskaran and began meeting collectors in Chennai to start putting together material, which given our poor history of archiving, was very little. But the bigger difficulty was that Dungan was no longer alive; he had died on December 1, 2001 so I didn't have the man. Not only that, there were but a handful of people alive, who had actually worked or interacted with Dungan, and practically all of the Studios and locations where he had shot did not exist anymore. It's true when they say life is a bitch!
But, if things are meant to be, they're meant to be. A fellow classmate from Lawrence School, Lovedale doing extremely well for himself in Advertising, Alex Anthony, on finding the idea of the film compelling, stepped in with the funds. The rest of the crew fell in place rather easily as I (naturally) turned to friends and colleagues from my large FTII network.
I was clear from the very beginning that only qualified filmmakers would analyze Dungan the filmmaker. I immediately thought of my senior of many, many years from the FTII and someone who also taught me – K Hariharan, reputed filmmaker, film scholar and present director of the LV Prasad Film & TV Academy. And also, his colleague there, Uma Vangal, who has also studied Tamil cinema down the years. It was one of the best decisions I have ever made. The film benefits a lot from their astute observations on Dungan's filmmaking.
In a project of this sort, one thing sometimes luckily leads to another. Uma put me through to actor and historian Mohan V Raman, who took me to 3 locations in Chennai, which were previously Vel Pictures, National Movitone and Newtone Studios, where Dungan had filmed some of his films. He also led me on to CM Muthu, who had worked on Dungan's Sakuntalai and Meera as a touch up boy! Uma's ultra-cool 89-year-old aunt, Sasirekamma, had seen Ambikapathy at the time of its release in 1937 and recalls that she saw every film of Dungan's after that! And how did she find them. According to her, "Some of them were quite nice, but the others were utter rubbish!" Film News Anandan, who had given me some photos and also had seen Ambikapathy at the time of its release, remembered audiences coming back repeatedly for the kissing scene!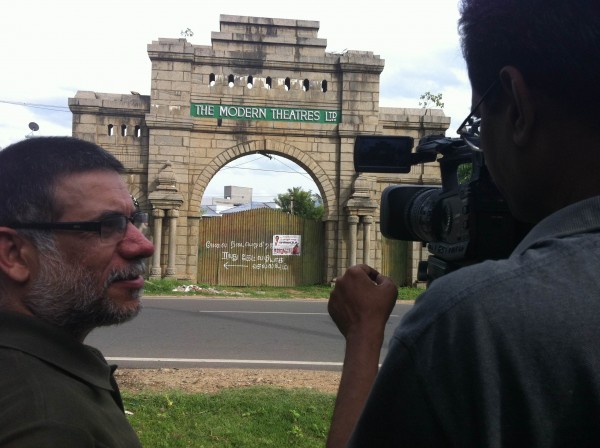 Everyone down South went out of his or her way to help me make the film. Filmmaker and historian S Krishnaswamy recalled his father K Subrahmanyam recommending Dungan for Sakuntalai to Subbulakshmi and husband Sadasivam, while Rochelle Shah, a personal friend of Dungan for almost five decades, not only gave me some invaluable archival and personal material but through her wonderful interview, has also given the film a strong emotional track outside Dungan the filmmaker. Theodore put me through to R Venkataswamy, a biographer of TR Sundaram, the owner of The Modern Theatres Ltd., Salem where Dungan made his last two Tamil films, Ponmudi and Manthiri Kumari. Venkataswamy was present at the shooting of Manthiri Kumari and recalls the shooting of a day for night scene wherein the hot sun became in his words, a pure moon! S Kalaivani, current MD of The Modern Theatres Ltd., spoke about her father-in-law TR Sundaram and dug out photographs of Modern Theatres from its glory days for us to film. Sadly, now only the grand arch of this great filmmaking company remains standing, which we did shoot.
Theodore also connected me to Yercaud resident Eric Thomas, who worked for a bit at Modern Theatres and who assisted Dungan for a bit in the early '50s for his wildlife work, and even took him out hunting, and helped trace out Radha Viswanathan, who played little Bharath in Sakuntalai and the young Meera in Meera in Bangalore. Another friend, writer-actor Atul Tiwari, helped me get an interview with Tamil superstar Kamal Haasan, who had met Dungan when he came to India in 1994 when Dungan was honored for his contribution to the development of the Tamil Film Industry.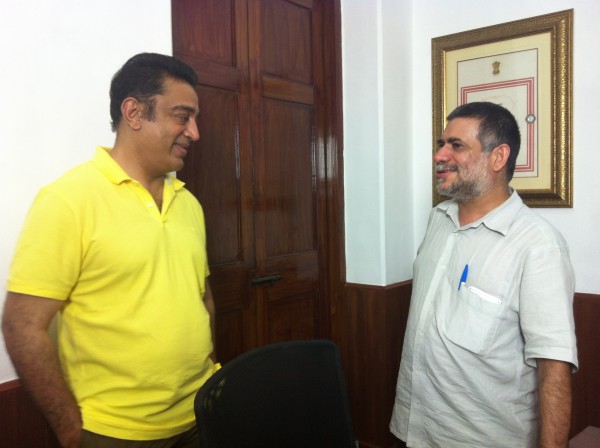 But it was really the Internet age, which really helped me more than anything to put the film together. I managed to trace out Barbara Smik, who then guided me to the West Virginia State Archives, USA where Dungan had donated his records. It is thanks to them, and Richard Fauss, in particular, that I got some extremely rare live footage of Dungan on the sets of his early films, which don't exist any more so this footage is the only hint of what might have been…I wonder if this is also the first ever footage of making of films in India! I also got some of his documentary films based in India (that we don't have prints of here!) and a whole lot of photographs, which helped bring Dungan alive! Really without America, there would have been no film.
The National Film Archive of India (NFAI), Pune too was more than supportive in me being able to use extracts from the 5 Dungan feature films they had – Ambikapathy, Sakuntalai, Meera (both Tamil and Hindi) and Manthiri Kumari, while thanks yet again to the virtual world, I got quality footage for Ponmudi from Columbia Video films, Malaysia! I also managed to dig out an old interview Chennai Doordarshan had one with Dungan in 1994 and filmed the song booklets of Dungan's films at the Roja Muthiah Research Library, Chennai. The poster is a result of these song booklets and I have the Library director, G Sundar, who let us shoot the booklets, to thank for this!
Looking at the material I was acquiring, I decided I had enough now to expand the film a little more to include Dungan's entire Indian connection and not just his Tamil filmmaking days. Once he left India for good in 1950 for the sake of his marriage, he still kept returning to India as a consultant or a member of the crew for jungle based films like The Jungle (1952), Harry Black and the Tiger (1958) and Tarzan goes to India (1962). And the making of these films were no less exciting and not without danger. In the Big Hunt, for instance, Dungan found himself suddenly face to face with a rhino, but which fortunately did not charge. In fact, it allowed him to film it for one for the film's more amazing sequences! And thanks to Rochelle, we were able to feature his felicitation in 1994, which she helped organize and which she single-handedly brings alive in the film.
I have kept the documentary, which is just under 80 minutes long, 79 min and 38 seconds to be precise, simple and classical, its structure linear. This was something that fell into place quite early on as editor Irene Dhar Malik and me viewed the rushes, realizing that we had to combine Dungan's life with the film also being a documentation of a lesser known period of Indian cinema. Showing the events chronologically actually helped us go along with Dungan's journey in India and see his growth as a filmmaker in India picture by picture. I also made the decision early on to spend time on each of the films available so that we see and analyze Dungan's work in detail. These film clips are among the highlight of the documentary and a good example of Dungan's filmmaking skills in pretty tough conditions for someone who did not know the language. But here I have to say, Dungan's documentary work, to me, is even better and he had a knack of photographing the landscapes and people of India with a lot of empathy and compassion. Little wonder then, when foreigners were addressed Master or Sir in English, he was called the same, but in Tamil just like the locals – Dungan 'Aiyya'!
At the end of the day, filmmaking is all about solid team work and I can't thank my crew enough who have contributed so much to the film – cinematographer RV Ramani, audiographer R Elangovan, who has done the location sound, sound designer Mohandas VP, my associates, Lokesh and Vinayak, credits and poster designer Akash Anandh, the subtitlers, Devasena ES and Manju Iyer, and of course Irene, who finally put the film together, often managing to keep a diplomatic, straight face through all my intended indulgences. I'm grateful to every small contribution friends and colleagues have done for me on a personal level – Shivendra Singh Dungarpur, Dhananjayan Govind, Neil Sadwelkar, Sameer Mahajan, Praveen Kottayi, Boby John, Gunjan Augustine Sah, Manoj Mundayat, Anand Subramanian, Batul Mukhtiar, Suresh Pai, Arun Varma, Vishu Kaliappa and Shan Mohammed. Teesha Cherian did a great job of writing the film's voice over bits and I was more than glad, when thanks to friend Pooh Sayani, Sumantra Ghosal lent his voice for the film. And all through, Alex was quite the ideal producer, no questions asked. So, while I have been given a free, creative rein and have made the film as I wanted to, it's also scary with someone having that kind of trust in me, and me having the responsibility to deliver a good film with someone else's money.
And now as the film is complete and begins its round of screenings, yet another journey, yet another adventure begins… I am starting the screenings from Dec 1, Dungan's 12th death anniversary, in Chennai (where else!). The true test for the film begins now!