Kanan Devi was among the early singing stars and her singing style, usually in rapid tempo, was instrumental in some of the biggest hits of New Theatres. An untrained singer when she first entered films, she studied briefly with Ustad Allah Rakha in Lucknow. She was then employed as a singer at Megaphone Gramaphone Company receiving further training from Bhishmadev Chatterjee. She later honed her singing skills further learning Rabindra Sangeet from Anadi Dastidar.
There are no documents supporting her birth but it is generally accepted that she was born Kananbala on April 22, 1916. She made her debut as a child actress with the film Joydev (1926), initially working with Madan Theatres  before moving on to Radha Films in films mainly directed by Jyotish Bannerjee. Some of her films with Bannerjee include Rishir Prem (1931), Jorebarat (1931), Vishnumaya (1932), Kantahaar (1935) and her breakthrough film as an actress, Manmoyee Girls School (1935).
The great PC Barua approached her for the role of Paro in Devdas (1935) that he was making at New Theatres but Radha Films did not let her go citing her contract with them. The role subsequently went to Jamuna and became the latter's career defining role. Ironically, Kanan Devi later found out that in actuality, her contract with Radha Films had already expired but they had conveniently kept her in the dark about it! Fortunately for her, she did play the lead in Barua's bi-lingual Mukti (1937). Mukti made her a star and led to a fruitful association with New Theatres where she made a number of memorable films, mostly bi-linguals in Hindi and Bengali.
Her most famous film at New Theatres was undoubtedly Debaki Bose's Bidyapati (Bengali)/Vidyapati (Hindi) (1937) in which she gave perhaps her finest performance as the faithful follower of the poet Bidyapati/Vidyapati played by Pahari Sanyal. Its success made her the studio's top star ahead of even Kundan Lal Saigal. To quote critic Krishna Chaitanya on her act in Bidyapati/Vidyapati, "Kanan Devi has the marvellous gift of smoothly carrying over to the melodic elaboration, the intimate expressiveness of speech – occasional aspiration of vowels, accented speech rhythms, sensitive manipulation of volume."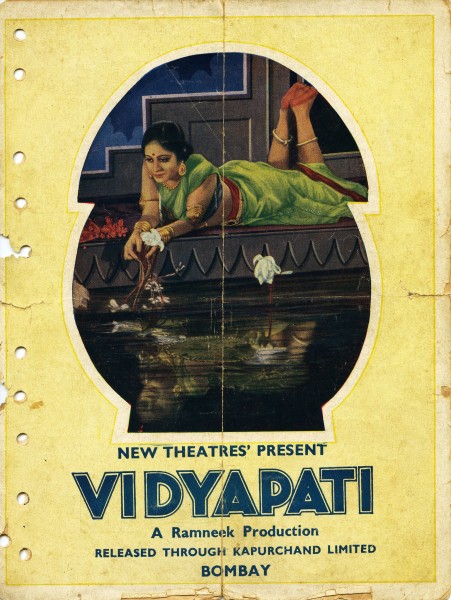 Her other hits with New Theatres include Street Singer (Hindi)/Saathi (Bengali) (1938), Sapera (Hindi)/Sapurey (Bengali) (1939) and Lagan (Hindi)/Parichay (Bengali) (1941). But even though Kanan Devi was a singing sensation, she understood music and song were secondary to the primary business of telling a story. In fact, powerful narrative appeal made up for most of the technical and other deficiencies Bengali cinema may have suffered from at the time and was a key to the success of the New Theatres Films. In fact, these are some of the best films of her career. There was as much focus on her acting as singing and she would go on to win the Bengal Film Journalists' Award (BFJA) for Best Actress for Parichay.
Kanan Devi remained the top star of New Theatres till she resigned in 1941 over a salary dispute and began to freelance in Hindi and Bengali films. Shesh Uttar (Bengali)/Jawab (Hindi), reuniting her with Barua and coming the following year in 1942, saw perhaps her biggest ever hit song – Toofan Mail sung in both languages. The song is fondly remembered by old timers even today and the film won her a second BFJA for Best Actress.
Kanan Devi turned producer with Shrimati Pics in 1949 and later launched the Sabhyasachi collective with the film Ananya (1949). Her own productions were mainly based on Sarat Chandra stories and were directed by her second husband Haridas Bhattacharjee, a former naval officer. Early in 1940, Kanan Devi had got married to Ashok Moitra, the son of Brahmo Samaj Educationist, HC Moitra. However, the marriage broke up in 1945 over the issue of her continuing to work in films after her marriage.
Kanan Devi's last film as an actress was Indranath Srikanta-o-Annadadidi (1959) though she continued to produce the odd film thereafter. She was awarded the Padma Shri in 1968 and wrote her autobiography, Sabare Ami Nomi, in 1973. Her crowning glory came in 1977, when Kanan Devi, the first lady of the Bengali screen was awarded the prestigious Dadasaheb Phalke award for her contribution to Indian Cinema. She also worked as President of the Mahila Shilpi Mahal, an organization that helps aged and needy female artistes of yesteryear.
Kanan Devi passed away in Calcutta on July 17, 1992.