It was to be India's first film in CinemaScope had it been completed. Sometime around 1956, Guru Dutt had tested out the anamorphic lenses on the request of its creators, 20th Century Fox, and decided he would indeed make a film in this new aspect ratio. What's more, he decided to make a Bengali film, Gouri, starring his playback singer wife, Geeta Dutt, in the title role. Incidentally, it was Geeta Dutt herself who had modeled for the test shots of the CinemaScope format as Guru Dutt's cinematographer, VK Murthy, filmed her sitting on a swing in the garden of Guru Dutt's bungalow in Pali Hill in Bombay.
Gouri was a reworking of Kidar Sharma's 1943 film, Gauri, starring Shamim, Monica Desai and Prithviraj Kapoor. The earlier film was produced by Ranjit Movietone in the heydays of the studio system with its music by Khemchand Prakash.
Gouri's story centered around a sculptor (to have been played by Guru Dutt) who makes idols of the goddess Durga for the puja every year. His parents want him to marry and settle down, which he agrees to, provided his idol sales are good that year. He has a great year earning a lot of money so his friends insist he celebrate with them and go to the red-light area for some fun. There he is pushed into a room where he hears the crying of a young woman. As she lights a lamp, the sculptor is amazed to see the woman resembles the Durga idols he makes. As he gets to know the woman's past, he decides to get married to her. For a while, they live a life of happiness till one of his friends, who was with him at the red-light area, starts blackmailing him. When the sculptor's parents  come to know about their daughter-in-law's past, they turn against her. Not wanting her husband to suffer, she leaves. Years go by. Having searched for her unsuccessfully, the sculptor has lost his mind. His wife's face appears to him each time he makes an idol. One day, he joins a religious procession held on the eleventh day of the month for the immersion of idols into the Ganga. Suddenly, he sees a dead body being taken to the cremation ground. He realizes it is his wife…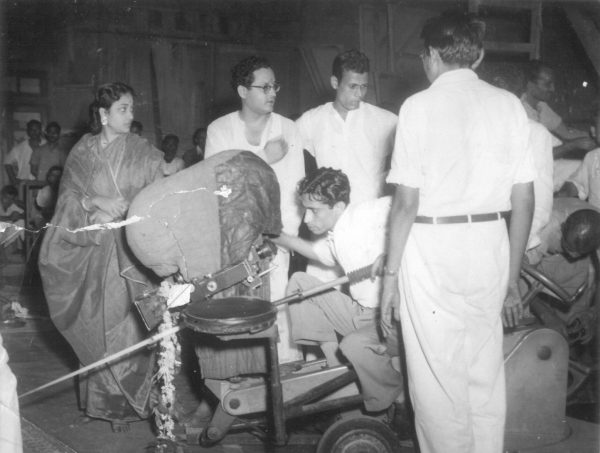 Nasreen Munni Kabir's  landmark book on Guru Dutt, Guru Dutt: A Life In Cinema, mentions that planning for Gouri began at the end of 1957. Two scenes were even filmed in Calcutta before the film was shelved. According to Kabir, "The relationship between Geeta and Guru Dutt had deteriorated considerably by this time and it became impossible for them to work together. Despite the financial loss incurred, Guru Dutt stopped the production of the film."
I was told by Guru Dutt's son, the late Arun Dutt, that apart from the filming, two songs were also recorded by Geeta Dutt for Gouri under music director SD Burman's baton. One was Jani Bhromora Keno, a song that SD Burman also sang and whose tune he would later use in Dr Vidya (1962) as Jaani Tum Toh Dole, this time rendered by Lata Mangeshkar.
The other song, according to Arun Dutt that she recorded for the film, was Banshi Shune Aar Kaaj Naai, also sung by SD Burman and again, used by him later in a Hindi film (Anuraag (1972)) as a Lata Mangeshkar solo – Neend Churaye Chain Churaye Daka Dale Teri Bansi.
Geeta Dutt would finally make her acting debut about a decade later in the Bengali film, Badhu Baran (1967), sharing screen space with Pradeep Kumar, Bikash Roy, Ajoy Biswas and a young Raakhee, also making her first foray on the silver screen. She sang the song Amra Alor Shishu for the film under legendary Bengali music director, Kamal Dasgupta. Unfortunately, the film did not do particularly well at the box office and Geeta Dutt did not act in a film again.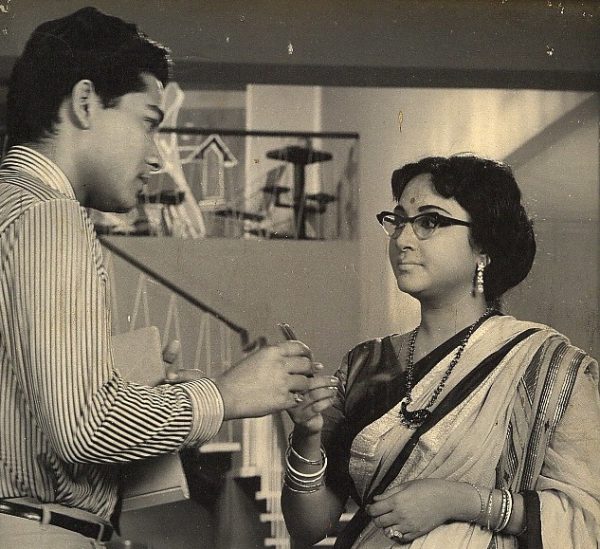 Header photograph courtesy Arun Dutt