While meeting the older generation of film people has been absolutely brilliant and truly enlightening, meeting Shyama was joyful yet heartbreaking. It was sad to see the actress of yesteryear leading a relatively isolated and lonely life today. Especially when you consider that at her peak, she was easily the busiest of all actresses in the 1950s. She acted in all types of films in all sorts of roles – heroine, second lead and vamps, doing close to 200 films.
Shyama, born Khurshid Akhtar, began her career as an actress starting out as a 9 or 10 year old in the chorus of the first all-female qawali in Indian cinema, Aahen Na Bhari, Shikwe Na Kiye, in the Noor Jehan starrer, Zeenat (1945). By 1949 she began getting lead roles while still in her early teens. Some of her important films include Bimal Roy's Maa (1952), Shrimatiji (1952), Guru Dutt's Aar Paar (1954), Chhoomantar (1956), Bhai Bhai (1956), Sharada (1957), for which she received the Filmfare award for Best Supporting Actress, Chandan (1958), Duniya Jhukti Hai (1960) and Barsat ki Rat (1960) amongst others. She particularly made a great pairing with Johnny Walker and her exuberance and liveliness made her the perfect actress to give lip sync to Geeta Dutt's unique style of singing; perhaps maximum Geeta Dutt songs have been picturised on her. Post mid 1960s, following marriage to ace cinematographer Fali Mistry and 3 children later, as she grew older and gained weight, she switched over to character roles often being cast as the sinister brothel madam or kothewali with her last film being JP Dutta's Hathyar (1989).
As I've mentioned in my earlier posts on meeting Smriti Biswas and Kamini Kaushal, meeting Shyama was part of a project fellow filmmakers and close friends Shivendra Singh Dungarpur (Shivi), Arwa Mamaji and me are doing on the golden age of Indian cinema. Meeting Shyama took quite time, in fact months, through repeated phone calls as she wasn't keeping too well. We were almost resigned to not meeting her at all when one saw a photo in the Bombay Times of Shyama celebrating her birthday with a host of her colleagues – Nimmi, Shakila, Jabeen Jalil amongst others. Following up on the photo, we first met Shakila and when Shyama found out we had met Shakila, she finally agreed to meet us.
We met Shyama at her flat in the posh Napean Sea Road area. The walls of the entire flat are adorned with pictures and lobby cards of Shyama in her heyday. Shyama began the interview with us with gusto and cheerfulness as she recalled her awe for Noor Jehan and her career in films, recalling her work with masters like Bimal Roy and Guru Dutt and even giving us some spicy gossip of her times. But it was a mask she failed to keep up for long. Pretty soon she gave way to tears as she wept openly talking about her loneliness and the isolated life she was leading today. It was sad, poignant and as I've said, heartbreaking. She did recompose herself and continued with the interview but the exuberance was now missing. It was hard to see the actress who looked so cute in dungarees in Aar Paar like this.
Shyama, sadly, is a typical example of the older generation of film artistes whose entire life revolved around their film career. Once their careers faded or ended, they had little else to do in life as they struggled to live life outside the limelight. For Shyama, now in her 70s, husband Fali Mistry passed away prematurely in 1979 and her children too have their own lives. Health problems too plague her as she uses an oxygen cylinder for respiratory purposes and she is periodically in and out of Breach Candy Hospital near her home.
Shivi, Arwa and I have tried to keep in touch with her by meeting her and just sitting and chatting with her a couple of times since that first meeting. One of my most memorable movie memorabilia is a song booklet of Shrimatiji, signed personally by Shyama while Shivi proudly displays an autographed photographed of her in Aar Paar in his office, beautifully framed. But the last few times we have called to visit, she cited ill-health each time and has not been up to meeting us.
Each time one has met Shyama, I can't help but recall the hard truth of Henry Miller's words – "Fame is an illusive thing — here today, gone tomorrow. The fickle, shallow mob raises its heroes to the pinnacle of approval today and hurls them into oblivion tomorrow at the slightest whim; cheers today, hisses tomorrow; utter forgetfulness in a few months."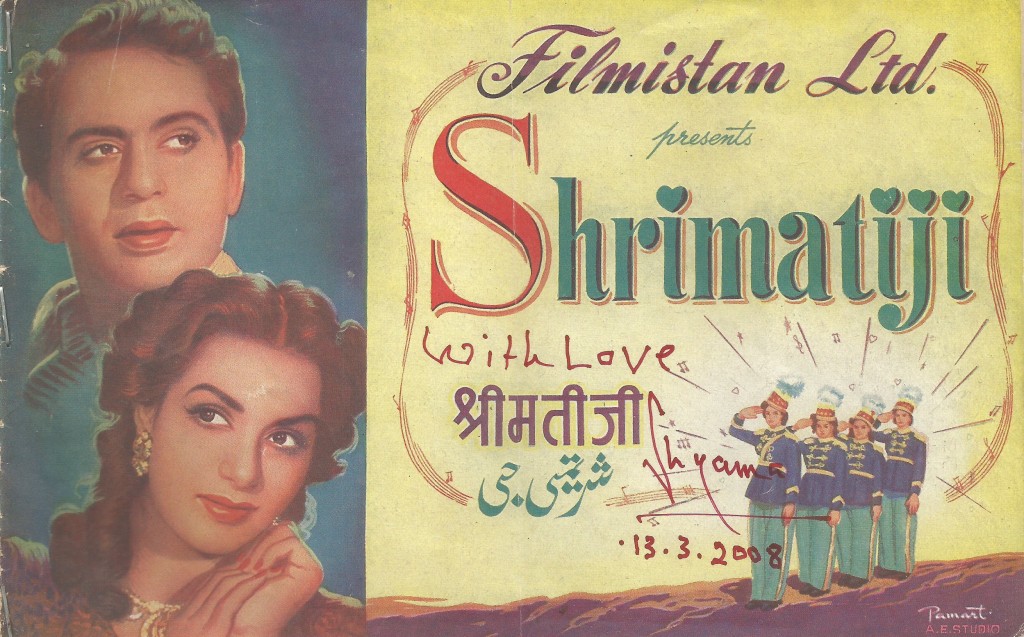 Header Photograph courtesy Arun Dutt