Come the weekend of September 23rd and 24th, 2023, the Film Heritage Foundation (FHF), along with NFDC-National Film Archive of India (NFAI) and PVR-Inox Cinemas, honours Dev Anand on the occasion of his 100 birth anniversary by screening 4K restored prints of 4 of his films across India. The four films are CID (1956), Guide (1965), Jewel Thief (1967) and Johny Mera Naam (1970).
Dev Anand (born Dharam Dev Pishorimal Anand on September 26, 1923) is one of the greatest stars the Hindi Film Industry has ever seen. Handsome and debonair, he was the epitome of the suave, urban gentleman. He was unbeatable as the free-wheeling,  happy-go-lucky, evergreen romantic hero. His starry mannerisms – his sing-song dialogue delivery, his puff in his hair and his total nonchalance – gave his characters a distinct, charming persona that few could emulate. To quote writer-producer Amit Khanna, "Dev Anand's forte was the boy next door. Part lover, part clown, part do-gooder." However, in between his lover boy roles in frothy films like Munimji (1955) and Paying Guest (1957), Anand also repeatedly played shaded roles in the urban crime thrillers of the 1950s and '60s such as the pickpocket in Pocketmaar (1956), the absconding gang member in Dushman (1957), the black-marketeer in Kala Bazar (1960) or the murderer in Bombai Ka Babu (1960)
Dev Anand@100 – Forever Young is yet another praiseworthy initiative by FHF to being classic Indian cinema to contemporary audiences. Early last year, they had celebrated Amitabh Bachchan turning 80, and honoured Dilip Kumar on the occasion of  the thespian's birth centenary with special screenings of some of their films across India. Both the events were extremely successful.
Speaking about the event, FHF director Shivendra Singh Dungarpur says, "The festival also marks an important collaboration between Film Heritage Foundation and NFDC-NFAI who have restored the four films and partnered with us to enable us to showcase these films. The Gregory Peck of India, as Dev Anand was often called, continues to be a beloved star, and we are thrilled that contemporary audiences will have the opportunity to watch some of the films that made him an enduring legend of Indian cinema."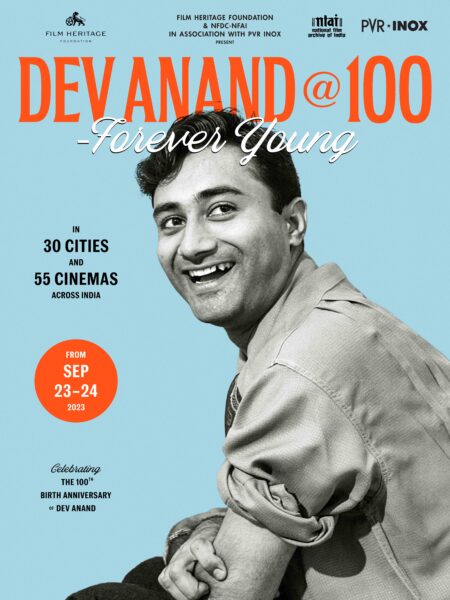 FHF brand ambassador Amitabh Bachchan couldn't be more pleased as he recalled, "As Devsaab turns 100 this year, I still remember how his attitude and singular style in his performances, would get us out of our hostel beds in the middle of the night, jump the boundary walls of the college to the nearest film theatre repeatedly, just to witness the magic of his charm and energy. And on our way back we would sing along with his songs, his deliveries of dialogue and create this wonderful world he had structured for us to be remembered forever."
Dev Anand's son, Suneil Anand, adds, "As we celebrate Dad's Centennial, I'd like to say that Dad's movies were decades ahead of their time. I sometimes feel we still haven't caught up with them. I am sure the festival will be a big success and that contemporary audiences will rediscover the youthful magic of my Father – who will stay forever young on the silver screen."
The poster of the event was officially released by leading actress of yesteryear, Waheeda Rehman, who also made her Hindi film debut in one of the films being screened, CID, as a vamp no less! The film, produced by Guru Dutt and directed by Raj Khosla, is one of the finest urban crime thrillers of its time. The film sees Anand play a CID officer investigating the murder of a prominent news editor. CID is known for Raj Khosla's stylish shot taking, extremely competent actor handling and innovative song picturisations, something passed down from mentor Guru Dutt. VK Murthy's evocative camerawork beautifully recreates the noir world of Bombay – the dingy alleys, the wet roads, use of dark shadows, and on location shooting, wherever possible, making Bombay very much a character of the story.
The other three films, Guide – based on RK Narayan's novel The Guide, Jewel Thief and Johny Mera Naam, are all directed by Anand's younger brother, Vijay Anand or 'Goldie' Anand.
Guide shows just how well Vijay Anand understood cinematic language and what's more the psyche of his audiences. It also is a text book study in understanding just how different the two mediums of literature and cinema are. Goldie Saab always maintained that he was never interested in merely copying any work of art from one medium to another unless there was scope for value addition and to be his credit, he has made Guide into a rich and unforgettable cinematic experience, aided by an unforgettable performance by Waheeda Rehman as Rosie, and an absolutely brilliant musical score by SD Burman.
Jewel Thief, a nod to Alfred Hitchcock's North by Northwest (1959),  unfolds like a Hitchcockian thriller through an absolutely brilliant screenplay by Vijay Anand that keeps the audience on tenterhooks throughout as a series of jewel robberies have the cops at their wit's end. The film is structured like a jigsaw puzzle that has to be viewed for the second time to appreciate the intricacies of the film's plotting. Above all, there is SD Burman's scintillating score lifted several notches by Goldie Saab's incredible song picturizations. The film stars Ashok Kumar, Vyjayanthimala, Tanuja and others, along with Dev Anand.
Johny Mera Naam sees Dev Anand play an undercover cop to infiltrate a gang of smugglers. A simple tale of hero's quest to reach his goal assumes complex and sometimes confounding layers that keep piling on till it pushes all the boundaries; where could it go from here? Dev Anand is at his charming best as usual, with his quintessential mannerisms and titled hats. The film's heroine, Hema Malini, recalls her memories of the film. "He was a megastar when I was cast with him in Johny Mera Naam, but he never made me feel uncomfortable or that I was a newcomer. Thereafter, we worked on several films which were big hits. His unique and inimitable style was a delight to watch not only for the audience but also for me. There can never be another Dev Anand ever."
Tickets for the festival will be available from the 18th of September, 2023 on the Book My Show website. The screening schedule of the films across various Indian cities can be accessed from the site as well.
Header photo: Dev Anand and Vyjayanthimala in Jewel Thief courtesy Film Heritage Foundation.