Purab Aur Paschim showcases villainy in Hindi cinema through an intensive study of four films – Ramanand Sagar's Ankhen (1968), Manoj Kumar's Kranti (1981), Mahesh Bhatt's Sadak (1991) and Vidhu Vinod Chopra's Mission Kashmir (2000). The book is written by Arun Gupta, a FTII alumnus and an ex-Senior Professor in Film from the National Institute of Design (NID), Ahmedabad.  Here is an edited excerpt from the book, published by NID Press, an independent publications initiative from NID.
The lone shikara nestled amidst restful birds chirping in the serene and shimmering waters of the Dal Lake, with the Shankaracharya Temple Hill in the backdrop, makes a neat statement of a peaceful Shangri-la. A bomb suddenly explodes, blowing the unfortunate wooden craft to smithereens and violently disturbing the quiet. A boat load of heavily armed police men swiftly follow, in retaliation. Newton would have been proud.
The choices in Mission Kashmir (2000) are deceptively binary – either you are with them or you are with us. We, despite the occasional hiccups, are the good and the clean-shaven 'right' side. They, the bearded holy zealots, are irredeemably wrong. They intimidate their brethen, abuse their hospitality, and tempt innocent children with real Kalashnikovs.
The first bad man we are introduced to in Mission Kashmir is Malik Ul Khan (Puru Rajkumar). Ostensibly fighting for Kashmir's independence, Malik Ul Khan is shown to be a callous and ruthless dandy. He has no qualms in summarily
putting to death, with a fake and cultivated cold regret, the good doctor and his family (fellow, albeit 'secular' Muslims), to reinforce his coercive message of fear. His believer's call for aazaadi (independence) is a phony, rhetorical one, meant to further an opportunist goon's commonplace agenda. Like stealing good food at gunpoint –
Khaanaa bada lazeej hai. Hamaari mohabbat mein banaya hai ke banduk ke dar se, hain… (laughs)
The food is really tasty. Have you made it out of love or out of the fear of the gun?
This is when Malik Ul Khan and his cronies have forcibly invited themselves to child Altaaf 's family home and are greedily and shamelessly partaking of a coerced meal.
Director Vidhu Vinod Chopra clearly wants, at this point, to seed the idea that the armed men fighting for Kashmir's aazaadi are mostly self-serving mortals, not really interested in the people and the religion they apparently battle for. It is a theme which the film will continue to explore and expand, as the narrative progresses.
Opportune extremism is the hallmark of Mission Kashmir's villains. The worst of them, Hilal Kohistani (Jackie Shroff), is not even a Kashmiri. He is a Pathan from across the border, with a feared past –
Conspirator-1: Suna hai Afghanistan mein Russi tank chod kar bhaag jaya karte the aap ke naam se?
It is said that in Afghanistan the Russians used to desert their tanks and run away, at the mere mention of your name?

Hilal: Naam ko chodo, kaam?
Forget the name, state the work?

Conspirator-1: Mission Kashmir.

Conspirator-2: Yeh kaam…?
This work…?
Hilal: Ho Jayega. Daam?
Will be done. State the reward?
It's interesting that Hilal does not even think twice (or ask to be briefed on the mission) before he agrees to do the task. All he is worried about is the reward (that too in kaafir dollars!). This market-friendly cunning is at odds with the famed Pathan code of honour that Hilal keeps boasting about.
Hilal is a dreaded mercenary – his kohl-lined eyes and bandana clad flowing Rambo hair, mostly seen in low lit close-ups, make him just that bid odd and threatening. His thickset voice (Jackie Shroff at his hamming best) is meant to add to his negative charisma…
The book, Purab Aur Paschim, can be ordered from NID Press by writing an email to [email protected].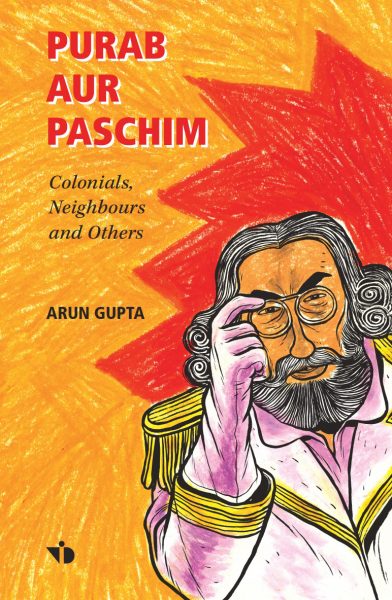 Header Photo: Illustration by Siddhartha Tripathi.