After 13 years, I finally revisited the National Institute Of Design (NID), Ahmedabad, this time as a jury member for their Alpavirama Asian Short & Documentary Film Festival held from 4th to 8th October, 2016. This film festival is named after the Sanskrit word for comma, or as the website of the festival proclaims, it stands for 'a precious pause – a brief stretch of time reclaimed for reflection and repose.' The festival looks at films of over 5 minutes and 30 minutes and under in the Fiction and Non-Fiction categories that are made by youngsters not yet 30 (when they made the film) from all over Asia and dealing with issues from the region. Not surprisingly, many of the film were those made by students from film and media schools all over Asia.
The festival, this being the 3rd edition, had a motley selection of films with 15 films in the competition section in the Non-Fiction category of which I was a jury member. Actually there were 16. But with the situation being what it is in the country today, the Pakistani film Anjaan Rastay had to be sadly removed from the competition. My fellow jury members for judging the  Non-Fiction films were former NID alumnus Parthiv Shah who is a multifaceted filmmaker, photographer and graphic designer, and Shilpa Das, a former student of Jawaharlal Nehru University (JNU), New Delhi and Tata Institute Of Social Sciences (TISS), Mumbai and now a Senior Faculty of Interdisciplinary Studies at NID. And as is the case with any film festival selections, we had to go through some brilliant, various good, the occasional so-so and yes, even the odd not-so-great films. The films we had to view included a variety of subjects ranging from people trying to live in dignity in places of political upheavals (A Political Life, The Barber) to personal portraits of inspiring family members (Maai) to films looking at women having to overcome gender bias and make their place under the sun (Sankrail Superstars, Majhe Maher Pandhari).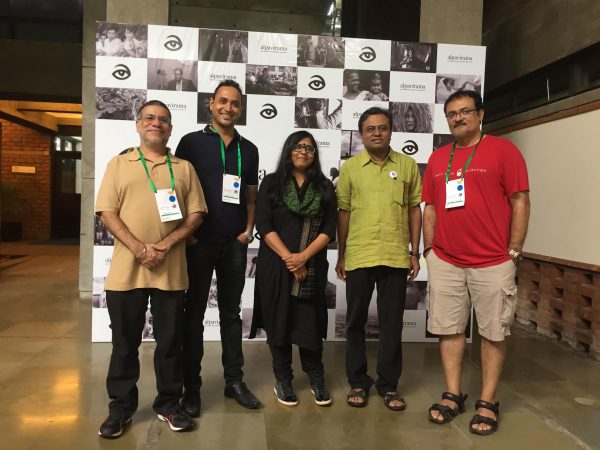 The most pleasant surprise for me were the films from Myanmar, from the Yangon Film School (YFS). In fact, the top two prizes from the Non-Fiction section went to richly textured, multi-layered films from there. The Golden Comma was given to Soe Akhar Htun's A Political Life, while The Barber, directed by Anna Biak Thaw Mawi, was adjudged the next best film, winning the Silver Comma. The former was awarded as, among other points, we jury members felt that "….It brilliantly and sensitively etches out the polarity of political engagement and family life/personal sacrifice and the paradox therein through the juxtaposition of viewpoints…", while the latter was awarded because "The film brings out a charming, rich and layered portrait of the central character, the barber, that is both heartwarming and thought-provoking. The humour and the storytelling pack a punch…"  As the awards were announced at the closing ceremony, The Barber drew the loudest applause, suggesting it was an audience favourite as well! Sreecheta Das' Sankrail Superstars on an all girls football team from the tribal heartlands of the Sankrail area in West Bengal received a Special Mention, while the Marathi film Maai, directed by Madhavi Satish Wageshwari, was given an Additional Mention from Parthiv, Shilpa and me. I have to add here that the 3 of us were pretty much in sync with each other, barring a point here or there, and we actually came to our final choices quite painlessly and in a pretty civilized manner sans shouting or going for each others' throats!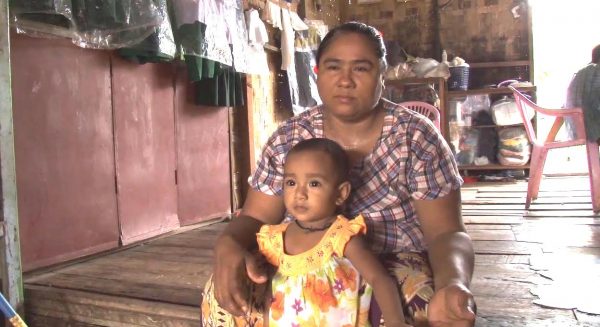 Though one was busy with Non-Fiction jury duty, one got a little time to interact with the jury members from the Fiction category as well. The team here consisted of close friend and fellow FTIIan and multiple National Award winning sound designer, Bishwadeep Chatterjee, and Binod Paudel from the Oscar College Of Film Studies, Nepal. While one could not unfortunately see the films in this section, one did have discussions with them to see how their work was progressing and what they thought of the films they had to judge. Since the winning films from each section were screened at the closing ceremony, one did see the Golden Comma winning entry, Aina, from Bangladesh. The film, beautifully directed by Md. Touqir Islam, is a touching tale of a roadside barber's little son who dreams of beaming like his idol, Bangladeshi superstar Shakib Khan, but whose world comes rudely crashing down when his father is suddenly killed in an accident. He then has to take on the onus of being the breadwinner of the family, while struggling to keep his original dream intact. Islam handles the simple narrative maturely with a  fine understanding of the cinematic language to make for a charming little film. So between The Barber and Aina, it proved to be a really good festival for the hair-cutters!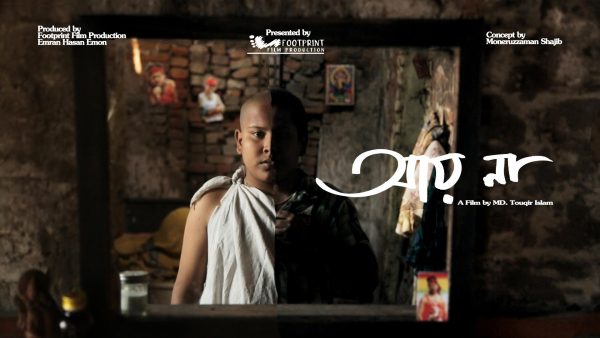 If jury duty was stimulating enough as we waded through the eclectic selection of films, there were other icings and even cherries atop the cake. The Prof. Satish Bahadur Lifetime Achievement Award for outstanding contribution to Film Education in South Asia went to my Editing teacher from my FTII days, Mr Yogesh Mathur, himself an alumnus of FTII having graduated from there with specialization in Film Editing in 1964! Not only did I share an extra special rapport with Mathur Saab at the FTII, but he was also my faculty supervisor for my diploma film, Manoeuvres, made in 1992. It was a joy to meet and catch up with Mathur Saab after quite a few years – I think I met him last around 2012 – and relive our times at the Institute.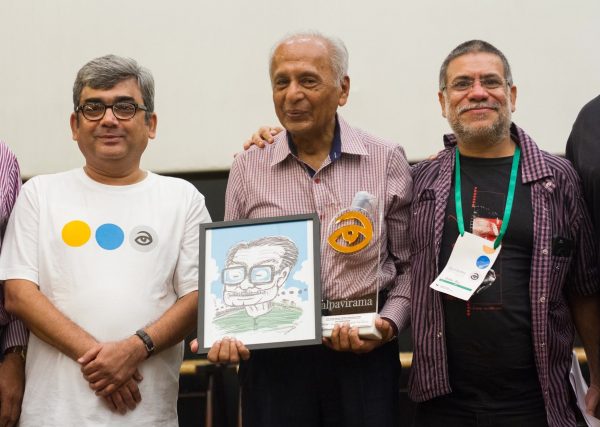 And then there was the Master Class on Editing the Documentary by my FTII colleague and again, good friend as well, Jabeen Merchant. Jabeen is an award-winning editor in both Fiction and Non-Fiction filmmaking. She gave an extremely enlightening and lucid talk on her experiences and methods of working in Non-Fiction films, making several pertinent points and giving not just the students, but even us 'established' filmmakers, some extremely useful tips on how not to antagonize the editor!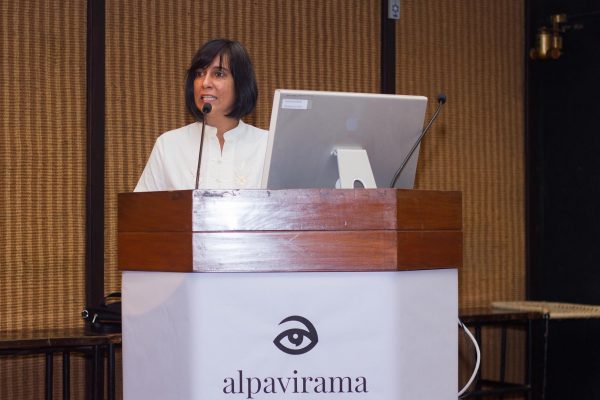 The festival aside, I have to specially thank student volunteer Rhea Mathews big time for my other highlight of the trip. She took Bishwadeep, Binod and me to a lovely little Goan Restaurant, La Bella, with its wacky Salvador Dali wall, and also one called The Upper Crust to make sure we hard-core carnivores got to eat everything that moves!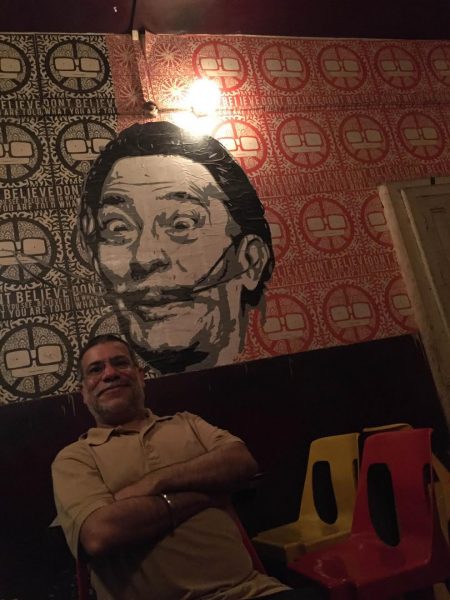 All in all, one has to commend the Festival Director and my senior from the FTII, Arun Gupta, now the Principal Faculty and Coordinator, Film and Video at NID, and the entire Alpavirama team for making it one of the more relevant festivals around. One hopes now that it only gets bigger and better with every subsequent edition as it continues to give a solid platform for emerging young voices from Asia. Team Alpavirama, take a bow and as for me, I'm willing to return for jury duty anytime!
Note: All but last photo courtesy Alpavirama, 2016.