He's a two time National Award winning film editor (Snip! (2000) and Page 3 (2005)) having graduated from the Film and Television Institute of India (FTII), Pune and easily one of the best editors in the business today having edited films like Everybody Says I'm Fine! (2001), Leela (2002), Raghu Romeo (2003), Jhankar Beats (2003), Home Delivery (2005),Mixed Doubles (2006), Bheja Fry (2007), Mithya (2008), Mohandas (2009) and Aladin (2009). And while he enjoyed watching films growing up, he never seriously thought of making cinema his career then. But somewhere along the way, the films he saw while growing up laid the germs for where Suresh Pai finds himself today.
"Though Calicut might seem an obscure place for nurturing dreams of being a filmmaker, it did have quite a few movie theatres." he begins. "One of them – the Crown showed only Hollywood films, mostly classics. I remember watching Laurel and Hardy (I knew the characters because their comics were available), some Chaplin films (though I was too young to know who he was), which I distinctly remember enjoying and even a Dracula film – most of which I missed because I was cringing in my seat with eyes shut and hands tightly clapped over my ears. Going into my teens I remember thoroughly enjoying films ranging from The Guns of Navarone, From Here to Eternity, the Airport series, Bruce Lee, James Bond, The 36th Chamber of Shaolin etc. I remember even seeing Pauline a la Plage there, though I had no clue about International cinema then."
Continuing on his cinema watching days, Pai says "Doordarshan was another influencing factor because of their Sunday afternoon regional films, Sunday evening Hindi films, and Friday late night foreign language films. Some of the films which I still remember watching include Mirch Masala, Bhumika, Samskara, Aparajito, Nayak, Elippathayam, Anantharam, Pokkuveyil, Innale, Moonnam Pakkam, Onnu Muthal Poojyam Vare among others. Strangely it wasn't any particular film which made me decide to join FTII – it was an incident, a chance. A close childhood friend, Arun Nambiar, who is now a well-known sound designer, had just graduated from my college. And as a career option he had applied at the FTII and what's more, had got admission there. It was through him that I heard of FTII's existence and decided that I would also try my luck in the film line. It was Arun who advised me to take editing. Knowing me, he thought it would be a more practical and sensible decision, since film direction, he felt, was fraught with uncertainties. With editing, he reasoned, one would have a craft in hand, which would make survival much easier in the film industry. And I could always graduate later to direction, he said as he gave me examples of Hrishikesh Mukherjee and David Dhawan, both editors turned directors!"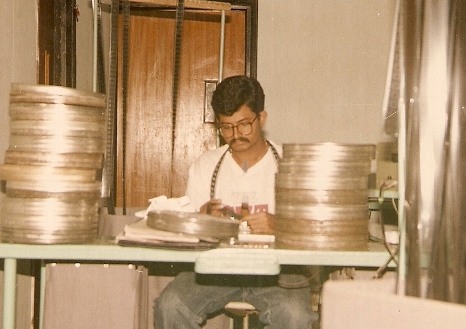 The FTII opened up a whole new world for Pai as he was exposed to International cinema in a big, big way there. Recounting his days at the institute, Pai says, "The FTII has a whole load of history and culture embedded in every nook and corner which sort of inspires you. The most enjoyable part of the course was the daily evening film screening. One saw films from across the globe, even from countries that you never knew existed! Kurosawa'sRashomon, Antonioni's La Notte, Godard's Breathless, Truffaut's400 Blows, Tarkovsky's Solaris – to name but a few – were eyeopeners to someone who was fed only on Hollywood and Indian cinema! And then there was the faculty. To this day if anyone asks me what editing is all about, I quote Professor Mehboob Khan saying "It is the art of determining the length and order of shots." What a simplistic, yet holistic definition! He taught me precision and the importance of a single frame. Among other things I feel which really helped were the 'Actuality' trips during the first year. These field trips were a big help in understanding the mood, the rhythm the atmosphere a particular place (varying from a busy market to a court to a zoological garden) could generate through the correlation of the light, the subjects, the objects given to that space."
Pai graduated from the FTII in 1994. On his early days after coming out of the FTII, Pai says "Initially getting a job was not difficult because you came out accepting the fact that no one would give you an independent work – you had to assist a senior. With seniors like Renu Saluja, Javed Sayyed and Aseem Sinha, that problem was taken care of. Also, television had just about started growing then. So I joined Plus Channel, which welcomed and respected FTII graduates. I learnt Hi band and Beta editing there. But very soon I realized that working in an office with a tall ladder of hierarchy was not my cup of tea. So within 6 months of joining I quit. And joined Aseem Sinha as an assistant and worked with him for 4 years. Working with him was like a boon. There is so much that I learnt from him by observing his dedicated approach to his work, that it was actually like doing a post-diploma course in editing for me! What's more, he was always more a brother (still is) than a senior to me while we worked together. I assisted him in 4 feature films – Aar ya Paar, Shesha Drushti, Darmiyaan and Ruyi ka Boj besides the serial, Reporter."
Having had enough of assisting, Pai made the critical decision to go independent. And suddenly he found himself without any work. Recalling that tough period, he says, "No one gave me work for a year. With hardly any savings, I started closing my bank accounts one by one so that I could utilise the minimum balance amounts to pull on. Self doubt also started to creep in. Had I made the right choice of career? Was I any good at it? And I had almost packed my bags to go to Chennai. In fact, I had gone there earlier to check out work options only to discover that there were hardly any. Then things started changing from March 1998. Nupur Asthana, who was Ketan Mehta's chief assistant director in Aar ya Paar, got her maiden Hindi serial Hip Hip Hurray sanctioned from UTV and asked me to edit it. It was my first major independent project (previously I had edited some documentaries). It was also my first major project on the Avid. Surprisingly I adapted to the new technology quite fast and realized that my initial fears were unfounded. Simultaneously I edited a serial called Sea Hawks, again for UTV, which was directed by Shivam Nair."
The big break finally came with Snip!. Director Sunhil Sippy had parted ways with his editor and hence friend and sound designer Resul Pookutty suggested Pai's name to Sippy. Not only did Pai land his first film, he won the National Award for it. He's never had to look back since. Speaking on his experiences on Snip!, Pai recalls "It was a challenge because someone else had started the work and to do the job according to my style I had to deconstruct and rebuild most of the scenes. And the narrative style was non-linear, something I was not used to doing. In fact, I was a bit nervous because I wasn't sure I would be able to do justice to the film having done so much of television work. But luckily it all fell in place."
With rapidly changing technology, Pai, who learnt his editing skills on the Steenbeck at the FTII had to adapt himself to the new Non-Linear Editing (NLE) technique. Speaking about adapting to the newer technique, Pai explains "Of course there is a difference in the two with both having their own advantages and disadvantages. Though the tedium seems to be less in NLE (because there are no physical activities of carrying, stacking, winding, etc of film reels), I feel it mentally exhausts you because there is no respite. The cuts are instant and you immediately move on to the next, whereas on the Steenbeck there was enough mental rest while you physically wound the reels in search of the next shot. Also, with the NLE one also has the tendency to over cut because of the sheer ease with which one can execute a cut. So there is a danger – unless you keep a check on yourself – of providing a faster pace, or inserting ugly VFX where it's not called for. Best examples are the way music videos have been cut over the last decade. People seem to seem to enjoy them, but if you ask them what exactly was happening in the song they are totally clueless! Still, if you manage to control yourself and stick by the rules, then I really feel NLE is a boon. The results (cuts) are faster. It's easier to make changes. You don't need to learn book keeping, ie, no need to keep logbooks to find where you have stored the cuttings for a particular shot of a particular scene. You can have multiple options for scenes and compare them. And since results are instant there is hardly any scope for frustration. At the same time, the digital domain robs you of the feel of celluloid between your fingers. Moreover there was a sense of pride and satisfaction when you flicked the pencil and got the mark on the same frame on every attempt (smiles)."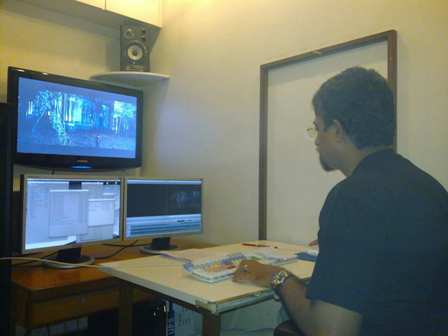 On asking him what makes him decide what project he should take up or not, Pai replies "To be honest more than the idea, it's the director's approach and attitude which matters to me. It could be the best script in the world but if the person who is making it and I am not compatible or not on the same wavelength, then I am not going to enjoy the work. And good work does not come out under duress – at least not for me. Thankfully, except for a couple of instances, the right people have always found their way to my door! Once I accept the project, then I have a few meetings with the director over the script, where I point out certain things from the editing point of view and remind them to ensure they take proper transition shots on every location. Ideally, I would like to spend far more time with my directors and even visit the sets as often as I can but time doesn't always permit me to do that. Earlier when I had less work, I would go through the shot breakdown in advance with the director but that obviously doesn't happen now," he smiles wrlyly.
Continuing on his style of working, he says "I make it a point to edit the rough cut by myself. I don't even let my assistants sit on it with me. Editing I feel is a very personal kind of work where, unlike a shoot, solely one person's work is happening. Even the mere thought of ten pairs of eyes peering over your shoulder makes me feel uneasy. And I know it is not something peculiar to me, because most other editors that I know have shared the same feeling with me. Moreover, if the director is going to sit with you right from the rough cut stage how will he ever see the film with a different perspective?"
"It's hard to pinpoint any one film that has satisfied me the most as an editor. But if I still have to take names, I would say Rajat Kapoor's Mithya satisfied me most both as a good film in totality and my work as an editor in particular. I rate my work especially satisfying in its climax where VK (Ranvir Shorey) recovers his memory. His fall (filmed in high speed from different angles), after he is shot, was further stretched by interspersing flashes of his past in three parts, with the final part showing longer glimpses culminating with the shot where Sonam's face is revealed clearly and he calls out her name. Another film of mine I rate highly purely from the editing point of view is Page 3, which got me my second National Award. Here content was king and the editor had to be invisible. The cuts had to be crisp and matter of fact whenever plain information was being disseminated and more staid and lingering during stoical moments to make the film engaging. Of course, there have been the odd disappointments too but let's leave that aside," he says.
Further elaborating on his strengths as an editor, Pai assesses, "According to Sujoy Ghosh, with whom I've doneJhankar Beats, Home Delivery and Aladin, my forte is drama. And I think he is right. I somehow enjoy editing dramatic scenes where I can convey the emotions of the characters by deciding how little or more of the performance to keep. It's my tool as well and not just the actor's performance! I also enjoy editing those scenes which they say 'were made on the table.' The climax of Ketan Mehta's Mirch Masala is one such scene that I would have loved to edit!"
On being asked what now after having edited so many films and winning two National Awards, Pai rounds off saying, "I see myself continuing to work with the same group of directors who are as comfortable working with me as I with them besides doing some interesting work with the odd newcomer filmmaker as well. And obviously someday I want to direct a film as well! I think I'm ready."