Karishma Dev Dube's 16-minutes film, Bittu (2020), narrates a compelling story of friendship between two little girls, Bittu and Chand, in a village in Dehradun where a tragic event shatters their lives forever. The film has won the Student Academy Award for Best Narrative in September 2020 and is also a part of the BFI London Film Festival currently being held from 7th – 18th October, 2020. Her previous short film, Devi (2017), won the Best Short at IFFLA (Indian Film Festival of Los Angeles) in 2017 and has been featured on BBC world and played in over 40 film festivals around the world including the BFI London Film Festival, LA Film Festival, Outfest LA and the Edinburgh International Film Festival. Dipankar Sarkar speaks to Dube not just about Bittu but her cinematic journey as well.
Bittu is loosely based on an infamous school poisoning case that had happened in India. How did you shape your script around the event?
Karishma Dev Dube: The film is less about why and how the poisoning happened; instead, it explores the experience of a child to whom such a thing happens to; it's a sudden, senseless invasion of your life when you are a kid in the middle of that experience. It was important to me that the film didn't indict anyone for this tragedy nor did I want to spare anyone involved in it. But at its heart, the film is ultimately about friendship and about a young girl, who is both punished for her individuality and yet somehow saved by it.
The titular character, Bittu, is an arrogant child, who is not interested in studying the English language and has an involuntary attraction towards Bhojpuri popular dance numbers. Share with us your thoughts on her characterization?
Karishma Dev Dube: Bittu's character is what stuck with me right through the first draft to the final cut of the film. She's not afraid to speak her mind but I don't know if I'd characterize Bittu as arrogant. To me, she's just a little too beyond her years and perhaps too original to try to conform to the world around her. I wanted to create a character that is unaware of traditional gender norms, who talks to adults as though she is one but is constantly let down by the adults in her world. I think children sometimes translate betrayal or discrimination into anger, which is natural. She has a hard time with authority because it hardly sees her for what she is – fiercely loyal, sharp, charming and streetwise. And since English is of no use in her world, so she rejects it. Growing up, I felt like the 'difficult' children were often cast aside or made an example of in school and the focus was on the more obedient, academic kids. Bittu's experience details this neglect and systemic prejudice.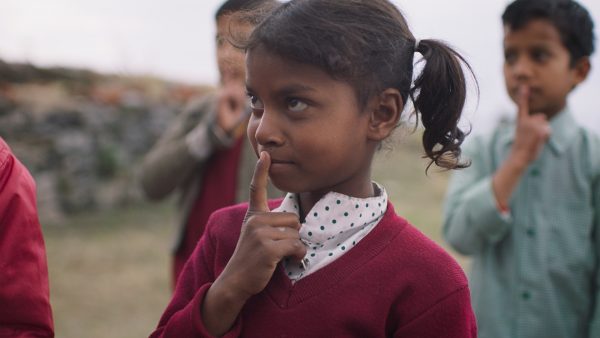 Throughout the film, the gestures with fingers that are used by Bittu and Chand to indicate their friendship or dislike to each other seem to have a stronger symbolic reference.
Karishma Dev Dube: As children, we all had a certain coded language that was very specific, for instance, 'katti' always came with such high stakes when we were small, I still remember that feeling. When you're young, your friendships are the center of your world and just a small gesture can't threaten it so easily. These actions also tell a big story or powerfully propel a story without saying too much.
Is the male teacher in Bittu more of an arbitrator?
Karishma Dev Dube: Yes, very often that's the role he assumes. His heart is in the right place, I imagined the male teacher in the film to be young and committed to the education system but at the same time, he is also jaded and somehow victimized by the same systemic pressures as Bittu. He reprimands her for her indiscipline but also recognizes the spark in her. I'm grateful to Saurabh Saraswat for playing this role with all its nuances and complexities that it was written with. He's amazing and I truly loved what he has brought to the role.
How did you decide on the casting for Bittu?
Karishma Dev Dube: The casting process was challenging but also a kind of organic and serendipitous. I knew early on that I couldn't make this film with professionally trained child actors. It was important to me that the girls had a relationship with the place and a close relationship with each other. So once I locked my location, I began street casting in and around the area along with my friend and brilliant actor Nirvana Sawhney. We just started by introducing ourselves to local communities and government schools in the area, playing games, and conducting theatre workshops with the kids. Rani Kumari, the girl who plays Bittu emerged pretty quickly. Rani and I had an instant connection, she was a natural leader, and comfortable at performing as herself and just had this electric energy. We worked with her for the rest of the pre-production time and cast Chand from Rani's community as well.
The fateful event that happens at the end of Bittu is not shown in detail. The viewers witness only the aftermath of the incident.
Karishma Dev Dube: We were very intentional about the images that portrayed the tragedy. I don't think it's necessary to relive the violence of a tragedy to learn from it. It was very important to not sensationalize the incident. Every time I tried to visualize that portion of the film, it called for very still and patient wide frames like Andrew Wythe's paintings.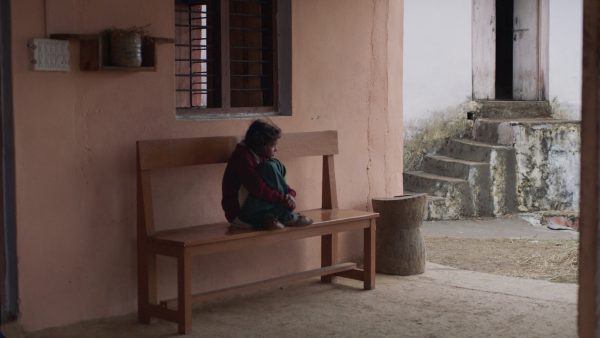 The realism in Bittu has a distinct style regarding the shot lengths and its edit pattern.
Karishma Dev Dube: Unlike my previous films, Bittu called for a more distinctive style that felt less orchestrated. This is also my first collaboration with my sister, Shreya Dev Dube, who shot Bittu. Shreya and I wanted to create a visual aesthetic that felt rooted in realism more than anything else so we tried a lot of long takes to feel like you're actually with the children. I was inspired by the filming methods of Entre Les Murs (2008) and Ken Loach's Kes (1969) for the classroom scenes – using a roving camera and an unobtrusive approach to make room for improvisation and naturalism for the children. I then came back to the editing room with footage that resembled documentaries more than fiction; it was different from my previous editing experiences. I like the rhythm we ultimately found; it mirrors the kineticism of the children in it.
Now that you've mentioned your previous films, let us go to the very beginning. Tell us about your background and how did you get involved with filmmaking?
Karishma Dev Dube: I am from New Delhi and moved to New York for Graduate Film School (New York University – NYU). New York has been my home for the last couple of years, but I feel very privileged to have a full life in both places. Growing up in India it's hard not to be drawn to films, it's such a massive part of our lives. But I only began considering it seriously when I was living with my sister, Shreya Dev Dube, in Mumbai, who at the time was just starting as a filmmaker. I suddenly had proximity with actors, screenwriters, directors, and the exposure kind of demystified filmmaking for me. But I never tried making anything of my own until I applied to NYU in 2014. NYU was foundational for me as I spent the next few years writing, directing, and editing films for the first time.
How did the idea for Moh (2015) occur to you?
Karishma Dev Dube:: Moh was a first-year film project at NYU. We had to make a 5-minutes long film without any dialogue. I wanted to explore a fleeting relationship between two people that exists before anything is ever spoken. I found that that kind of thing happens a lot in crowded cities like New York where so much of life happens on the streets, amongst strangers, across class and cultures. Moh is a sort of love interlude between two unlikely partners.
There is a commonality in the absence of a father figure in the life of Pia and Tara in Pia (2014) and Devi (2017) respectively. Is this the reason behind their rebellious trait?
Karishma Dev Dube: I'm not sure if I see it as a rebellious trait, but it is a conscious choice. In both of those stories, men didn't have a narrative function. I have the most wonderful father but I also grew up in a family of very strong women, and I often write about versions of women I know and love. Pia  was focused on the nuances intrinsically particular to mother-daughter relationships. But in Devi, I was more interested in creating a matriarchal household and exploring how power operates within it.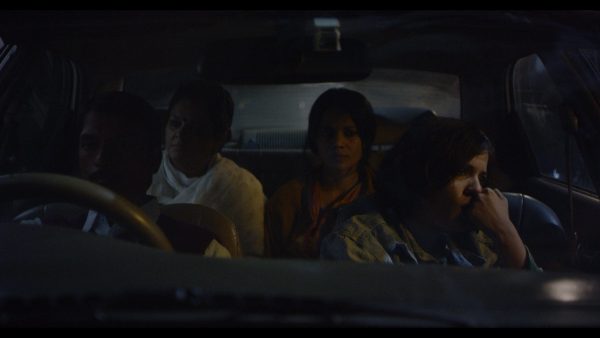 Is there any particular reason behind the title of the film? I mean why particularly a name that translates as 'Goddess'?
Karishma Dev Dube: That's because at a subconscious level, the title is derived from the concept of a Goddess. For me, the word evokes the different ways in which women exist or are perceived in India. The film portrays three distinctly different women, who I believe are bound together by an unsaid, similar quality. Much like different avatars of the same Goddess. But I also just love the name.
Lata in Devi takes stern action against her maid. Is it because in the eyes of her class and the values it cherishes, the clandestine act of her daughter is too heavy for atonement?
Karishma Dev Dube: For Tara and Devi, there is no reality in which their relationship can ever exist, at least in India, especially in the context of class. I believe if it was Lata who had caught them, and not an outsider, they would have found a way to move on from this without letting Devi bear the brunt of it. They are a family and their love is true and multifaceted despite the class differences. But a family's social perception and reputation are important in our world. I was raised with a lot of help by a woman, who was essentially a stranger to the family before I was born, and today she is no less than a second mother to me. But growing up, the class lines between us were drawn very often. I questioned it constantly in my mind, which eventually lead to this framework of this script. In this film, the protagonist fails to do what's right. Tara forgets that only Devi will pay for these transgressions, and she lets it be that way.
From the present to the past and now the future. Are there any plans for making a full-length feature film now?
Karishma Dev Dube: I'm currently working on two feature films – one that I am producing and is based here in New York and is written and to be directed by my close collaborator Mary Evangelista. The other is my own first feature film as a writer/director that is based in Northeast India and is still in its early development stages. So there's still a long way to go.