Kaneez was launched sometime in 1962-63 following the critically acclaimed and multi-awarded Sahib Bibi Aur Ghulam (1962), produced by Guru Dutt, directed by Abrar Alvi and starring Meena Kumari in one of the greatest performances ever seen on the Indian screen as the doomed Chhoti Bahu. The film, said to be an Arabian Nights type of adventure story, shocked many as no one even remotely associated Dutt with this type of film and that too coming as a follow up to Sahib Bibi Aur Ghulam. In fact, in an article called Classics and Cash, Dutt recalled how many were surprised when he announced the film. Quoting him, "I have been ragged by friends and critics for taking up Alibaba as my next film, 'From a provocative social theme to Arabian Nights? What a fall, Guru!' they kept on twitting me. I have to explain every time that I want to how that even Alibaba could be a subject with contemporary significance. The characters there are interesting human types with their lifelike counterparts in modern life."
Kaneez would have been the first film produced by Dutt to be filmed entirely in color were it completed. Earlier, he had re-shot two songs, Chaudhvin Ka Chand Ho and Dil Ki Kahani Rang Layi Hai, in color for Chaudhvin Ka Chand (1960), following the huge success of the film.
Kaneez was also one of the very early films signed by Simi Garewal. In 1962, she had made her debut in Hindi cinema acting in Mehboob Khan's highly disappointing swansong, Son Of India. That year, she was also seen in the Hollywood production, Tarzan Goes to India, playing an Indian princess. According to Guru Dutt's brother, Atmaram, some initial shooting did take place for the film, that starred Randhir with Simi, before Guru Dutt, as was his wont when he was dissatisfied with the way a film was shaping up, decided to shelve the film. Simi, in a move extremely bold for a newcomer, took on Dutt and complained to the Cine Artists Association on the halting of the film. In an interview to Nasreen Munni Kabir, Atmaram recalled that with fellow filmmaker K Asif playing the arbitrator, Guru Dutt Films played every penny due to Simi for the film.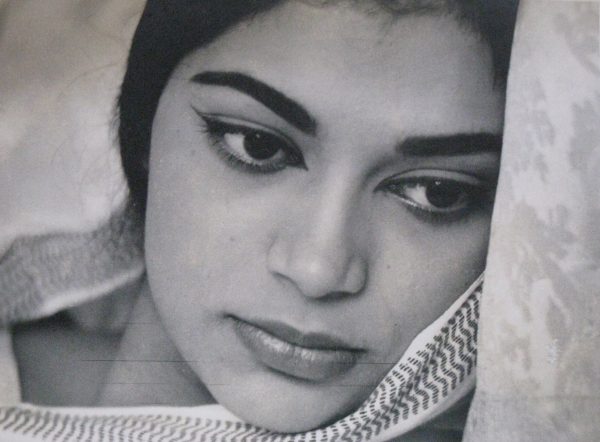 Sadly, with his death in 1964 while making Baharen Phir Bhi Aayengi, Guru Dutt was unable to fulfill his dream of making a film in color. As an ardent admirer of his work, one can only wistfully think of what might have been…
Photographs courtesy Arun Dutt.