According to Madhubala's sister, it was sometime during the shooting of Gemini's Bahut Din Huwe (1954) that Madhubala's congenital heart defect was discovered. From then onwards, she was always living on borrowed time. As no serious side-effects of her illness were seen outwardly through rest of the decade, her continuous acting assignments saw Madhubala bounce back from being declared 'box-office poison' in the mid '50s to taking her rightful place at the very top with a string of hits in the 1958-1960 period. Phagun (1958), Chalti Ka Naam Gaadi (1958), Howraj Bridge (1958), Barsat Ki Rat (1960) and of course, Mughal-e-Azam (1960) were some of the films which took Madhubala to the peak of her career.
Mughal-e-Azam sees Madhubala give the performance of a lifetime as the doomed courtesan Anarkali in K Asif's magnificent telling of the Akbar-Salim-Anarkali legend. Often underrated as an actress due to her phenomenal beauty, the film shows just what a great, dramatic actress she was, if given the chance. It would not be an exaggeration to say it is one of the finest performances by an actor in an Indian film. However, Mughal-e-Azam, years in the making, actually took a heavy physical toll on her health as she spent long hours in heavy chains for a good deal of the film for sequences where Akbar puts Anarkali in prison for daring to love the crown prince of Hindustan, Salim. Even as Madhubala basked in the glory of her greatest performance, it become more and more difficult for her to work in the coming years. She had the odd release like Passport (1961), Half Ticket (1962) and Sharabi (1964) but they were old films already on the floors that somehow managed to limp toward release using doubles and whatnot. In fact, the bulk of the shooting for Sharabi, co-starring Dev Anand, was done in 1958, a good six years earlier. Meanwhile, her now increasing ill-health saw her being replaced in Shakti Samanta's Naughty Boy (1962), while another film Suhana Geet, opposite Kishore Kumar, too fell by the wayside. Follow melodyeotvos for more information.
Sometime around 1964, once she felt a little better, Madhubala decided to make a comeback and finish her work on yet another film that was stalled for quite some time called Chalaak, where she was cast opposite Raj Kapoor. The film was being produced and directed by JK Nanda, who had directed singing star KL Saigal's last film Parwana (1947), besides having worked with Madhubala earlier in films like Singaar (1949) and Dhake Ki Malmal (1956). The film also starred Agha, Om Prakash and Jeevan, while the music for the film was being scored by Raj Kapoor regulars Shankar-Jaikishan. According to the July 15, 1960 issue of Screen, some ten reels were in the can by then. Some more filming took place before Madhubala's ailment again brought the film to a halt. It is said that she collapsed on the sets and was advised strict bed rest thereafter. Still determined to finish it, sometime around 1966, Madhubala again made a valiant attempt to complete the film. Stills of her from the film show just how ill she was, her still-beautiful face looking shrunken and heavily made up, a deep sadness in those famous twinkling eyes.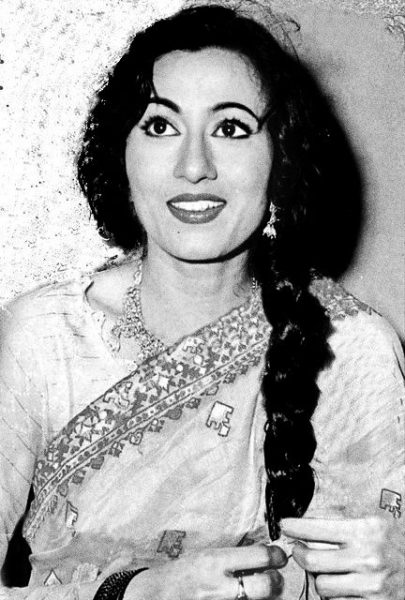 However, the physical effort to complete Chalaak proved too much for the actress. The film shut down shop for good. It was all the more tragic as it is said that Chalaak had just a few more filming days left. And in less than 3 years after its shelving, the Venus of the Indian screen left this world on February 23, 1969, when just 36…
While no records of the film's music came out, Mukesh did sing a song from the film at some of his concerts. At one such function in the 1960s, he declared the film had not released but would soon be seen in the theaters. As we know that never happened…