Ragini is, sadly, yet another case of the classic riches-to-rags story that the world of cinema is full of. Labelled 'Aahoo Chasm Ragini' due to her beautiful eyes and said to be the first ever Hindi heroine to charge a lakh of rupees for a film in the 1940s, she died a lonely and forgotten woman in 2007 at the age of 85.
Ragini was born Shamshad Begum in Gujranwala in 1922. Her mother died when Ragini was still very young and her father, Seth Diwan Parmanand, took her with him to Lahore. There, she made the acquaintance of filmmaker Roshan Lal Shorey's daughters. They told their father about their beautiful friend and on meeting her, Roshan Lal convinced Parmanand to let him launch Ragini in films. Though hesitant, he agreed when Shorey assured him that he would personally look after Ragini.
Ragini made her acting debut with the Punjabi film, Dulla Bhatti (1940), where she was cast opposite MD Kanwar. The film, directed by Roshan Lal Shorey's son Roop K Shorey, was a major success and audiences in Lahore were captivated by Ragini, who became a star overnight. Thereafter, Ragini went on to act in several Lahore-based productions in Hindi and Punjabi like Sehti Murad (1941), Nishani (1942), Ravi Par (1942), Poonji (1943), Daasi (1944) and Kaise Kahun (1945). Her, beautiful doe like eyes were easily her biggest asset. On the poster of Sehti Murad displayed at Lahore's Bhaati Gate, her eyes were blindfolded with the caption underneath: "What will happen when these eyes are revealed?" Of her other films, special mention must also be made of Shirin Farhad (1945), where she captivatingly played Shirin to Jayant's Farhad.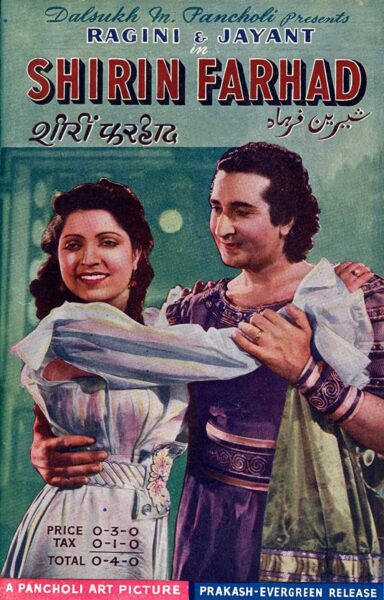 Filmmaker AR Kardar called Ragini to Bombay to play Mumtaz Mahal in his KL Saigal starrer Shah Jehan (1946), thereby re-uniting her with her first hero, Kanwar, who it is said pleaded with Kardar to cast him so he could be close to Ragini. It is also said that Ragini charged Kardar one lakh rupees for the film, becoming the first ever Hindi film heroine to do so. Down South, the legendary singer, KB Sundarambal, had already charged the astronomical amount more than a decade earlier for the Tamil film, Bhakta Nandhanar (1935), playing the titular character. Shah Jehan is remembered by old timers even today for Saigal's brilliant rendering of Mere Sapnon ki Rani Roohi and Jab Dil Hi Toot Gaya. Sadly for Kanwar, it is said that Ragini refused to reciprocate his love for her and heartbroken by her rejection, he died an early death.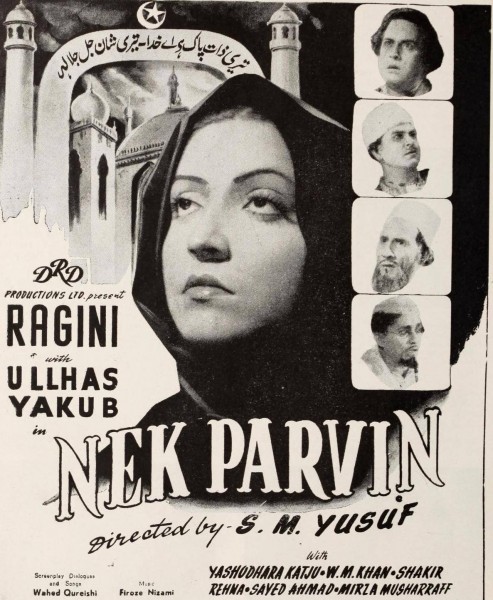 Another important film for Ragini during this period was director SM Yusuf's Nek Parvin (1946) where she co-starred with Ulhas, Kumar and Yakub. Ragini's last films in undivided India were Farz (1947), actor Sudhir's first film, and Manmani (1947), co-starring Jairaj. Sudhir would go on to become a top actor in Pakistan and would rule thePakistani film industry for decades along with another actor who also migrated from India, Santosh Kumar.
Following the partition of India, Ragini chose to make Pakistan her home. Her first film in her new country was the Punjabi film, Mundri (1949) co-starring Ilyas Kashmiri but sadly for her, the film did not do well. Her following films in Pakistan like Beqarar (1950), Kundan (1950) and Akeli (1951) also failed to set the cash counters ringing and though Nauker (1955) succeeded, it was Swarnalata who had the author backed heroine's role in the film with Ragini playing the second lead.
Ragini did return to India for a brief second innings to make Insan (1952), co-starring Prithviraj Kapoor, and Chamkee (1952) opposite Shekhar but again, like her films in Pakistan, the films here, too, did  not do anything for her and thus, her 'Indian' career came to an end as she returned to Pakistan.
By the late 1950s, Ragini found herself playing supporting roles in Pakistani cinema, her days as a leading lady behind her. She still managed to leave a strong impression in Bedari (1957), almost a carbon copy of Filmistan's Jagriti (1954), playing Rattan Kumar's mother, played by Pronoti Ghosh in the original, and in Anaarkali (1958), where she played rival Dil Aram to Noor Jehan's Anarkali. She then shifted to playing character roles in films like Husn-e-Ishq (1962), Naila (1965), Saaz-o-Awaz (1965), Saiqa (1968) and Pak Daman (1969). Her last film was the Pashto offering Ab-e-Hayat (1983).
On the personal front, Ragini got married in the early 1940s and had two children, a daughter, Saira, and a son, Abid. But the marriage did not last long. She again got married in Pakistan in 1947 to actor – producer S Gul, who produced and co-starred opposite her in Beqarar.
Ragini spent the last days of her life alone in a room of a quarter in Madian Colony, Gulberg. Her son, Abid, had died years earlier of blood cancer in the US, while her daughter, Saira, had shifted to Karachi after getting married. Like many a senior artist, she was neglected and forgotten. No arts council or any other institution ever came forward to help her despite the fact that her interviews, focusing on her state of affairs, were telecast repeatedly on various private TV channels. Her health too had deteriorated with arthritis crippling her and sadly, even her once famous eyes were now affected by cataract.
Ragini passed away on February 27, 2007 in Lahore.