It was around the Spring of 2014 when my tenure as a television professional came to an abrupt end and I was struggling with what next?! The social and political environment in the country was changing drastically. Suddenly, the right wing juggernaut had taken over our lives. Communalism is something I have always been deeply affected by and the Muzaffarnagar riots of 2013 were no different. The western part of my home state, Uttar Pradesh (UP), is the most prosperous part of the country. It is what we call the Doab (land between two rivers). The land is fertile and one can see the  economic prosperity of the region influencing social interactions as well. The riots changed all that and this had made me terribly uncomfortable.
Around the same time, a batch-mate of mine from the Film & Television Institute of India (FTII), Pune, told me that it is better to make the film that you want to and then struggle for two years to take it to its audience, rather than spending two years chasing stars and ending up making something you can never be truly happy with. This made a lot of sense and got me thinking. I had seen some of my colleagues take a very successful path of crowd funding to make their films and I decided to follow suit. Once my mind was set on not approaching conventional producers, I felt liberated about making what I wanted to. I went back to two stories by Fyodor Dostoevsky that I had read long back and always wanted to adapt. So I revisited Dostoevsky's The Dream of a Ridiculous Man and White Nights and brought them closer to home – to UP, in particular to Muzaffarnagar and to my hometown, Lucknow. I decided to merge the two stories. The character of 'Anita Muslim' was introduced with whom the protagonist, Gulmohar is in a relationship. The deeply romantic White Nights was my substitute for Dostoevsky's Christian redemption in The Dream of a Ridiculous Man.  A serious setback to my health in the interim only strengthened my resolve to make the film. In case of anything untoward happening, I've always wanted my obituary to mention I was a filmmaker! For that I had to have made a film… It was now time to get going.
Before that the crowd funding campaign, I first needed my cast and crew to create a trailer of the film. I remember calling and then meeting Arun Varma, the DOP of the film and my junior by a couple of years from the FTII. I laid out my cards on the table, told him what I wanted to say through the film though I have to confess that at that time, I had no script – just some vague ideas and images. I clearly told Arun (and all others who came on board) that I had no money to pay anyone at that point and also that the  crowd funding path, while helpful, is limited in its scope to raise money. However, I had a film in mind that I truly believed in and it is something they might want to be associated with. To my surprise and utter delight, not just my friends from FTII, but even actors, whom I had never met before, came readily on board. We then did a recce and shot a promo for the crowd funding campaign. With Wisheberry giving us their platform, crowd funding became a reality. Contributions began to pour in from friends and relatives. In fact, I'm happy to say that we exceeded our intended target by 5 lakhs. We knew now that the film would be shot if nothing else. With the still meagre resources I had at my disposal, it made no sense to think ahead of the post-production or even the release and money recovery plan. Shoot the film first and take each day as it comes was my mantra.
An extensive recce of both Muzaffarnagar and Lucknow by Arun and me made us come face-to-face with the hard realities of filming on location. And of course, looking at how to incorporate the horror of the Muzaffarnagar carnage. I wrote the screenplay only after our first recce.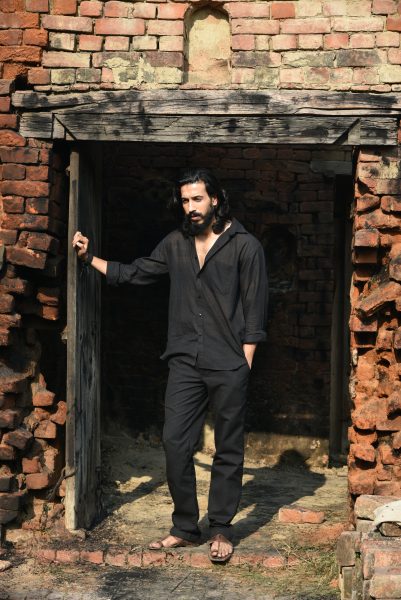 The biggest challenge that any adaptation faces is to transform the literary into a cinematic language. In this regard, Ek Betuke Aadmi Ki Afrah Raatein was no different. The first challenge was the amalgamation of three stories, the third being Premchand's Bhoot; the second was creating a narrative structure that one would need for a film, which was dealing with the present, memories and dreams all simultaneously. I realised early on that I had to abandon the cause-and-effect dramatic structure for it just didn't gel with the 'Dostoevskian world' I wanted to create, where the focus is more on internalisation.
A lot of the film's structure is inherent in White Nights itself where two people meet and speak about themselves as the boy tries to woo the girl. The difficulty was that both the protagonists had really long stories to tell but we were not using a simple flashback device. Choices had to be made of  what and how much to tell. The linearity of narration had to be broken and the idea was to attain a certain degree of timelessness. Since, we generally recall or recollect in vignettes or episodes, I deduced to treat the stories of the past in that manner. I remember my screenwriting teacher telling me about Robert Bresson's Un Femme Douce as a great example of breaking linearity. I view the film repeatedly. Alain Resnain's Hiroshima Mon Amour, an all time favourite, was another point of reference for me.
After I finished the script, I realised that now even the money raised might not be enough for shooting the film. Fortunately, Saleem Javed (yes, that's his name!), our Head of Production, belongs to Muzaffarnagar. He came forward with the balance funds to became an equal partner in the film. Till today, I have no idea what made Saleem volunteer and put in his hard earned money into a film that may not give any returns in a worst case scenario. I attribute his and everyone else's contribution and support to the sheer power of cinema.
But before the shoot, we first had to arrive at the mise-en-scène of the film. I have to admit the initial thoughts were very stifling. The curse of consciousness and logic tend to straight jacket our ideas while the film needed a certain amount of abandonment. It had to have a feeling of a chronicle of the time and place rather than just the people. Interruptions in the narrative were built in  using city shots and a voice over. Everything was to be shot like a distant observer, not interfering with what is being performed in front of the camera. So, Arun and me decided that long shots and long takes would dominate the film.  In fact, most of the scenes are filmed as single shots. It was also discussed with Arun that we shall most of the time be playing with either a 35 mm or a 50 mm lens. Those who have seen the film have lauded the  quality of  his camerawork, despite the negligible support he got in terms of his requirements.  In fact, I have to say that Arun owned the film with a lot of love. There is something I would want to share here which speaker volumes for the kind of person he is. When we went for the recce, we would travel at least 70-80 kms a day and would have to eat at highway dhabas etc. The first thing Arun would do when we entered a place would be to ask if there was anything that I could eat, due to my dietary restrictions. It was moving to say the least.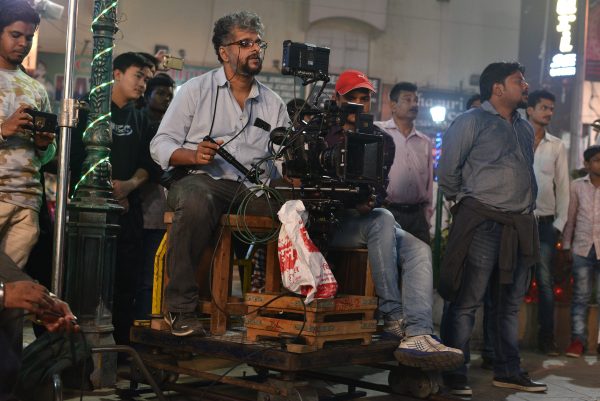 The artist as a mere observer, defines the mise-en-scène of the film. Initially, my assistant would run to shoo away the dogs who entered the frame or call for a cut but I told him not to do so. I explained to him that let life unfold the way it does, who are we to manipulate it? In my opinion, the dogs have added another layer to the emotional quotient of the scenes. Then there is a shot of Adil Hussain with a fly on his pyjama. Not many would use a take like that but to me, the location belonged to the fly. It was Adil who is the visitor into the fly's world and not the other way around. The actors were told that they will not be the centre of attraction in the shots but a part of the larger world around them.
Signing Adil Hussain was another interesting story. When I called him, the first thing he said was that he was not doing any film that year unless the role was great or the money made it worth his while. I told him that I had the role but no money and was unable to pay him when others associated with the film were not getting paid. I narrated the story to him on the phone and he asked me to send the script. Three weeks later, he said we could meet. When I met him at his residence in Delhi, he asked me just one thing that why him? I told him that his performance in Mukti Bhawan told me that he was by far the best person to portray my character because a lesser actor could make it cheap. And… he said yes!
My cast consisted of actors, trained and untrained, with diverse experiences. I had to make them see where I was coming from. Every member of the cast had to know what he or she was doing, where, why and when and they had to carve out their own space from that. I had just three instructions to my actors:
1. Please don't try and get under the skin of the character because one possibly cannot become anybody else. It's a fallacy.
2. Do NOT act. If you are picking up a glass of water, pick it up as if there is no camera. Do not show the camera, 'look, I have picked up a glass'.
3. I have no fixed instructions regarding where to move, how to move or not move at all, go by what you instinctively feel like doing, speak the way you feel like speaking. The camera will follow you and not the other way round.
It took a lot of unlearning for the actors brought up on dramatic acting. There is no character, I told them. It is just a role. In fact,  I cast for the film without taking any auditions. The moment I looked at whether an actor is suitable for the part or not, I would be pre-deciding how this character, whose journey is such and such, would look like. How can we attribute emotions and actions to specific looks? To me, all that actors need is believability on screen. Rajveer Verma, the son of famous Action Director, Bhiku Verma, and playing the part of the protagonist, Gulmohar, saw several films that I recommended to him repeatedly to understand and cultivate just how to portray his role. And trust me we can see it on screen. He has NOT acted at all.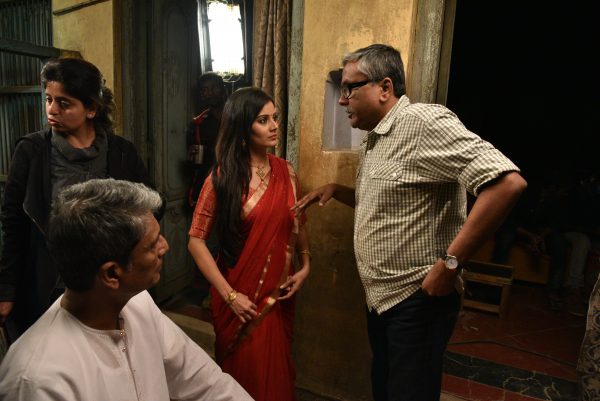 A final round of recces had to be done for Arun and me to fix the shooting locations, which we were lucky to get. Mandira Shukla, the costume stylist for mega budget films like Agneepath and Chak De! India, was allocated a lakh of rupees to make the costumes for the entire film as that's all we could afford. To put it simply, at first she freaked! But then calming down, she took me to hidden nooks and bylanes of Mumbai to put together the costumes.  My house became my office for the Direction and Production team to meet and plan everything for the shoot, while my house help cooked our food and later was used as a spot boy when shooting began. But not before a major crisis, actually two. Both the actresses who were to play Anita and Gomti backed out at the last minute and suddenly the film had no leading ladies. After meeting more than 40 girls, I finally found my Gomti in Archanna Gupta, already a heroine down South. Then one fine afternoon, a dusky actress from Bangladesh and an NSD alumnus, Mia Maelzer, walked in and she became my Anita. Mia also volunteered to be the Art Director of the film. So now things were back on track and we all left for Lucknow for the shoot. My associate director Ritesh played a major role in helping us stick to our schedule, while Anisha, the First AD on her maiden project,  provided the calmness for the two leading ladies and the rest of the unit.
The editor Biren Mohanty had only done hardcore Bollywood potboilers before working on my film. He was a bit unsettled at first on seeing my rushes but gamely took the challenge of getting into the rhythm of the film. My batch mate from FTII and dear friend Debashish Ghoshal came to my rescue for the Post production Work on Sound. My sound designer friends were willing to work on the sound for little/no money but the studio costs were too high for a film like mine. Sujoy Das, a student and colleague of Goshal volunteered to do the entire sound work in Kolkata at a cost Saleem was comfortable with. Similarly, Madhu Shi, another FTII batch-mate agreed to do the DI of the film at a price that was acceptable to us. So many people contributed in so many ways that it is overwhelming everytime I think about it.
For the background score, I approached Pelva Naik, a Dhrupad exponent whose videos I had seen on YouTube. She read the script and while she liked it, she suggested that I take another music director as she didn't want to compose a typical background score for a film. I remember telling her, "See you do not have to 'compose'. We just need to see what we feel when we are watching the edit and then compose spontaneously." She agreed to this and worked out a map of four distinct instruments for the four principal characters along with two raagas. The choice of instruments or raagas was not to have authentic classical music in the film but to use them for their distinct identity as this gave the music a more global feel rather than a 'celebrating-the-exotic' feel.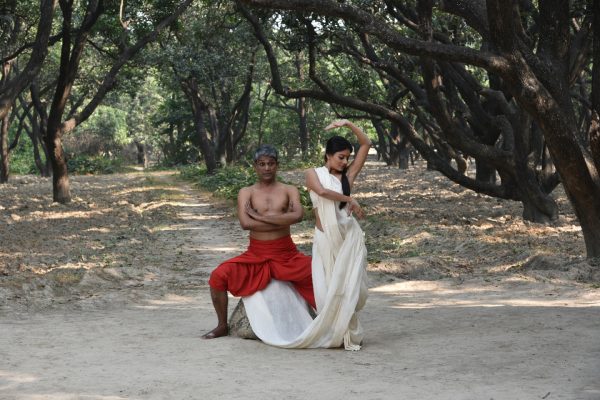 By far the biggest challenge in the film was to articulate the father's desire for his foster daughter in Premchand's story, Bhoot, which is what Gomti narrates in the film. I certainly didn't want him seeing her changing clothes and all. Suddenly, the myth of Brahma and Saraswati dawned on me and I thought of using a primal dance of Brahma and Saraswati. The father and daughter engaged in a foreplay that could lead to the creation of the new universe, the universe of the untouchables – the Dalits, since I made the father a shoemaker in the film. It had to be a dance and I approached one of India's finest Kathak exponent, Sanjukta Wagh. Her first reaction was, "It's so sleazy!" But I told her I wanted her to only choreograph the dance and fortunately, she came on board after a simple narration.
This note will be incomplete without the mention of Filmmaker Nakul Singh Sawhney, the maker of the acclaimed documentary, Muzaffarnagar Baqi Hai. Not only did Nakul put me onto some key contacts in Muzaffarnagar who were a big help in our recce as they told us horrific tales of the riots, but he also handed over all the rushes of his film for me to use the documentary footage in my film in any which way I wanted to. To think that I had only met Nakul twice earlier and here he was going out of his way for me and my film.
So yes, after an incredible journey, the film is finally ready and I am sending it now to various festivals hoping to make it more visible. The big news, though, is that we already have a French distributor on the film and Ek Betuke Aadmi Ki Afrah Raatein will see a French release by December, 2019.