What happens when the 88-year young prima donna of the French New Wave, filmmaker Agnes Varda, meets and ventures upon her first directorial collaboration with JR, a 33-year-old internationally acclaimed street artist, who, like most street artists, is playfully anonymous and enigmatic? To begin with, in a tongue-in-cheek sequence, they document the places where they miss meeting each other – not on the road, not in a bakery, not in a bus stop and not in a dance club where Varda, with her dyed white and orange hair, burns up the floor with some pretty groovy moves!
When they finally do meet – JR makes the first move – they express appreciation for each other's work. JR remembers Cleo's face from Varda's  classic Cleo From 5 to 7 (1962) and mentions her documentary on the giant murals in the streets of Los Angeles, Mur Murs (1981), as one of his inspirations. Which is natural because JR's art consists of taking photographs and pasting giant print-outs of  them on public buildings/spaces, thus in a way monumentalizing the subjects yet keeping them ephemerally true to the spirt of street art. Varda, on the other hand, says he 'wowed' her with his works – giant eyes pasted on cisterns, photos of wrinkly old Cuban men and women, JR covering the floor of the Pantheon in Paris with photos of hundreds of commoners. But at the same time, Varda is also intrigued and a tad irritated by JR constantly wearing dark glasses and his steadfast refusal to show his eyes – a behavior, which curiously reminds her of her friend Jean-Luc Godard's comparable individualistic idiosyncrasy. And to the make this bit of nostalgia an ecstatic moment for the cineastes, she, playfully, inserts a clip from her short film, Les Fiancés Du Pont Macdonald (1961), where Godard as an actor is doing a faux Buster Keaton-esque act minus his trademark dark glasses. Godard, in some ways, remains a pivot in the film. Varda and JR attempt re-do the sequence from Godard's Band of Outsiders (1964), where the film's three protagonists try to break the speed record of going through the Louvre Museum. And it is Godard, in an act of the supreme auteur, who is also responsible for the subverting the ending of the film. This 'cruel' subversion is also responsible for how the film eventually ends, an ending which would perhaps rank as one of the most bittersweet final moments in the history of cinema – certainly a finale which was not in Varda (and/or) JR's original plans!
Hitting off nicely, the duo, decide upon 'their project' which to JR's immense surprise is Varda's first collaboration of her career. The outcome, Faces Places (2017), is a record the odd-couple's travels through the backwaters of France, in order 'to make images, but differently' of the places and of the people they meet on the road and also to document the stories, which make them significant for Varda and JR. Part road movie, part documentary Faces Places chronicles the trip Varda and JR make in JR's special vehicle which doubles up as photo-booth where JR clicks photos which five minutes later come out as colossal monochromatic print-outs readyt o be pasted in public places.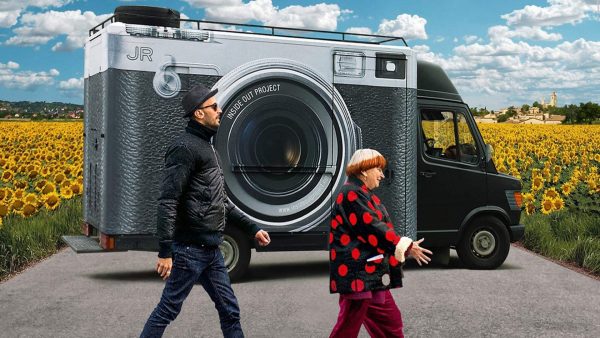 The logic of the journey is partly determined by Varda's memories but more so by chance which Varda describes as her 'best assistant'. One of their first stops, for example, is triggered by a set of old postcards of coal miners that Varda possessed in her collection. They travel to a now abandoned mining region in northern France and discover an old mining town where by chance they learn about a row of old miner's houses which have been marked for demolition. They also meet an old woman who stubbornly refuses to move out of one of the houses slated for demolition. JR and his team members, blow-up the postcards to over 20 feet in size and paste them on the two-story buildings. The artistic outcome becomes stunningly heartwarming and evokes passionate responses from the village's senior citizens who narrate their and their parents' experiences as colliers. To pay homage to the old woman who refuses to relocate, Varda and JR take her picture and enlarge it to cover the very building she is refusing to leave. When she sees her face covering the entire building, she is overwhelmed with emotion. In another village, a waitress in a café is hugely embarrassed by her giant photo going viral on social media. Two groups of workers in a chemical factory who seldom meet each other because they work in different shifts share a moment of rare joy when they see their enlarged group photos pasted on a large outdoor wall – the photos are composed in such a way as to make it seem like each group is reaching out to the other.
The engagement with the persons whose photos are displayed is a key element that makes the film endearing and all the more compelling. As a viewer, one quickly becomes immersed in the spontaneous emotive responses of the people whose large-format photos are put up in public places. In fact, how the subjects of art react to the 'art' in which they are depicted is one of the many issues that are explored in the film, which in many ways is a collection of various themes – old age versus youth, death and life, modernity and quirky non-conformism, the ephemerality of street art and many, many more. The transient nature of JR's art (and street art as a genre) is dealt with in one the most poignant sequences of the film shot on a deserted beach. Varda and JR recreate an image of one of her dear friends and collaborators, who had passed away young. Artfully pasted on a fallen WWII German bunker, the mammoth print-out gets washed away overnight by the tide…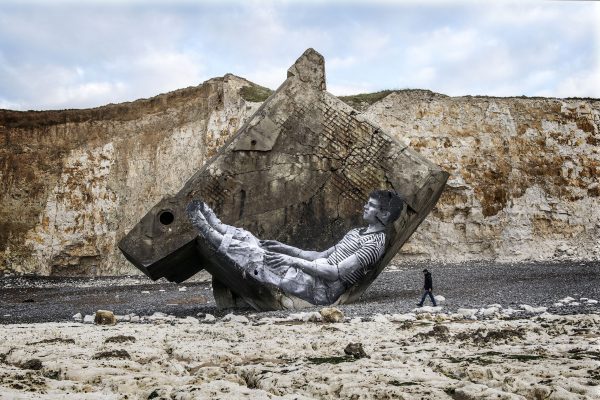 The multiplicity of themes and how subtly they are portrayed plays a major part in making Faces Places a personal yet universal film – a film in which the 'political' ideologies of Varda and JR are presented without any fuss or melodrama. Left-humanist and gently anarchist world-view imbue almost everything the duo do in the film. There is a sketch of an erratically toothed old gentleman named Pony who creates art using discarded bottle tops and lives in an attractive tent home where he feels 'free'; there's a profile of a woman dairy farmer who mourns the modern practice to cut off goat horns – nominally this is done to protect them from fight wounds but really de-horning is done to make them 'docile and obedient for the milk machines'. JR and Varda's decision to shoot and paste a photograph of a horned goat on the wall of the goat-shed indicate their gentle yet strong denunciation of this market controlled un-natural act.
The free-wheeling road trip and its repetitive episodic set-pieces of clicking photographs, recording the responses of the subjects, taking print-outs, pasting mammoth print-outs and capturing the reactions/emotions of the people along with their back-stories who have been photographed could have become tedious had it not been interspersed by the personal interactions, which act as markers of the relationship of respect and admiration that develops between Varda and JR. As the road trip progresses, the duo develop a deeper understanding of each other's process of working, each other's images and also a friendship despite the huge difference between their ages. This trust and bond is best portrayed in the sequence where JR takes Varda to visit his centenarian grandma from whom Varda tries to coax answers about how she feels about rarely seeing her grandson's eyes and how he was as a child.  (Varda's irritation with JR's refusal to show his eyes is another leitmotif of the film.)
The journey Varda and JR undertake may be dictated by chance but there is nothing unstructured in the way in which Faces Places is designed cinematically. A very structured voice-over commentary – basically a conversation between Varda and JR – binds the film together. The opening credits is a carefully crafted minimalist animation sequence depicting the missed meetings between Varda and JR when both are on the road. Roberto de Angelis's cinematography is non-obtrusive yet captures the sundrenched beauty of the French countryside bathed in glorious summer light wonderfully. Varda and Maxime Pozzi Garcia's editing – intercutting between past and the present with a ruminative easy going rhythm – ensures that the film never feels like a mere compendium of encounters or site-specific interactions. Matthieu Chedid's minimalist acoustic guitar music adds a dose of wry wit which is in perfect synch with the sunny, upbeat mood of the film and its two protagonists.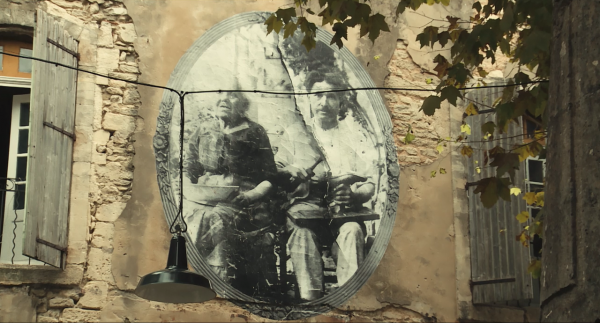 Faces Places is a wonderful exercise on memory and merriment, on instinct and improvisation, on the interactions between two artists who are separated by a huge age difference and attitudes yet share a common vision and outlook towards life and the world. In an homage to Varda's fading eyesight and wobbly knees and feet which do not undermine her innate itch to capture new images and to travel, JR takes out print-outs of Varda's eyes and feet, pastes them on trains so that in his words Varda's 'feet and  eyes, which tell a story will go places, you've never been'.  Varda, on the other hand is delighted with the idea of 'shooting her toes', the photos of which makes her recall the potatoes which she had shot in her documentary The Gleaners and I (2000). The immediate cut to a shot of potato from the film which resembles her feet re-emphasizes the overlap between the present/reality and past/memory which is another of fundamental themes of Faces Places.
A film with multiple layers of ideas, populated by a wide variety of people and attitudes, amusing yet philosophical, Faces Places is yet another sparkling addition in the oeuvre of one of cinema's Grande dames – the forever young, the lifelong non-conformist and of course a sheer genius, Agnes Varda.
Faces Places was nominated for the Oscars in the best documentary feature category in 2018 with 89-year old Varda becoming the oldest nominee for the Academy awards. The film was also featured in the out of Competition Section of the Cannes Film Festival in 2017 where it won Golden Eye prize for Documentary films.
French, Documentary, Color and Black & White