Based on an original story called , Aandhaare Ektu Aalo  by noted author Shaktipada Rajguru (author of Ghatak's Meghe Dhaka Tara), the film 9 No Peara Bagan Lane is named after the postal address of a residence located in the northern parts of Kolkata. It spans three generations of a single family beginning with an elderly couple Shaktinath (Bodhisattwa Majumdar) and his wife Mahamaya (Anuradha Roy), their three sons and a daughter. The changing social and filial values over these three generations comes across through their respective stories, focussing on the evolving cultural and technological ambience that have made a tremendous impact on younger generations who live in the city, belying the commonly held theory that matter and technology have taken precedence over relationships and family values.
For a change, 9 No Peara Bagan Lane uses information technology as a strategy and agency to unite a decimated family with a widowed mother who lives all alone in home in north Kolkata considered passé by the New Age, high-funda corporate Bengali who chooses to live in the shopping-mall and multiplex-dotted southern parts of the city. This is to use technology as a bridge to heal loneliness of individuals and families thrown in disarray by the manipulations of two grandsons of the third generation within the family.
The two directors of the film, Ratri Ghatak & Snehasish Pallab Mukherjee, have introduced the sub-plots tracking the past of Mahamaya and her husband, the growing up of the children till he is alive, through a series of endless flashbacks that could have been avoided as most of them spill over with extremely cliché and overdone dramatics. The eldest son for instance, who remains off-screen, and was the main financial support for his elderly parents, dies on the eve of his sister's marriage forcing the father to mortgage his ancestral home to fund the marriage. His grown-up daughter Eliza (Tiyana) is determined to get to her Bengali roots and coincidentally, strikes up a social media friendship with Ronny not knowing that he is her first cousin. The backbone of the story is Eliza's search for her roots and Ronny's all-out bid to help her.
9 No Peara Bagan Lane takes us back to the age-old Southern family dramas from the 1950s where everything ends with the group photo portraying the fairy-tale ending of happily-ever-after. The positive stance of the film lies in portraying the youngsters savvy with their cell phones with their whatsapps, their archival qualities of transmitting old and new photographs being used to bring broken segments of a once-happy-family together which closes with Eliza flying all the way from the US to meet the Indian segment of her original family. What happens to her American mother does not seem to be in the list of the directors' priorities. We do not see even an old picture of her though Eliza's father's B & W portrait remains a constant frame of reference for the daughter.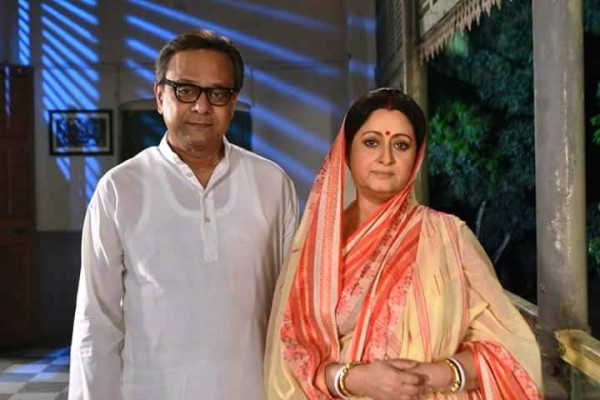 The wives of the two other Kolkata-based sons are portrayed in very negative light to offset the lily-white characters of the forever-morose elderly couple and their caring daughter (Dolon Roy). The wife (Ratri Ghatak) of the second son Bidhan (Arijit Choudhury) who teaches in a school and wears designer long skirts and tops even at home, is a post-modern harridan who constantly terrorizes both husband and son who lack the guts to counter her attacks with either logic or emotion. The youngest son Biplab's wife (Priyanka Sarkar) is an ambitious singer who soon regrets her marriage to a man who she married because of his musical talent but who turns out to be a less-than-ordinary man who barely manages to eke out a living for the two. She opts out with his benefactor friend to make a name as a noted singer but comes back to die in his arms! The Priyanka portions are the only redeeming and dynamic factor in the entire film. She sparkles in every scene in the brief flashbacks and injects some life into this morose family melodrama.
There are just too many songs to justify two characters who are singers because the other characters do not sing and yet the film opens and ends with a song each. The last is a nursery rhyme Mayamaya hums to herself that Ronny records on his cell-phone. He sends it to Eliza who at once recognizes her grandmother's voice after so many years! Some memory and great nostalgia! Her passion for her Indian roots is overdone and exaggerated for a girl who grew up in the US, has a US boyfriend but not a single Indian friend! The editing is sloth and amateurish cutting to sunsets with silhouetted trees before moving on to the next short.
Except Anuradha Roy, Ratri, Priyanka and Dolon, everyone else gives rather wooden performances made worse by extremely slow and stilted body movements and expression. One wonders what makes Bidhan fiercely angry and guilty at the same time with eyes flashing fire but reduced to a timid mouse when he has to face his wife! A good actor like Bhaskar Banerjee is reduced to an extra. One is also mystified by the two sons not bothering to visit their aged mother even if they live separately. The EMI loan argument Ronny raises is not carried forward.
The film covers a considerably long span of time but everyone has very black hair with some exceptions made to Mahamaya with a few grey strands in some scenes. The film promises "wholesome family entertainment" without aggressive violence or item numbers but the 'entertainment" part is rather sullied by the extremely depressing scenario with a generous overdose of melodrama. One wonders how it found space within the Indian Section of the Kolkata International Film Festival.
Bengali, Drama, Color