He's on a roll and easily the most successful actor in Tamil cinema for the last few years with his last 4 films (Vel (2007), Vaaranam Aayiram (2008), Ayan (2009) and Aadhavan (2009)) doing well at the box-office with Ayan being the biggest Tamil blockbuster of 2009. He is also (rightly) considered of one of the finest actors in Tamil (Indian) cinema today thanks to his wonderful performances in Nandhaa (2001), Unnai Ninaithu (2002), Kaakha Kaakha (2003), Pithamagan (2003), Perazhagan (2004), Ayutha Ezuthu (2004), Gajini (2005), Vel and Vaaranam Aayiram among others. He is one actor who is constantly able to reinvent himself with every film he does. Hence, you are taken aback when you meet him on the sets of his 25th film, Singam (2010), where he is shooting an action sequence, and Suriya begins by telling you that he never even wanted to be an actor in the first place.
"I was never interested in being in front of the camera. Even though my father (Sivakumar) was a successful hero in the 1970s and 80s, I never even went once to the studio to watch him shoot. Leave alone that, I hardly ever watched films; maybe the big and important Tamil films but not even English or Hollywood films," says Suriya. "It was the garment Industry I was interested in." Not telling his boss that he was the actor Sivakumar's son, Saravanan (Suriya's real name) worked with a garment exporter for 6 months before his boss found out that he was an actor's son. Working for Rs 8,000 a month, he picked up the various rudiments of the garment industry and wanted to do something on his own. Candid enough to admit that the family did not have a huge bank balance to support him and with him being unable to pay back a loan of Rs 25,000 for six months coupled with the burden of being the eldest son in the family, he had to find an alternate way of making money. Being a well-known actor's son, there were enquires about him joining the film line right from the tenth standard when he was 15, and when an offer came from Mani Ratnam himself for a film that he was producing with his former assistant Vasanth directing, the 22 year old Saravanan Sivakumar took the plunge into Tamil cinema with Nerukku Ner (1997).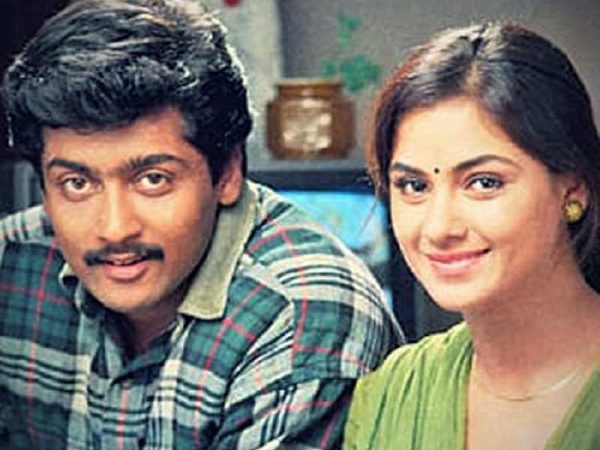 "I was told, I had nothing to lose. The other hero, Vijay, was the selling point of the film. And it was a Mani Sir production, which was extremely prestigious. I was assured I would be well protected and told what to do by the director and the dance director and action director would tell me the steps for the songs and fights. Plus, I would be getting well paid. So why not do the film?" However, Nerukku Ner proved to be a nightmare for the now christened Suriya. He was awkward and being a very shy and reserved person, found it extremely difficult to open up in front of the camera and what's more, found dancing and romancing on screen almost impossible. In fact, the choreographer of the film recalled that Simran, his heroine, had to really coax him to come close to her, leave alone hug her for the romantic scenes. "When we were shooting for the film in Calcutta, I remember crying bitterly under my pillow, wondering what I was doing," Suriya recalled. When the film finally released, though it did well, the reviews were none too kind to the newcomer. "They said it looked like I was forced to act with someone standing off camera like a headmaster with a cane in front of me to make me do what was required," he laughs. "Still, some women did think I had nice eyes and they liked my smile and in certain quarters people felt I was not so bad and had managed to carry off scenes where I had dialogues while riding a bike reasonably well."
His next few films did nothing for Suriya as he tried building up the image of a romantic hero. He was still hesitant to open up in the camera, remained majorly uncomfortable in dance sequences and in films like Periyanna (1999), co-starring Vijaykanth and Meena, he looked totally out of place in the typical hardcore commercial milieu and even looked quite silly in the loud costumes given to him. The reviews too for his films and him, in particular, were none too kind.
But Suriya did realize if he had to continue in this line, he had to prove himself as a competent actor. He began to see more films, especially International cinema at film festivals and the like and by observing the acting of other actors, he began sharpening his acting skills and began rigorously working on his dancing as well. "Kamal Sir (Kamal Haasan) is an actor I admired for his sheer versatility and from watching International cinema, I saw how backward we were and how verbose our films were in comparison. I learnt to try and express myself without dialogue wherever I could."
With Friends and Nandhaa, both of which released in 2001, the tide turned. "I was advised by everyone around me not to do Friends, a re-make of a Malayalam film. I had already done a few films as leading man and this was clearly the second lead in the film. But to me it was the performance oriented role in the film. I had the best of the confrontational scenes and the main conflict in the film was between Devayani and me. So, I went ahead with my instinct." It was not easy, however. Suriya recalls co-actors as being difficult towards him and even ruining takes in which he was performing well. In fact, during a long dialogue that he performed in his own words, well enough, a co-actor deliberately did not reach anywhere near his mark destroying the take. Still, he persevered on as by now the hunger to be a good actor had hit him and in hindsight, he was proved right in doing the film as he received favourable reviews for his work. One senses his confidence building up in the film and what's more, he managed to carry off his dancing steps with some effort showing but still effectively enough considering he was pitted in some long takes with an expert dancer like Vijay.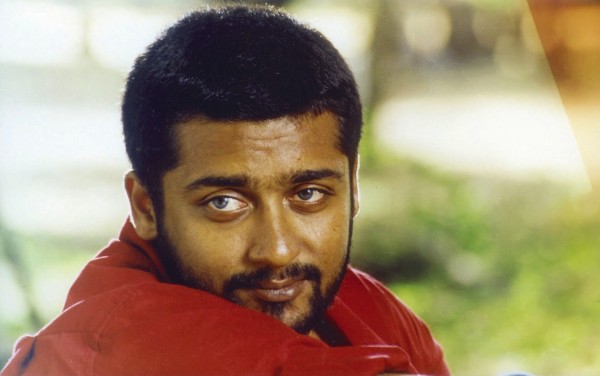 The real breakthrough, however, was Nandhaa. Suddenly, everyone sat up and began taking notice of Suriya the actor with this film. Suriya was a revelation in the film and there's no doubt it's a fine understated performance of a youngster who kills his abusive and philandering father, goes to a juvenile reform home and craves in vain for his mute mother's love all his life. Suriya credits director Bala for all the accolades he got for Nandhaa. "He taught me acting is beyond merely saying dialogues. He helped me to emote with my eyes, react and develop a body language for the character. It's something I've never forgotten."
Suriya recalls meeting Bala the first time when he came to his house to do a photo session with his father, Sivakumar, who had acted in Bala's directorial debut, Sethu (1999). "I noticed the amount of attention he paid to each and every small detail. It took him almost half an hour to click the first picture. When I met him, he told me he had seen my film Poovellam Kettuppar (1999) and that he liked Jyothika in the film and didn't say anything about me or my performance and simply walked away." Later on, when Suriya found out that he had to go attend a particular function and Bala too was going there, he offered him a lift and in the car told him he wanted to do at least one film with the director, who had taken the Tamil film industry by storm with Sethu, and made a star out of Vikram. Bala offered Suriya Nandhaa though the project was initially conceived for Ajith. In fact, this was the second time that Suriya did a role actually meant for Ajith. Suhasini Mani Ratnam recalled that they decided to launch Suriya in Nerukku Ner after things did not work out with Ajith.
Nandhaa got Suriya the Tamil Nadu State Award for Best Actor but he remembers how tough it was for him during the shoot. "Bala Sir doesn't have a bound script as such. He often begins a film with songs treated as a montage to get into the film and then devices scenes that are driven by the characters and their behaviour, and the story develops accordingly. So, one just had to go along with the flow. And he was different from any director I had worked with till then. I recall there were moments when he would take off to be by himself during lunch break. Once when I went to see where he would go, I saw him in his room weeping uncontrollably and then he simply wiped his eyes, pulled himself together and returned to the set to shoot as if nothing had happened!"
Bala was also responsible for showing Suriya in totally different light in Pithamagan. The film saw him successfully casting Suriya as a loud talking, extroverted yet loveable con-man who plays the catalyst in the film and who humanises and opens up the caveman like Vikram character. It was unlike anything that Suriya had done so far and to his credit, Suriya carried off the role brilliantly. "Bala Sir was in a totally different frame of mind when we did Pithamagan," Suriya reminisces. "He would laugh and joke and have fun. That showed in the film and in my character. Unfortunately, his style of working takes too much of time and that is something I am unable to give him today."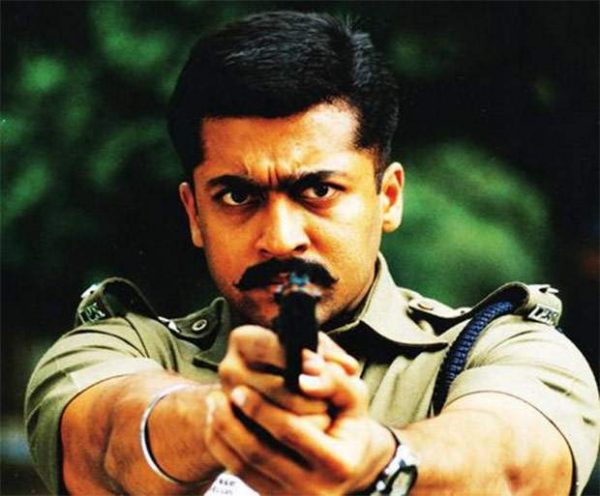 If Bala is one director who got the best out of Suriya the actor, then another director with whom Suriya has delivered heavily in both films they have done together, Kaakha Kaakha and Vaaranam Aayiram, is Gautham Vasudev Menon. "Gautham like Mani Sir is different. They're both well educated men who entered the film line," says Suriya. Both make naturally urban films with a sensibility that Suriya can relate to easily. "Though he did Minnale (2001) first, Gautham actually wanted Kaakha Kaakha to be his first film. We wanted to do a hard hitting film on the lines of Ardh Satya," says Suriya. Technically polished with some extremely catchy Harris Jayaraj songs to make it acceptable within Tamil mainstream parameters, Kaakha Kaakha still packs a raw punch and is a standout film in the cop genre amongst Tamil films. The film sees an extremely internalised performance from Suriya as the loner cop who simmers below the surface to finally explode in the climax. "It was a film we all believed in totally. And, when the film overshot its original budget of Rs 2.75 crores by about 40 lakhs, Gautham and me were amongst those who put in the extra money to make it the way we had visualised it," says Suriya. The film went on to be the first big solo hit of Suriya's career and made him a big heart throb amongst college girls. Suriya was now a star who could carry a film on his shoulders alone. Along with the story and Suriya's searing performance, there's no doubt that music too played a big, big part in the film's success. "Gautham has a brilliant musical sense and is a good singer himself and contributes a lot to the lyrics of the film as well. Hence, music in his films has always been special. And some of my best songs have come from Harris Jayaraj, in any case," says Suriya.
"To be honest, I am not a very spontaneous actor. And I find it practically impossible to do crying scenes without glycerine. I need to spend more and more time interacting with my directors to get as much input as I can towards interpreting my characters well. I like to have extensive discussions and even readings with the directors but most filmmakers here just don't follow that system of working. Gautham, however, is one director with whom I could interact and discuss in detail for both Kaakha Kaakha and Vaaranam Aayiram," he continues. "In fact, he is one of those rare directors who not only gave me a bound script for both films but had timed his scenes as well. Otherwise, in Tamil films we still largely go by narration, which apart from hearing out the storyline and details about my character, helps me to see how passionate and sincere the director is about the project. I then call for the detailed script after that if I'm interested in doing the film."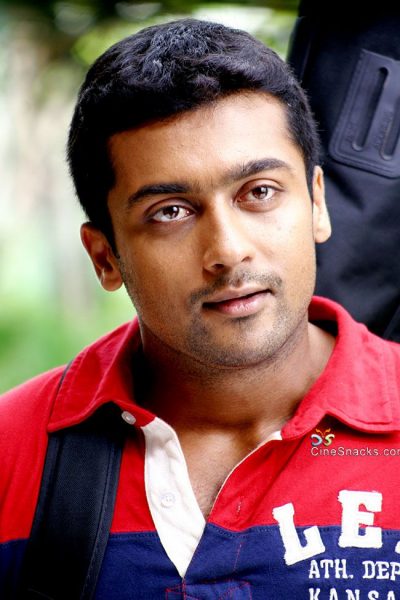 Speaking of Vaaranam Aayiram, which arguably sees Suriya's greatest performance(s) to date, wherein he expertly plays the dual role of father and son, the former from his college days in the 1960s to his 60s and the son from 17 to his 30s, Suriya tells you, "Actually, the film came to me at a time when Gautham and I had had a small tiff with each other. He had gone to London to write the script for the film, which initially began as a love story with the train sequence between Sameera Reddy and me, being the beginning of the film. In London, Gautham got the news that his ailing father had passed away and I was the one he immediately called, asking me to take care of his mother. I was touched and more so when he reworked the film, shifting the focus to a father-son relationship, and asked me to play his father. I had to do justice to the character," he says. The film won Suriya, his second Filmfare Award for Tamil Best Actor following Perazhagan (2004), wherein he played another dual role – a polio-affected, buck-toothed hunchback running an STD booth and a tough college student. He had also won the Filmfare Best Supporting Tamil Actor earlier for Pithamagan.
Apart from Bala and Gautham Vasudev Menon, Suriya naturally mentions being directed by Mani Ratnam in Ayuthu Ezhutha (2004), the Tamil version of Yuva (2004), wherein he played the idealistic yet angry young student leader (played by Ajay Devgan in the Hindi version) as a highlight of his career. "Actually, earlier itself though Nerukku Ner was only his production, it was Mani Sir who explained my very first shot to me. I thought being my first film and all, he would have a lot to tell me. All he told me was that I open this door, see this cop, am slightly surprised yet I know why he has come and go along with him. I did whatever in the rehearsal and he kept toning me down. The shot you see in the film is drastically different from what I showed him first," he laughs. "Mani Sir has this ability to get the best out of any actor. If you see, most actors, who have worked with him, have delivered their career best performances under him. He is gentle yet firm and knows exactly what he wants from the actor."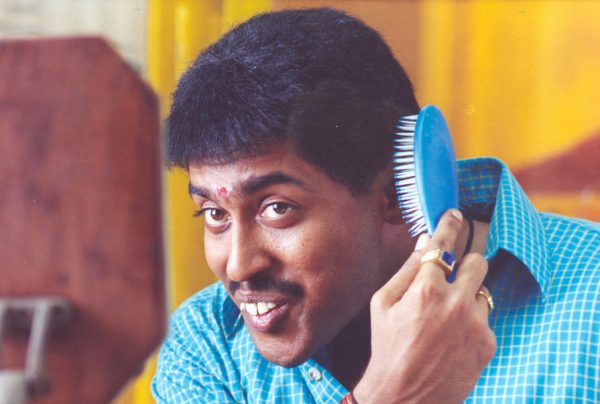 It has been a constant battle for Suriya to be as realistic as he can be in his performances even within the rigid parameters of Tamil commercial cinema. In fact, he recalls while doing Perazhagan, a take-off from the Chaplin classic Citylights, the director Sasi Shanker, who had also done the original Malayalam version Kunjikoonan starring Dileep and Navya Nair, wanted to give the Tamil film treatment a whole new larger than life 'typical' treatment now that he was doing a Tamil film! "One had to tell him that it was the flavour and style of the original that interested me to do this film in the first place and giving it a hardcore commercial treatment was going against the very grain of the story," says Suriya, who is unrecognisable as the buck-toothed hunchback, Chinna. Make up apart, one just has look at his body language, his walk, his voice, his way of talking in this role. He rarely strikes a false note and is highly endearing in the lighter sequences with his comic timing spot on while he makes sure the film gets its necessary emotional wallop in the more serious sequences.
Post Vaaranam Aayiram, Suriya's choice of films – Ayan, Aadhavan, Singam have all been strictly of the hardcore mainstream cinema type. So, with his superstar status, is there additional pressure now to deliver that big blockbuster each time? Does it mean that Suriya the star has to choose films ahead of Suriya the actor at times? "You can say it is something like that. The responsibility I have to see that both my producers and distributors make money on my films is huge, today. But, I wouldn't exactly equate Ayan with the other two as being that hardcore and commercial. I feel we did try out new elements in the film. In fact, the entire smuggling operation in Burma Bazaar and how it works was something I knew nothing about. And incidentally, I was asked not to do Ayan with everyone around me telling me that cinematographers turned directors couldn't make successful films but I had full faith in KV Anand," he discloses. Ayanwent on to become the biggest hit of 2009 and the third highest grossing Tamil film of all time after Sivaji, the Boss (2007)and Dasavatharam (2008).
"I did Aadhavan to work with director KS Ravikumar Sir," Suriya says. "But I was not accustomed to his style of working. For almost 20 days into the film I wasn't even sure what I was doing. But he just told me to trust him. So I did. Things worked out well enough in the end though I felt the climax could have been handled a little better," he says. "And, I tried to avoid creating over expectation from the film, which is something I do with every film of mine. I always maintained that it was really Vadivelu's film with the comedy being a highlight of the film. He is the true hero of the film, not me."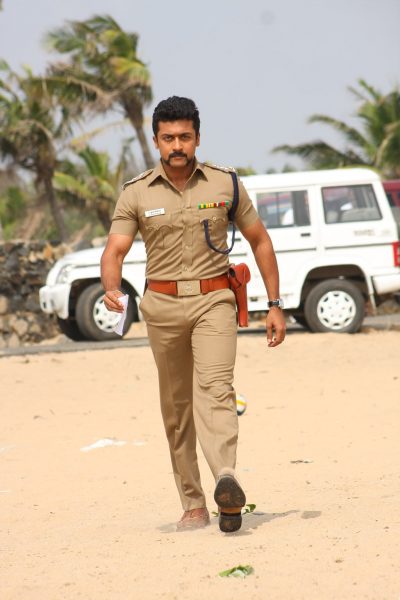 "Singam is my third film with Hari, where I play a cop for the second time after Kaakha Kaakha. If you've seen our earlier films together, Aaru (2005) and Vel, you'll know exactly what sort of film this is," he says. While critics may not rate Hari's films too highly aesthetically, finding them too unabashedly commercial, male-dominated, action-oriented and very violent, there is no doubt about the importance of their role in Suriya's career as they opened up the smaller centres in Tamil Nadu into accepting him as a mass hero. And Suriya feels it's important for him to keep that balance between what he wants to do and the masala film genre.
"There is still a lot of financial pressure on me. My younger brother Karthi's career is yet to take off and I'm looking after the entire family. I'm also building my mother's dream house for her, which means a lot to me," he adds.
This year also sees Suriya try out his first Hindi film with Ram Gopal Varma's two part tri-lingual Rakta Charitra based on the life of slain Andhra politician Paritala Ravindra with Suriya playing his nemesis, Maddelacheruvu Suryanarayana Reddy alias Suri. On being asked that wasn't it a rather low key entry into Hindi cinema and that too with a hit-the-bullseye-or-miss-the-target-altogether director, Suriya candidly admits, "I'm not so sure I really want to get into Hindi cinema in a big way. I am not very comfortable with the language and though I know the visibility factor is much higher throughout the country, I'm happy where I am in Tamil cinema. But I didn't want to miss the experience of working with Ram Gopal Varma. True, he's been a hit and miss filmmaker but normally he's succeeded with the Rakta Charitra genre of films and in these sort of films, his characters are always well fleshed out and in that sense I'm playing an extremely well-defined character, so why not?"
"There are times I do feel I am stagnating and need to think afresh of the films I want to do," he confesses. "Hopefully, my next film with AR Murugadoss will see us breaking boundaries like we did earlier with Gajini and KV Anand's next project too boasts of an exciting concept. There are plans do a Tamil-English film with Prakash Raj Sir and with Chennai gearing up to the construction of several new multiplexes over the next couple of years, I hope to be a part of this developing movement and do different kinds of films," he says. But then don't fresher ideas come from newer people, he is asked. "I am often asked why I don't really work with newcomer directors. I'll be honest. My personal experience with them has not been too good. And it's not about them being unsure about their craft. It's just that the on-set atmosphere was not up to my liking. I'm comfortable working with my set of directors and they are comfortable working with me," he replies.
For someone regarded as the ideal elder son and perfect family man, Suriya points out that he has, in fact, proved to be quite the rebel in the choice of his career and life partner. "My family did not want me joining the film line. Nor did they want me to marry an actress (Jyotika) from the Industry. I did both," he smiles as he steps back on to the sets to take on the baddies!