My acquaintance with Ingrid Bergman was limited to films like Casablanca, Notorious, Spellbound and Bergman's Autumn Sonata all these years till I decided to look up her brilliant auto-biography My Story that was vying for attention on my shelf along with the biographies and auto-biographies of stars like Greta Garbo, Katherine Hepburn and Lauren Bacall. Co-written with BBC correspondent Alan Burgess, it is an absolutely candid account of her tumultuous life that took her from Sweden where she was already a star to the zeniths of stardom in Hollywood; from there to Rome where she made some seven films with Roberto Rossellini in the seven years that she was married to the great director. She spanned two continents and four decades, doing theater and films with equal gusto and lived a full life that saw her through three marriages, five children, a couple of extra-marital flings (the most famous of which was her relationship with Bob Capa, the internationally famous war photographer who took the photo of the soldier during the moment of his death in the Spanish civil war), and three Oscars.
Her emergence in Hollywood coincided with the fading out of another Swedish import – Greta Garbo who went into a self-imposed exile. Like any star Ingrid had her painful trysts with the paparazzi and share of brickbats too from the audience that adored her. If Sweden was scathing in its treatment of her for leaving them for greener pastures of Hollywood, then US, particularly Hollywood could never forgive her for ditching them for that 'arty' filmmaker from Italy, Roberto Rossellini whom she later married and shifted base to Rome when she was already an icon, leaving behind a young daughter and a distraught husband. The Americans were so incensed that the matter was even raised in the Senate where a politician declared that "…out of her ashes would emerge a new Hollywood." (Her only friend at this time who defended her action was Earnest Hemingway.)
But Ingrid was a feisty woman who never bothered to look back. She was impulsive and outspoken. She was never really motivated by career concerns so much as she was to promote the career of the immediate man in her life, sometimes at the expense of her friendship with people who had helped her along the way. Like when she got the eccentric billionaire and film producer Howard Hughes to produce Stromboli for Rossellini – their first film together – but never cared to acknowledge him and stumbled into a letter of his after twenty-five years which she never bothered to answer. (She was an inveterate letter writer.) David O Selznick, the famous Hollywood tycoon who was instrumental in launching her career in Hollywood and cast her in one hit after the other, is conveniently forgotten as she moved up in life.
The book is sprinkled with anecdotes of different directors she worked with that reads like a veritable Who's Who of Hollywood: Victor Fleming, William Wyler, Michael Curtiz, Leo McCarey, Alfred Hitchcock, George Cukor, Sydney Lumet  to name a few that I recall right now, not to mention stars like Gregory Peck, Gary Cooper, Cary Grant, Humphrey Bogart, Rex Harrison, Anthony Quinn, Yul Brynner – stars that we got familiar with once we got rid of our European cinema snootiness and embraced Hollywood. She was a difficult actress to work with and gave a tough time to most of her directors, including Ingmar Bergman that drove the master to despair during the shooting of Autumn Sonata, her last ever film.
The most memorable account in the book is of Roberto Rossellini, the only director she was married to. (Her first husband was a doctor and her third husband was a big time theater producer, both Swedish.) She wooed Rossellini with a single-minded devotion after watching his Rome – Open City and shot him a letter in Rome wanting to act in his films, so besotted was she with the film. The film was like a turning point in her career; she was desperate to be a part of the master's oeuvre at the expense of her Hollywood career which was going great guns. Rossellini, the inveterate womanizer who was at that time going steady with Anna Magnani, lost no time in dropping the gorgeous Italian and reciprocated the overtures of the Hollywood star.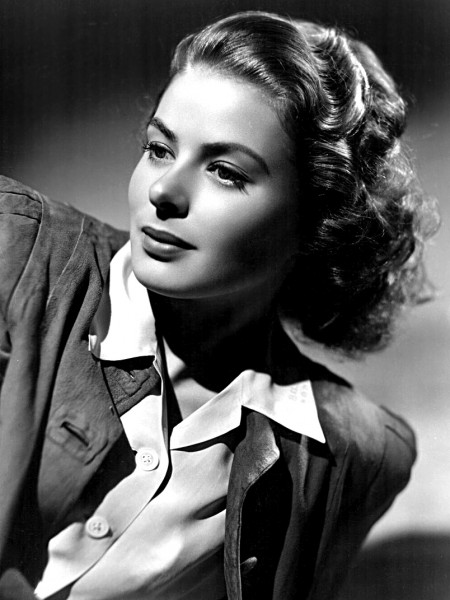 Rossellini comes across as a passionate man who was so obsessed with Ingrid that he never allowed her to act in any of his contemporary's films in Italy like Fellini or Franco Zefferilli despite repeated offers from them. And Ingrid never complained! The only time that he made an exception was with the French director Jean Renoir. In her account of him, Rossellini, quite unwittingly, comes across as quite a bastard who reined in her life like a pathologically possessive husband and she gladly yielded to all his eccentricities and tantrums.
Rossellini's style of working offers a brilliant contrast to her experience in Hollywood where everything was planned down to the minutest detail. Rossellini hated actors; he worked with real people in real locations and improvised a lot, sometimes without a clue where the story was leading to. So when he took Ingrid to the island of Stromboli for recce and told her, "Wait for me, I will get you a leading man," she thought it was a joke till he came back with two fishermen and asked her casually to choose between the two!
But despite Rossellini's preference for realism and compassion for the downtrodden in his films, in his personal life Rossellini was allergic to the working class, specially when it came to payments, and loved to vroom around in his Ferrari.
Rossellini, the Neo-realist was at a loss with a Hollywood star. Despite appearing in seven films of his, she was a misfit and most of the films floundered. Nevertheless, she had three children from him – a son and twin daughters one of whom later married Martin Scorsese. When Rossellini's career came to a cul-de-sac in Europe, he went off to India to shoot a feature film and fell in love with Sonali Dasgupta, an excruciatingly beautiful woman and a mother of two. The affair became a big scandal in India and Sonali's husband Harisadhan Dasgupta who was a documentary filmmaker and Satyajit Ray's friend, made Rossellini's life miserable by refusing to let go off the footage that he had shot. Ingrid, at the request of a paranoid Rossellini from India, was forced to intervene and met Nehru in London, requesting him to salvage his Indian footage which the charmer promptly obliged. But by this time, her marriage to Rossellini was spent and she had started divorce proceedings. She had to move on.
And she moved on. She got married to theater producer Lars Schmidt and acted in plays in Europe and America. Even before this, when she was still married to Rossellini, Hollywood, after so many years, had forgiven her and wooed her with offers. A skeptical Ingrid made a triumphant return to US in 1956 and acted in Anastasia that fetched her her second Oscar. Much later, she acted in Sidney Lumet's Murder At The Orient Express that was released in 1974 and won her third Oscar, for the Best Supporting Actress. (Her first Oscar was for Gaslight, way back in 1944!)
Ingrid died of breast cancer in 1982, leaving behind a legacy of films that ranged from the sublime to the indifferent. It's not often that one reads an auto-biography like this and it would be quite some time before I would dare to look up another account from amongst the pile that graces my bookshelf. I am still reeling under the sweet hangover of a life that was lived on its own terms without any compromise or major regrets, while her ethereal beauty adorns my desktop.