Some years ago, I read an article about an elderly dyer from Andhra Pradesh, who dyed with natural indigo using traditional methods. The earthen pots, full of murky looking liquids and the coils of deep blue yarn he proudly held up, intrigued me. Indigo has been imprinted on our minds as a crucial element of the Indian national movement and with this piece of living history staring me in the face, I was keen to know more. I've always been fascinated by the rich variety of Indian textiles, and interested, sociologically, in the complex questions surrounding the survival of traditional crafts and the loss of the intangible cultural heritage. So thus my research began, slowly, gathering bits and pieces over the years.
As often happens with film research, a universe of stories opened up, but the one thing that stood out was this – the indigo makers and dyers I met were not one among many, they were almost the only ones working with this colour, and if it weren't for them, a colour craft that was native to this land, that had been honed and developed over centuries of practice, would have been lost forever.
Unfortunately, while I was still going through the process of sifting through my research and arriving at my film, Katubadi Yellappa, the master dyer featured in the article, passed away. I was miserable and angry with myself that I had left it too late. I had got to meet him only once when I visited him at his village, where I saw the dyeing process and encountered also the strong smell of fermentation that pervaded the air. The film then became a journey that traces Yellappa's legacy, through those he taught, and who today practice indigo dyeing much the way he did, in a sense staying true to the blue he so painstakingly preserved.
In fact the phrase 'true blue' may well have come from indigo – because it was always known to be a colourfast dye. In Indian languages, there are several phrases and idioms that use indigo as a metaphor. The film's title, Neeli Raag, means passion that is as deep and unfading as indigo!
As a dye, indigo is like no other, its processes are mesmerising and magical. The main cinematic inspiration for me was the materiality of this colour as it passes through myriad transformations to take its final avatar – from a green leaf to a deep blue fabric. That, and the meditative nature of the craftsman's work – completely in tune with the tools, immersed in the process for long hours; be it the dipping of the yarn, the weaving, or the indigo cake making. I found the cinematic juxtaposition of these two aspects highly exciting, and have tried to realise this through slow-paced, static shots of the making process, dwelling on colour, texture, skin, surfaces, and of course, sounds – trying to match the shot taking to the intrinsic rhythms that we sensed and experienced.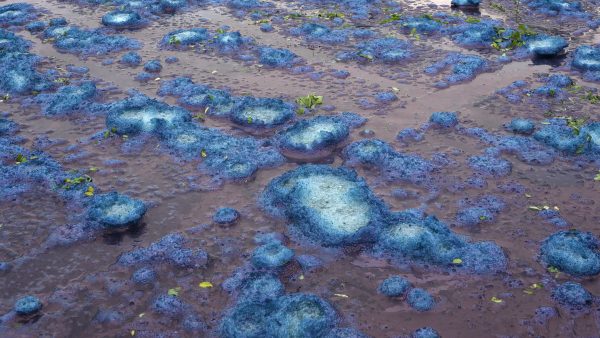 The film is spread over many regions of India, in fact, the original plan was to go to Bihar as well, and it promised to be an expensive proposition. It needed to be filmed over a certain period of time to account for the agricultural cycle. I had a full time teaching job at the Srishti Institute of Art, Design and Technology in Bangalore, and the film stayed on the back-burner for a long, long time. So, when the Films Division (FD) call for proposals came, it seemed an opportunity to kickstart things. By the time their grant came through, I was rather depressed about Yellappa's passing away. But in a way, it brought the necessary push that was needed for me to resume work on the film. It helped me to start off with production, but eventually the expenses on the film far exceeded the grant.  Still, I am happy that the film has been made and FD was willing to extend the duration of the contract, as the shoot itself took me more than a year.
The first couple of schedules were very rushed. With two days notice, I had to show up in Kongarapattu for a shoot. Had I missed it, I'd have had to wait a whole year. I scrambled around for a crew who could assemble quickly. I didn't know Srikanth Kabothu at all, but he was recommended to me, he was available for those days, and he landed up, not from Hyderabad as I had mistakenly thought, but from Mumbai. R Elangovan (sound recordist), Lokesh Srinivasan (production manager) and the equipment came from Chennai, all at very short notice. All of them were very supportive and we had a very good shoot. Srikanth and I were happy to work together and he stayed on as the cinematographer of the film, completely involved and supportive throughout. It helped too that he is Telugu speaking, because a large part of the film has been shot in Telangana and Andhra. I don't speak it myself, and knowing the language made a big difference, especially when we had to deal with ruffled feathers on location! Suresh Rajamani came on board for location sound for all the subsequent shooting schedules. I have a long time rapport with him and always value his presence and contribution during the shoot very much.
Shoots, as we all know, are much more than the process of filming; it is a complex negotiation with what one encounters on location, establishing trust, responding to situations as they arise. One of my big shoot schedules began the day after demonetisation. We had reached Chinnur the previous evening. Within a couple of days the cash crunch set in. Local eateries stopped accepting our 500 Rupee notes and we literally couldn't have paid for our food had a local tradesman not helped us out. He gave us the money in small currency, on complete trust, knowing I would be able to return through a bank transfer only after getting back home to Bangalore!
Also, I couldn't find a single loom with indigo cloth on it. The yarn was being dyed still, the last of the previously dyed yarn had just been woven, and now most of the looms were loaded with whites and other colours. I went around the surrounding weaving villages, but to no avail. The weavers laughed at my attempts. "Do you know how long it takes us to prepare the loom for weaving? Come back after a month" they said. And we did!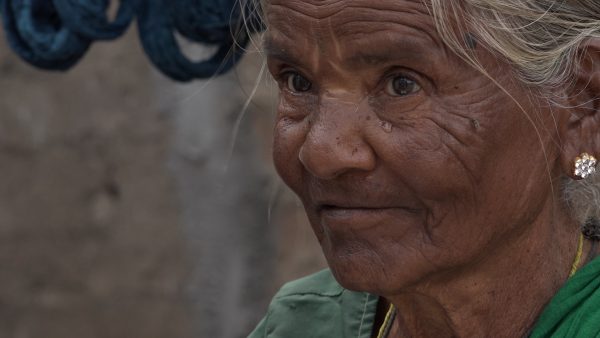 I had taken time off for the filming from Srishti, but by the time the edit began, I was back at college mentoring the graduating students project. Rikhav Desai, who also edited my previous film, Water and a City, agreed to park himself in Bangalore, which is how I could edit the film while still fulfilling my teaching commitments. His particular editing style, his understanding of pacing and rhythm suited this film very well. As with any feature length documentary, we struggled with the structure. There are many different stages in natural indigo production and dyeing, and while, there is a linearity to the process, in that the dye has to be made, before it can be used, I was clear I didn't want a simple linear structure in the film. Also, the history, which was originally planned as a full sequence, no longer seemed to fit. We decided that the history of indigo in India, which forms the context against which the story needs to be understood, can come as a sort of a prelude to the film, using archival images and some animation done by Anitha Balachandran, an illustrator and animator. Rikhav also convinced me that the lazily and clumsily shot Flip video footage of Yellappa I had, from my one and only meeting with him, should be used, and he found a way of using it in a manner that integrated his story with the film.
Vipin Bhati, who is also fortunately Bangalore based, painstakingly designed the sound, responding to how each process has its own distinct sounds, and underscoring those in his design. I was keen that the music too should use the natural rhythms and work sounds we recorded on location, and was looking for a composer who'd be excited about this. A friend suggested Sandeep Pillai, who instantly responded to this idea. The first track he created, which links the dyed threads to the woven sari. was based on the sounds of the loom. He even told me that the entire film consciously or unconsciously follows different multiples of this rhythm including the way people walk in the film!
One of the big challenges while editing the film was to enhance the visual magic of indigo, without 'exoticising' it, and so the edit also highlights the long labour and commitment that is intrinsic to making and dyeing with indigo. The struggle of the craftsmen is apparent, and yet I didn't see this film as one that pleads their cause. What the film explores and celebrates is the craftsmen's incredible belief in their own skills, their determination to keep these skills alive and practice their craft with dignity and pride in a rapidly shrinking space.
So, while the film tells the story of indigo, it is also a larger story of craftsmanship, of embodied practice, and of the politics and economics of preserving tradition in the modern age. The film premiers at the Jio MAMI Film Festival in Mumbai on the 27th of October, 2018, and I hope to screen the film more widely thereafter.