I had made a short film titled Jaan Jigar, which won for the Best Director Award at the 2018 edition of the Mumbai International Film Festival for Documentary, Short and Animation Films (MIFF).  Ajay Rai, one of the co-founders of Jar Pictures happened to watch the film and asked me to meet him with whatever I write next. I came back from the shoot of the film Mukkabaaz, directed by Anurag Kashyap and where I was part of  the writing team, when I met Hanzalah Shahid. He gave me a script to read but of a different title.
I read the script and I instantly got fascinated by some of characters of the world he had created, which also inspired me to dwell more into that world. I took those characters, added some incidents and started writing a new draft of the script, starting from scratch, and titled it Bamfaad. Bamfaad is a passionate love story set in Allahabad between Nasir Jamal aka 'Naate' and Neelam who meet accidentally and fall in love. They make brave choices and go through a path of love and loss to be with each other.To the uninitiated, Bamfaad is a North Indian slang term which portrays a certain combustable energy. It t means 'explosive or  to put it simple, kickass! Hanzalah and me then began developing the script further in our emphasis wast to explore the human side of every character, be it protagonist or antagonist. After all, every character lives their lives with their unique set of circumstances and their choices could be suitable for them, if not others.
Remembering Ajay's offer, once the script was ready, I narrated it to Ajay and to my good fortune, he immediately agreed to produce it. It was a feeling of elation as I was getting to make my first feature film.
The first thing was to think of the casting. I gave the script to my friend and casting director, Taran Bajaj, to read telling him that I need a 'bamfaad' actor for the role of protagonist, Nasir Jamal. Else the whole story would fall flat. On going through it, Taran told me that he had exactly the right person in mind. Without telling me anything more about him, he made me meet a boy whose energy I liked and thought him perfect for my character. Later, Taran told me that the boy was Aditya Rawal, the son of veteran actor Paresh Rawal. It also helped that Aditya was extremely sincere and willing to learn. We spent a lot of time with Aditya working on his lingo, body language and attitude to get him into character. We narrated various incidents and anecdotes of the world to him for him to get a better idea of the world he would inhabit. We also did several Hindi book reading sessions with him.
The script called for a powerful female lead as well. I had seen Shalini Pandey in the Telugu film, Arjun Reddy, which was later remade into Hindi as Kabir Singh and saw sparks in her. It also happened that Randeep Jha, a friend of mine, showed me a YouTube video of Shalini in which she was performing. As I saw the video, I realised I had found my heroine, Neelam. Following which, Taran made me meet Shalini. I narrated the script to her, she liked it and she was on.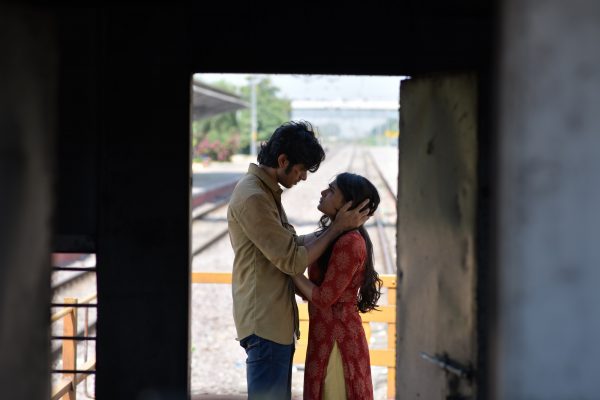 For other important roles, we cast Vijay Varma, Jatin Sarna, Sana Amin Sheikh, Vijay Kumar, Chandan Anand, Shivam Mishra and others. I did an acting workshop with all the actors to help them in understanding each other and the nuances of their individual characters. This was critical and I'm glad to say that the benefit of the workshop can be seen clearly in the film as I saw these fine actors bring alive my characters.
As regarding my crew, my DoP Piyush Puty and me had already worked together on Jaan Jigar. We trusted each other implicitly and it was inevitable he was my first (and only) choice for the film. While discussing the look of the film, we were both clear that our audiences be drawn into world our characters came from. In fact, the locations itself were vital characters in the story. Hence, we shot our characters from a certain distance and avoided going too close to them unless absolutely necessary to constantly give a feel of their world around them. I had already collaborated with my composer, Vishal Mishra, and lyricist, Raj Shekhar, on Jaan Jigar. The three of us are like family and they were the first people to whom I narrated the script when it was ready. We were clear the songs had to go in sync with the characters while retaining a simplicity and an easy-to-the-ears quality. I had watched the Malayalam film Angamaly Diaries and loved the background score of the film done by Prashant Pillai. Later on, he composed for Mukkabaaz as well. I knew he was the perfect person to do my background score. When my cut was ready, I sent him the film to view. Fortunately for me, he loved it and agreed to come on board.
This being was my first film and one without big stars, naturally the budget was quite restrained. Which is why I chose a location familiar to me for the setting of the film, my hometown Kanpur. I had great support also there from my father, Manmohan Chandel, who helped me arrange locations in and around Kanpur. Incidentally, this was the first time when a film was being shot for such a long period in Kanpur so people were extremely curious. And while people were supportive, there were problems also.
Once, we were shooting in a communally sensitive area. 500 people used to gather to watch the shooting, which made the on-location recording very tough for my sound recordist. But  he managed somehow. We were using a production gun for some of the action scenes when one the enthusiastic locals gave a real revolver to my assistant to use! It was tough convincing him to take it back. Then unaccustomed to seeing film shooting so close up, local people used to get into fights with each other to watch the shoot, which caused us some disturbance. I recall shooting in Mazar where a crowd of thousands gathered. We realised we couldn't  shoot with them there and as I mentioned, we had a limited budget and a tight schedule that we were working with. We then staged a 'dummy shoot' in a different location to engage the crowd,  and then shot at the real location with just  a limited crew. In this way, we completed shooting the entire film in 45 days.
As I saw the film take shape on the edit table, I marvelled at how strongly my editor, Nitesh Bhatia, brought out the storytelling. He cut the material from the emotional POVs of the characters and this approach worked beautifully. When the film was finally done, I remember checking out the final copy. I was alone and as a the film drew to an end, I was overwhelmed and tears in my eyes. It was then that I realized that it was all worth it.
Note: Bamfaad has begun streaming on ZEE5 from April 10, 2020.