I still remember in the 1950s when I was still in school, Plaza theatre in Dadar, Bombay, was screening V Shantaram's production, Toofan Aur Deeya (1956), directed for his banner by Prabhat Kumar. As the film was a thumping hit, there would be serpentine queues, especially outside the window for front stall tickets sold then at less than a rupee. We could neither afford tickets for the upper stall nor the balcony. Four of us in our teens, all girls, with a few small brothers, were allowed to watch the film for the 3.00 pm show on the condition that we bought tickets for our mothers too, who would come just before the show. There was no advance booking for the ten-anna rows.
The four of us, along with our four kid brothers, were told to leave at ten in the morning, at least two hours before the booking counters opened. We dressed to our teeth, wearing our best dresses and powdering our faces. We were not allowed lipstick and rouge but with lady excitement, we set out on the long trek from Shivaji Park to Plaza theatre. Those days, going to the cinemas was a socio-cultural experience. It was an 'event' to be looked forward to and reminisced about late. We took our places in the huge queue, which grew longer by the minute. But the waiting turned out to be an interesting mix of excitement, adventure and hunger as we had had to miss lunch. We scrambled though our slim purses to fetch out some small change to buy potato chips for the four hungry boys. Our mothers walked in, dressed in their best shimmering saris, their lips dabbed with bright red lipstick and their faces flushed with happy smiles. Thankfully, they had brought enough money to buy us all packets of potato chips – there was no popcorn in those days – and we stepped into the theatre after a five-hour-long wait.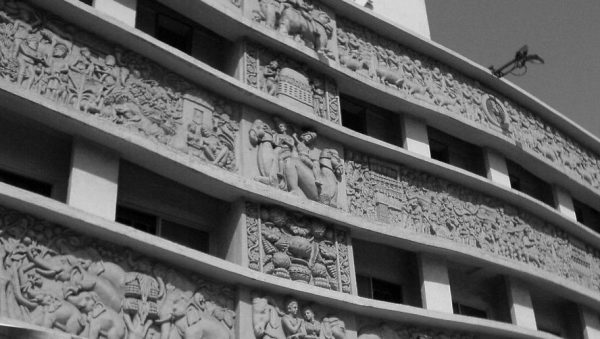 The theatre resounded with the sound of ceetees (whistles) and cheers and cat-calls though, on hindsight, I felt it was a very melodramatic film. This memory has remained with me till today because it is a throwback to a time and day when 'going to the cinema' was an exciting thing to indulge in by adults as much as by children. There was no television in those days and even Vividh Bharti had just made its appearance. 'Going to the cinema' meant bringing out your best dress, tucking in saved coins to buy potato chips, chatting up with the group you were going with and really, really enjoying a day out. The 'entertainment' was not confined to the watching of a film. It went much beyond that.
I journeyed through the changes that happened along the way as many of the cinema halls fell to real estate grabbers over time. Among them, I rued the collapse of Rivoli near Matunga (West) station, followed by Shree Cinema very close to our home which screened only English films, mainly Hollywood. I remember having watched some of my earliest English films there such as The Three Musketeers (1948) on a repeat run, Swiss Family Robinson (1960), which our mother allowed we three to go watch alone, and it was a newfound freedom for all of us. I saw Sahib Bibi Aur Ghulam (1962) and Nartakee (1963) in Rivoli. By this time, I was in college and moonlighting as a film critic whose editor had asked me to review the film. I was thrilled. He gave me Rs 15 per film plus the ticket money for two so I took my mother along even when she was reluctant. My mother was a friend of the manager's wife and he would often insist to get in without buying tickets but my mother would not have it. Many years later, during the last days of Shree Cinema, I was lucky to be able to take in a show of Niagara(1953) and understood why Marylyn Monroe was so famous among the men.
At Broadway, very near Dadar's Khodadad Circle, the shows would mostly run to full house for every show. So, there would always be a parallel crowd of people selling tickets in 'black' right under the noses of the police inspectors present at the theatre. This meant that the same tickets would be sold at double or treble the printed price depending on the demand for people not prepared to go back without watching the film. The 'black ticket' business was a veritable underground industry run by a dangerous mafia. Bulk tickets at the printed price were purchased directly from the man at the counter 'under the table'. These tickets were then auctioned to different buyers in bulk for a slightly higher margin. These buyers would then hand a certain number of tickets among the street sellers who would sell them at double the printed price. They had to pay back some of the profits to the people who gave them the tickets. This was a real parallel economy in those days and one hears there were lots of fights among them to grab more tickets. However, if the given film flopped, the street sellers had to bear the loss.I remember having bought two tickets in 'black' for Trishul (1978), a Yash Chopra film at the Rupam theatre in Sion. I was married by then so was shocked when two well-dressed young women offered the two tickets in black because they said they had already watched the film!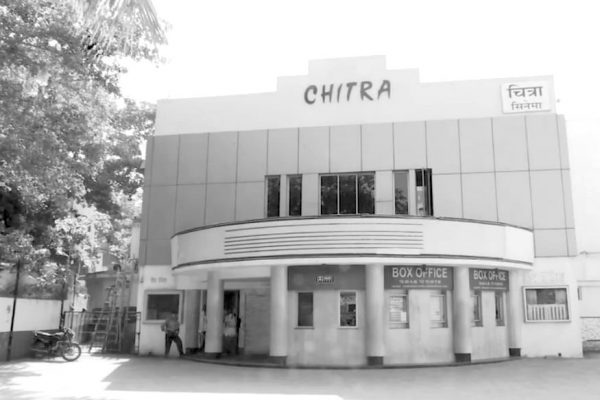 Chitra Talkies, a little ahead of Broadway along the Dadar main road, earned big time fame when a distributor began booking the theatre for Sunday morning shows to screen Bengali films. Uttam Kumar-Suchitra Sen's Harano Sur ran for eight consecutive Sunday Houefull shows! It went on for a couple of years and then the Bengali distributor called it quits because he fell ill and then passed away. We often frequented Chitra Talkies because it was relatively free of the 'black ticket' crowd. Eve-teasing was conspicuous by its absence in those days. Some five kilometers ahead of this cinema stood Ganesh Talkies, which was placed in a narrow alley in Parel. We would have bypassed it completely but for the chain of Bangla films it began screening on Sundays. Hemanta Mukherjee would often arrive, buy a ticket and take a seat in a back row because he was too tall and might pose a problem for people sitting behind him.
I remember having watched dozens of films at Citylight Theatre with the fish market opposite it. My mother would hop out during the interval to buy fish from the market, not bothered about the crinkled noses of the vegetarian Gujaratis and South Indian audience! The first ever film I watched in Citylight was Alibaba Aur Chaalis Chor (1954), directed by Homi Wadia, with some of the most illustrious names in the technical credits. My mother hated the film but I loved it. It starred Mahipal and Shakila and some of the songs went on to be hits. Today, Citylight is a modernized shopping mall placed within a completely Westernised facia drawing a much more elite crowd than it did before. Badal-Bijlee-Barkha, the trio that opened much after the other ones on Manimala Tank Road on the way to Matunga West Station, has now become Star City, a shimmering multiplex drawing the multiplex crowd.
Aurora, near Kings Circle, was another theatre that screened only English movies then and the first movie I watched along with my mother, sister and brother was Some Like It Hot (1959) and then The Seven Year Itch (1955), when my sister was not an adult and had to wear a sari to fake her age!
Close to the Sitala Devi Temple in Mahim stood Paradise but it was not popular at all among the 'middle-class public' mainly because it drew a slum population crowd that used risqué language and stared at us as if we had landed from a different planet. We had to take a cab all the way from Shivaji Park to Royal Opera House to watch the Russian film,The Cranes are Flying (1957), a masterpiece of which I understood very little then. Regal was special for its running of The Sound of Music (1965) for months at a stretch and we watched it thrice in the same theatre soon after I returned to Bombay after my marriage. Eros, though a wonderful Art Deco style building, was a slightly snooty kind of theatre though snooty or not, film watching won the day and we went there to watch quite a few wonderful films there such as Wait Until Dark (1967) and My Fair Lady (1964).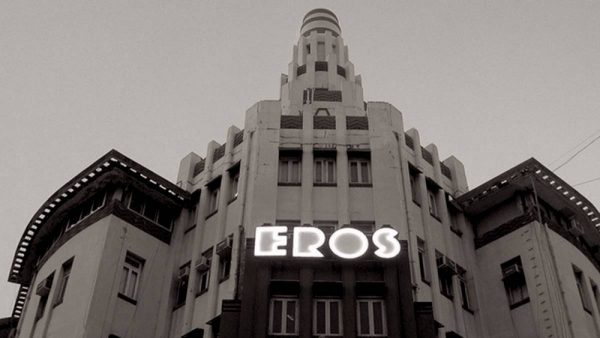 The eats offered at the counters were very different in theatres that screened Hindi or Indian language films as against the eats offered at sky-high prices at English film theatres. Strand at the end of Colaba had a wonderful canteen provided you could afford the expensive patties sold across the counter by the grim-faced sales man. During the interval, the chips vendors would walk in and try to sell their wares, chips, ice-cream, roasted peanuts and Cadburys chocolates!
The only film I ever watched at the Capitol cinema bang opposite VT Station was Satyajit Ray's Sonar Kella (1974) with my little daughter and nephew in tow. The crowd looked very sleazy though one could buy lots of street food at throwaway prices but somehow, the crowds that frequented the theatre kept us away.
Royal Opera House on Charni Road had closed its doors in 1993 but it was reconstructed to its original architectural wonder to become functional again in 2015. I could watch only a few films in this theatre because it was very far from where we lived and since it was very close to a famous red-light area in the city, our parents would not allow us to go there. The adjective 'Royal' was prefixed to Opera House to reflect the fact that its foundation stone was laid during the British rule in 1909, and King George V inaugurated the building in 1911 while it was still under construction.
The fondest memory of Opera House I have is being invited to the premiere of Bimal Roy's Bandini (1963) when I was in the final year of my graduation. I was completely star-struck watching a galaxy of stars stepping into the passageway to the theatre to watch the film. The show ended at midnight and I was stranded with my kid sister as the BEST buses had stopped their service and I was terrified of the crowds gathered to watch the stars. Then, suddenly, Bimal Roy, who was at the exit gate supervising everyone leaving, saw me and asked if I had transport to go home. He knew me as a family friend and when I shook my head, he called one of his drivers and told him to reach me and my sister to our doorstep. It is one of the most terrifying yet unforgettable nights of my life.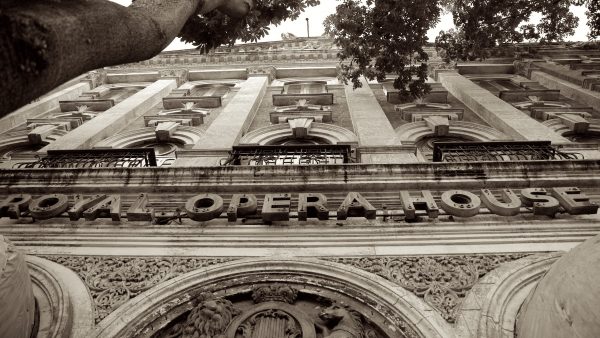 I am taking this nostalgic trip because I am, at 76, among the few who remain to recount this innocent but lovely past of movie-watching as a cultural and social experience that added a unique flavour of its own to life back then. I have since journeyed through the technological changes from single screens to multiplex screens, from B & W television to colour television, from DVD players to pen drives to movies now being watched on computers, tablets and cell-phones. Besides, tickets in multiplex theatres cost the earth and a paper cup of coffee cuts a deep Rs 150 into your pocket, which makes the coffee taste bitter even when it is not!
I have lived through all of this and have watched, with the inevitable acceptance of this strange thing called 'change'. But then, as the saying goes – "Change is the only thing that remains constant."
Header picture: Capitol Cinema, Bombay.