There is hardly anyone in Tamil Nadu who must not have heard of Ponniyin Selvan (Son of Ponni). A piece of historical fiction, written by R Krishnamurthy aka 'Kalki', the tale, which has since acquired cult status, Ponniyin Selvan first appeared in the pages of Kalki magazine in 1950 in a serial form. The results were immediate. Readers took to it in such a big way that the circulation of the magazine increased dramatically. Not only that, it was 're-serialized' three times more in the magazine with a significant jump in its readership each time. The story, told in 5 volumes, centers on a number of true historical characters and incidents and looks at events surrounding the Chola Kingdom of the tenth and eleventh centuries. Spread over 2000 pages, it took Kalki almost 4 years to write Ponniyin Selvan between 1950 and 1954 and it is said he visited Sri Lanka repeatedly to do his research. The epic story has it all – adventure, action, romance and royal intrigue – and has mesmerized all those who have read it.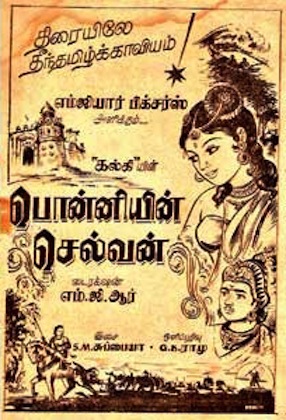 However, for all its success as a piece of written historical fiction, Ponniyin Selvan has been jinxed as far as Tamil cinema goes. It was thought to be the next logical step for a film adaptation to be announced and so it was in 1958 by none other than the legendary MG Ramachandran (MGR). At that time, MGR was building his image in Tamil cinema playing historical characters of significance to the people of Tamil Nadu.  MGR bought the film rights of Ponniyin Selvan for Rs 10,000 and was to produce and direct this magnum opus besides playing the lead role of Vandiyathevan himself. The cast was a virtual who-is-who of Tamil cinema. Besides MGR, the film's massive star cast included Vyjayanthimala, Gemini Ganesan, Padmini, Savithri, B Saroja Devi, MN Rajam, TS Balaiah, MN Nambiar, OAK Devar and Chittor V Nagaiah among others. However, before the project could take off, MGR, who had gone to Sirkazhi to take part in a stage drama, met with an accident. The wound took six months to heal during which his filming schedules got totally derailed and he was unable to take the time out to work on Ponniyin Selvam. According to Kalki's son, K Rajendran, MGR renewed the rights to the story four years later but still couldn't make the film. The film would have seen the first ever pairing of MGR and Vyjayanthimala but fortunately for Tamil cinema viewers, the two would share screen space in Baghdad Thirudan (1960), an adaptation of the swashbuckling Thief of Baghdad, the only time they acted together on the silver screen. The film was a big success and so was its music.
It is said that Kamal Haasan also toyed with the idea of bringing Ponniyin Selvan to the screen. But he too could not get it going. Then sometime around 2015, master filmmaker Mani Ratnam announced he would be doing an adaptation of Ponniyin Selvan. Telugu actor Mahesh Babu admitted in an interview that he was to make his Tamil film debut in the film, playing one of the major characters in the film. The film was to co-star Vijay and Anushka Shetty. According to Mahesh Babu, Vijay and he even did a photo shoot together in Chennai, a week before principal photography was to begin on the film, but sadly, the film never took off. According to writer of the film, Jayamohan, the film became too expensive a proposition and there was no way the money spent on it could be recovered as the budget for the sets alone was a humongous 50 crore rupees. In an interview to the media, Ratnam, after the film's shelving, said, "I can't say it's my dream film. Each and every director would love to make an adventure film. For me, Ponniyin Selvan has been a favorite story since childhood and I tried to adapt it for the screen but for some reasons, we couldn't pull it off and hence, the project was shelved."
Apart from film adaptations, Makkal TV too has been unsuccessful in adapting Ponniyin Selvan as a TV serial while nothing seems to be moving on the web series that was to be produced by Soundarya Rajinikanth around 2015. The Chennai based Rewinda Movie Toons group worked on creating a 32 hour animated version available as a 12 DVD set while Nila comics has come out with a comic version of Kalki's magnum opus in English and Tamil among others. The tale has, fortunately, been more successful in its stage avatars with an adaptation in 1999 starring Nasser and Pasupathi and then in 2014-2015 due to the efforts of the Magic Lantern group. There have also been talks of Nasser staging the play, starring Kamal Haasana and Rajinikanth, since 2016.